97 Online Masters Degree Programs Available in Administration / Management
Advantages of an Online MBA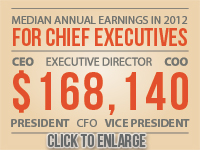 Organizational management is often referred to as dealing with the human side of the business, an important and critical part of the equation. An online master degree in organizational management will focus on organizational culture,... looking at the dynamics and structure of groups, as well how to effect positive change in a system7s structure.
A master degree is one of the most advanced degrees that can be earned, and now there are many specializations available through online degree programs. Check into regionally accredited colleges and universities that offer master-level studies in organizational management, as well as areas of concentration under that umbrella. Organization development and leadership, corporate social responsibility, and performance improvement are just a few of the options.
Some programs for an online master degree can be completed at an accelerated rate in one year, and others may run around three years. The advantage that online graduate students may have is the ability to customize their degree experience to fit their unique educational goals. Most master degrees begin with core courses in advanced topics, then move on to individual research, or a capstone project. Culmination of graduate programs typically comes in the form of a dissertation, or thesis paper that may be reviewed by an academic committee.
Courses for an organizational management master degree could help you attain a strong groundwork in basic business practices, as well as covering topics in organizational behavior and theory. Some online classes could be accounting and finance, strategic marketing, and business decision-making. Online curriculum in your area of specialization would likely cover subjects like organizational change and group dynamics, organizational culture and diversity, and innovative problem-solving.

Your online master degree in organizational management could let employers know that you have the experience and training to lead groups and projects. Prepare for a future in positions like analyst, manager, and supervisor. Some degree holders could go on to upper-level management and executive positions in government agencies, corporations, and businesses of all sizes. Your ability to communicate your ideas clearly, and convey organizational vision, may motivate others to find creative solutions to business challenges.
Online master degree programs may be perfect for the working professional and full-time parent, whose time is at a premium. Distance education allows students the freedom to integrate graduate school into their busy lives. Flexible scheduling, and the convenience of accessing online classes from anywhere may make going back to school online an attainable accomplishment.
Sponsored Listings