699 Online Masters Degree Programs Available in Business
Have You Considered Pursuing an Online Masters in Business?
Jobs come and go, but the impact of a good education can last forever. As a result, if you already hold a bachelor's degree in business, you may be thinking about pursuing a master's degree in the subject, such as a Master of Business Administration, which is more commonly known... as an MBA.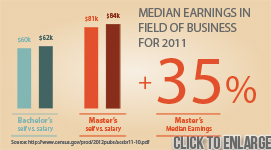 And why not? When you continue your education beyond the undergraduate level, not only do you have the chance to feed your thirst for knowledge, but possibly earn more as well. After all, the U.S. Bureau of Labor Statistics (BLS) reports that in 2012, the median weekly earnings for master's degree holders were $234 higher than those of bachelor's degree holders.i
A chance to advance
Online MBA programs and other advanced business tracks, such as those focused on accounting or finance, are designed to help students take their knowledge and skills to the next level. Completing these programs may set you up for advancement opportunities in your business career. In fact, after earning an online masters in business you could stand a better chance of landing some of the business sector's more desirable jobs.
Do you have what it takes to solve challenging problems, make difficult decisions and lead? If so, you may be a good candidate for the role of a top executive, such as a chief executive officer or a chief financial officer. While responsibilities vary depending on the leadership position, you can expect to play a very active role in helping an organization meet its goals.
Master of Business Administration Pay
Actual salaries for these and similar positions will differ depending on the exact job, employer and years of experience you possess. However, here are a few median annual wages from the BLS to give you a sense of how much you could make in roles that MBA holders often fill:
Chief executive: $168,140ii (11 percent employment growth projected through 2020)iii
Financial manager: $109,740iv (9 percent employment growth projected through 2020)v
Financial analyst: $76,950vi (16 percent employment growth projected through 2020)vii
Medical and health services manager: $88,580viii (23 percent employment growth projected through 2020)ix
Natural sciences manager: $115,730x (6 percent employment growth projected through 2020)xi
The right skills
No matter what type of job you hope to land, pursuing an online masters in business or another type of graduate credential means taking a step that could improve your professional life. Over the course of your studies, you can work toward acquiring leadership, teamwork, entrepreneurial and problem-solving skills that can be assets, whether you want to climb the corporate ladder or launch your own business.
The classes you take in graduate business programs will help you acquire these essential skills. Online MBA programs, for example, often offer classes on subjects such as data analysis, economics, ethics, finance, leadership and marketing. Although it depends on the business school, online MBAs may be available with various concentrations, from accounting and finance to marketing and international business.
So if you think you are far from finished with your business education, pursuing a master's degree in business may be a wise investment.
[i]bls.gov/emp/ep_chart_001.htm [ii]bls.gov/ooh/Management/Top-executives.htm#tab-5 [iii]bls.gov/ooh/Management/Top-executives.htm#tab-6 [iv]bls.gov/ooh/management/financial-managers.htm#tab-5 [v]bls.gov/ooh/management/financial-managers.htm#tab-6 [vi]bls.gov/ooh/Business-and-Financial/Financial-analysts.htm#tab-5 [vii]bls.gov/ooh/Business-and-Financial/Financial-analysts.htm#tab-6 [viii]bls.gov/ooh/Management/Medical-and-health-services-managers.htm [ix]bls.gov/ooh/Management/Medical-and-health-services-managers.htm#tab-6 [x]bls.gov/ooh/management/natural-sciences-managers.htm#tab-5 [xi]bls.gov/ooh/management/natural-sciences-managers.htm#tab-6
Sponsored Listings