99 Online Masters Degree Programs Available in Curriculum & Instruction
Career Paths With a Masters Degree in Curriculum & Instruction

Have you been so inspired by the learning process that you've decided to pass on your passion and focus your professional goals on educating others? Are you looking to enhance your career and your teaching... capabilities at the same time? If that's the case, then you may want to consider heading back to school yourself so you can earn an online master's degree in curriculum and instruction.
By pursuing this degree, you could add on to your existing knowledge of the educational field, developing new skills and exploring advanced subjects in this discipline. These topics could include everything from curriculum development to pedagogical theory. In the end, obtaining this degree may present you with an array of job opportunities, especially as it could show potential employers that you're a dedicated lifelong learner - a quality that's valued highly among educators.
A range of employment opportunities in curriculum and instruction
Education has long been a pillar of society, being viewed as a beacon of hope that could present a wealth of opportunities to succeed in life to individuals who decide to capitalize on it. For this reason, schools of all levels - from nursery to university - can be found in every part of the country. These educational institutions are both public or private, dedicated to fundamental subjects or specific specializations. If you continue down the teaching track and earn your online master's degree in curriculum and instruction, you may make yourself an appealing addition to any number of the schools across the country. All of these institutions depend on knowledgeable professionals to leverage their refined skills to teach, as well as aid in planning the best curricula possible for their students.
Possible salaries in curriculum and instruction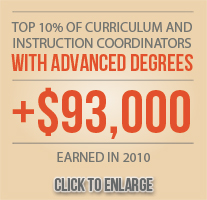 After you earn your online master's degree in curriculum and instruction, you could pursue a variety of jobs, each of which may present you with different pay. As with any other industry, there are numerous elements that can influence the income associated with certain positions. In the education field, your salary may depend on the location and the kind of school, the exact roles you would play, the level of experience and the degrees you have acquired. Take a look at several options and the estimated compensation compiled by the U.S. Bureau of Labor Statistics.
High school teacher: Median annual salary of $55,050 (6 percent projected growth through 2022)[i]

Elementary, middle and high school principal: Median annual salary of $87,760 (6 percent projected growth through 2022)[ii]

Postsecondary education administrator: Median annual salary of $86,490 (15 percent projected growth through 2022)[iii]
Additional skills for careers in curriculum and instruction
While getting your online master's degree in curriculum and instruction may prepare you to progress on your professional path, this coursework isn't the only thing contributing to your potential success. To excel in the education field, you may need highly developed communication skills so you can effectively interact with students, parents, colleagues and the community. Additionally, you must be organized, flexible, authoritative and open, if you would like to enhance your career.
---
[i] bls.gov/ooh/education-training-and-library/high-school-teachers.htm
[ii] bls.gov/ooh/management/elementary-middle-and-high-school-principals.htm#tab-1
[iii] bls.gov/ooh/management/postsecondary-education-administrators.htm#tab-1
Sponsored Listings