47 Online Degree Programs Available in Early Childhood Education
Why Choose an Early Childhood Education Degree Online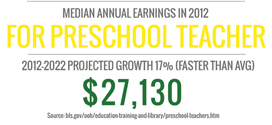 Early childhood education, also known as preschool and kindergarten, focuses on the development of children before the age of six. During this period, children learn how to interact with authority figures and other... kids outside of their family in a social environment. Early childhood educators help grow a child's independence in a safe and nurturing environment.
Positions under the early childhood umbrella include kindergarten and preschool teachers, teachers' assistants, and daycare workers. Such professionals are charged with the tasks of teaching children cooperative play and academic basics such as the alphabet, counting, and basic vocabulary. They should not only have a broad knowledge of childhood development, but also be able to detect illness, abnormalities, or special needs in children.
An early childhood education degree online usually leads to certification to teach in public schools while requirements for private schools and preschools vary. Though day care workers and teachers' assistants usually are not required to have the same education as full-time teachers, they often make less.
Those who earn an early childhood education degree online must master the five domains of childhood development: social, physical, intellectual, creative, and emotional. To that end, a typical curriculum in Early Childhood Development will lean heavily on cognitive and developmental psychology.
Sponsored Listings