156 Online Degree Programs Available in Healthcare Administration & Management
Why Pursue a Healthcare Administration Degree Online?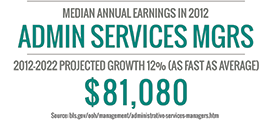 Doctors and nurses can save lives, but they're not the only healthcare professionals who play a role in improving people's health and wellness. Medical and health... services managers, who oversee the daily operations in hospitals, nursing homes and similar settings, can also make a difference.
If you wish to enter a line of work in which you know you're making a difference, you may want to consider pursuing an online healthcare administration degree.
Becoming healthcare leaders
When you pursue degrees of this nature, whether at the undergraduate or graduate level, you're taking a step toward pursuing a career as a manager in the healthcare industry.
In a bachelor's degree in healthcare administration program, you'll take courses designed to help prepare you for leadership roles in healthcare facilities. Courses tend to provide you with a mix of business and medical education to help ensure that you understand what it takes to be a manager, while also understanding the current state of the healthcare sector.
If you want to jumpstart a career as a manager in a healthcare setting, then consider pursuing a master's degree in healthcare management. Occupations such as hospital administrator will require the background in health economics, law and ethics you could receive in graduate school.
Leaders that make a difference
When patients require medical attention, it's not healthcare managers who administer care to these individuals. However, medical leaders certainly support the doctors and nurses who do.
Assistant administrators, clinical managers, health information managers and nursing home administrators are all considered to be medical and health services managers. Although their exact responsibilities vary, these professionals typically plan, direct and coordinate health services in the medical setting in which they work.
People will always require medical services, which ensures the continuous need for healthcare professionals. At the same time, the aging baby boomer population means the next several years will especially see an increase in employment opportunities for medical services managers.i
The pay
How much education and professional experience you have may, among other factors, potentially influence the amount of money you may earn as a medical and health services manager. However, the U.S. Bureau of Labor Statistics could give you a sense of your potential salary based on the median annual wage for this line of work.
Medical and health services manager: $88,580ii (23 percent employment growth expected through 2022)iii
What it takes to lead
In addition to having an understanding of the modern healthcare industry, as well as a handle on medical law and ethics, there are a few skills it helps to possess if you're to become a manager in this sector.
A good manager, whether they work in healthcare or another field, needs to have communication and interpersonal skills to successfully work with others. At the same time, analytical skills, as well as a willingness to tackle sometimes-challenging problems, are a must. Fortunately, the courses you take in online healthcare administration degree programs may help you acquire these qualities.
[i] bls.gov/ooh/Management/Medical-and-health-services-managers.htm#tab-6 [ii]bls.gov/ooh/Management/Medical-and-health-services-managers.htm#tab-5 [iii]bls.gov/ooh/Management/Medical-and-health-services-managers.htm#tab-6
Sponsored Listings