115 Online Degree Programs Available in Marketing & Advertising
Potential Benefits of an Online Marketing Degree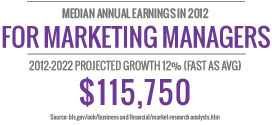 Companies around the world are constantly putting new products on the market. Unfortunately for them, consumers aren't always buying everything for which they see an advertisement. This is where marketing professionals can make... a difference.
If you possess stellar communication skills, there may be a future for you in marketing. To help prepare you for this field, many colleges and universities offer an online marketing degree.
Learning the art of marketing
It may be possible for you to earn an online marketing degree at different academic levels, depending on your professional goals. An associate's degree in marketing, for instance, may provide you with a good introduction to the world of advertising and meeting customers' demands.
At the bachelor's level, you could pursue a marketing degree or a business administration credential that features a concentration in marketing, communications or advertising. As marketing is such a diverse field, students enrolled in these programs may develop knowledge and skills in a variety of areas. After earning a bachelor's degree focused on marketing, you may have a better understanding of consumer behavior or have a knack for creating engaging advertising plans.
In graduate school settings, several degree options may be available, from the Master of Business Administration with a marketing specialization to the Ph.D in marketing. A marketing credential at the master's level could help you prepare to pursue a career as a leader in this field, while a doctoral degree allows you to explore theories and research related to marketing.
The voice of an organization
After earning one or more degrees in marketing, you may be able to pursue a career that allows you to play a role in defining a company's voice. What is an organization's message? How does its website talk about its goods and services? These are some of the questions marketing and advertising professionals ask and answer.
Advertising, promotions and marketing managers are all roles for which a bachelor's degree could prepare you to pursue. As a marketing manager, your focus will be on your employer's products and finding the right markets for them. To do so, you may stay on top of trends, monitor what competitors are doing and communicate with customers to ensure they're happy.
Should you pursue a career as an advertising manager, you're likely to work with sales professionals to design advertising campaigns that get consumers interested in products. Meanwhile, promotions managers oversee programs designed to increase sales through special offers and initiatives.
The pay
How much you could potentially earn in these occupations, or other roles in the marketing sector, will vary depending on such factors as your level of education and experience. The U.S. Bureau of Labor Statistics provides the median annual wages for these and other professions in the marketing field.
Marketing manager: $119,480i (13 percent employment growth expected through 2022)ii
Advertising and promotions manager: $88,590iii (7 percent employment growth expected through 2022)iv
Market research analyst: $60,300v (32 percent employment growth expected through 2022)vi
Public relations and fundraising manager: $94,450vii (13 percent employment growth expected through 2022)viii
Public relations specialist: $54,170ix (12 percent employment growth expected through 2022)x
People skills required
If you wish to know what a company's customers like and dislike, it helps if you understand and can communicate well with people from all walks of life. Marketing professionals typically possess good communication skills, such as the ability to write and speak well. As is the case with many jobs in the business sector, strong analytical and decision-making skills are always a plus. Fortunately, the courses you take in online marketing and communication degree programs may help you acquire these crucial qualities.
[i] bls.gov/ooh/management/advertising-promotions-and-marketing-managers.htm#tab-5 [ii] bls.gov/ooh/management/advertising-promotions-and-marketing-managers.htm#tab-6 [iii] bls.gov/ooh/management/advertising-promotions-and-marketing-managers.htm#tab-5 [iv] bls.gov/ooh/management/advertising-promotions-and-marketing-managers.htm#tab-6 [v] bls.gov/ooh/business-and-financial/market-research-analysts.htm#tab-5 [vi] bls.gov/ooh/business-and-financial/market-research-analysts.htm#tab-6 [vii] bls.gov/ooh/management/public-relations-managers.htm#tab-5 [viii] bls.gov/ooh/management/public-relations-managers.htm#tab-6 [ix] bls.gov/ooh/media-and-communication/public-relations-specialists.htm#tab-5 [x] bls.gov/ooh/media-and-communication/public-relations-specialists.htm#tab-6
Sponsored Listings