185 Online Degree Programs Available in Psychology
Why Choose an Online Psychology Degree?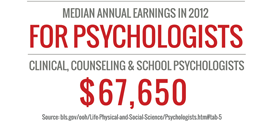 Psychology is the study of the mind and how it relates to a person's behavior. If you are fascinated by people and why they do what they do,... then you should consider earning a psychology online degree. Whether you want to become a researcher, treat patients in a private practice, or counsel people in group settings, an online psychology degree can be instrumental in helping you reach your career goals.
An online psychology degree can help you become qualified for diverse career prospects. For example, a bachelor's degree can prepare you for a job as a social worker or market research analyst, while a graduate degree can lead to careers in mental health counseling or marriage and family therapy. And a doctorate degree opens the door to clinical psychology careers in academia and health care.
The median salaries for popular psychology careers are:
• Psychologist: $

69,280

i
• Mental Health Counselor: $41,500ii
• Clinical, Counseling, and School Psychologists: $

67,650

i
• Industrial-Organizational Psychologist: $

83,580

i
To find answers to questions about pursuing a psychology online degree, click the tabs above. We aim to help you find the degree that's right for you and provide valuable information about psychology careers, salaries, and the job market, as well as the history of psychology.
Explore our featured colleges below and request information about the programs they offer. Find programs that fit your goals, needs and schedule from accredited colleges today.
[i]http://www.bls.gov/ooh/Life-Physical-and-Social-Science/Psychologists.htm#tab-5 [ii] http://www.bls.gov/ooh/community-and-social-service/mental-health-counselors-and-marriage-and-family-therapists.htm#tab-5
Sponsored Listings