eLearners Career Confidence Poll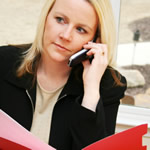 Job Insecurities:
Without More Education, 1 in 4 Believe They Lack Staying Power
Worried that your current skills may not be enough to compete or sustain your career? If so, results of the September 2011 eLearners.com Career Confidence PollSM show that you are not alone. Overall, the survey found that 22 percent of American adults over the age of 18 don't feel they currently have the training or education necessary to remain competitive in their field long-term (more than 5 years) and that among the employed, as many as 1 in 4 don't even feel they can remain competitive for the next two years.
Additionally, the Poll discovered that insecurities are strongest among younger workers; more than one-third of 18 to 34-year-olds don't feel they have the training or education to stay competitive for more than two years, while almost half — 44 percent — don't feel they can stay competitive for more than four years. The research also found that women are more likely than men to lack confidence about remaining competitive long-term (35 percent of employed women reported feeling competitive for four years or less, compared to 29 percent of employed men).
The volatile job market highlights the benefit of higher education. Since 2009, the unemployment rate for those with only a high school diploma has been more than 9 percent; consistently higher and often more than double the unemployment rate of those with at least a bachelor degree. Looking for a way to help secure your career? Read more in 5 Reasons Why College or Career Training Could Brighten Your Career Outlook.
Top-Line Poll Results
For how long, if at all, are you confident that you can remain competitive in your current career field with the training and education you have today?
Wakefield Research administered the eLearners.com Career Confidence PollSM by telephone in September 2011 to a representative sample of 1,000 Americans over the age of 18. For the interviews conducted in this study, the margin of error is approximately +/- 3.1 percentage points at the 95 percent confidence level and larger for sub-groups.