Jobs in Green Industries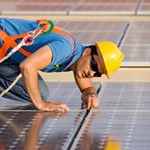 Job opportunities in the renewable energy field are growing faster than average
Applicants from various professional, education backgrounds can succeed in green industries
Training and experience in green technology is valuable to businesses
A Whole New Set of Jobs for a Whole New Set of Graduates
Q. I've heard a lot of buzz about the job boom in "green" careers. What are green careers? And why are they popular all of a sudden?
A. Green careers are those that aim to improve the environment — either locally or globally. Because the environment is receiving so much attention — in the form of new laws, international treaties, and consumer demand — governments and companies are pouring money into "green" initiatives. They are developing earth-friendly products and cleaner ways of doing things. Trained professionals are needed to help implement these changes.
Q. What are the different types of green careers?
A. Green careers can be divided into four main categories:
Outdoor & Field-based jobs — like wildlife preservation
Traditional jobs with "green" alternatives — like construction and auto manufacturing
Renewable energy jobs — like solar panel installation and wind turbine technology
Compliance & Policy-making jobs — like Environmental Protection Agency officers
These categories are very broad. They include organic farmers, environmental lawyers, and bio-fuel engineers. But in terms of job opportunities, the fastest growing category is the "renewable energy" category. According to the U.S. Bureau of Labor Statistics, jobs in this area will grow much faster than average; by as much as 30% — in fact — over the next 10 years.
Q. What is renewable energy? And why is this such a fast-growing industry?
Up until now, human beings have mostly relied on non-renewable energy — including oil, coal, and natural gas. These resources, also called fossil fuels, are finite. Once we use up the earth's supply, these fossil fuels will be gone forever. In the meantime, fossil fuels emit carbon dioxide when they are burned. Thanks to millions of cars, planes, appliances, and factories, carbon dioxide levels are way too high. They're polluting the air and raising the earth's temperature at an alarming rate.
In order to counteract pollution, and to help conserve our remaining fossil fuels, companies are trying to use alternative energy sources known as "renewable energy." Renewable energy is cleaner and cheaper, and the government offers tax breaks to companies that switch.
Renewable energy sources can be divided into 4 main categories:
Solar energy
Geothermal energy
Wind energy
Bio-fuel energy
Q. I've never studied science or engineering. Will I have to go to school for a million years in order to get a job in this industry?
A. No. It is true that many engineers and scientists will be leading the movement towards a greener planet, but there are thousands of job opportunities for professionals who have backgrounds in construction, automotive mechanics, business, finance, sales, and accounting.
You might choose to earn an online bachelor's degree in environmental science. You might work toward a green-related associate's degree in engineering or business. You could also start your career with a short-term trade certificate. Many entry-level and mid-level jobs in this industry are held by people who completed just 2 to 4 years of college.
Q. What are some actual examples of clean tech job titles? And how much do these professionals earn?
The following list of job titles and salary figures was compiled based on the "Clean Tech Job Trends" report, which was published in October of 2009, by the Clean Edge, Inc research firm.
| | | | |
| --- | --- | --- | --- |
| Geothermal Power Engineer | $71,799 | Entry-Level | Bachelor's degree in engineering |
| Solar Energy System Installer | $40,000 | Entry-Level | Associate's Degree |
| Wind Turbine Technician | $52,600 | Entry-Level | Bachelor's Degree |
| Journeyman Lineman for the Smart Grid | $67,900 | Mid-Level | Associate's Degree |
| Wind Power Sheet Metal Worker | $50,300 | Mid-Level | Associate's Degree |
Q. Where are green jobs located? Do I have to move to California if I want to get hired?
A. Green job opportunities are available all across the country — and internationally, as well. It's true that the top spots for clean tech jobs are San Francisco and Los Angeles, but experts are clear that every part of the country will be affected by this job boom. Clean Edge, Inc. reports that the "clean-tech revolution is a highly dispersed phenomenon," and that clean tech activity will permeate all regions.
Already, some of America's smaller towns and cities are becoming major, clean-tech job hubs. Examples include:
Solar PV Manufacturing, Toledo, OH
Wind Turbine Manufacturing, Newton, IA
Smart Grid Networking, Controls and Devices, Spokane, WA
Q. I'd like to explore the new branch of "green trades." What are they?
A. Green trades are branches of skilled labor that make use of green energy. Nowadays, many trade schools and technical certificate programs — for plumbing, electrical trades, construction, and HVAC — are incorporating green skills into their traditional curriculum. Students are wise to enroll in trade programs that include some aspect of green education, because more and more clients want to use recycled materials and energy-efficient systems in their projects. This is true for residential, commercial, and industrial work.
In a recent article, published in Mass High Tech: The Journal of New England Technology, vocational education leader, Leo Bedard, affirms the value of clean tech trade education. Bedard explains, "The job market is tough out there, and yet [a green-trained student] can open up an entirely new business to a company. That student is going to be an asset to their employer."
Q. Everyone is talking about the new "smart grid." What is the smart grid?
A. Our country is powered by a massive, electricity transmissions system, or "grid." Right now, we've outgrown the existing grid, so we're getting ready for a new version. The aptly named "smart grid" will eliminate blackouts while making U.S. energy cleaner, more secure, and more efficient. It will use digital intelligence and two-way communication to detect outage risks, and to conserve energy.
Smart grid jobs will be a major part of the green economy.
Q. How can I get hired to work on the smart grid?
A. You might be surprised to know that the smart grid system will cover all of North America, not just the major urban areas. Consequently, the electricity sector of the North American economy is projected to boom over the next 10 years. As the smart grid system is implemented, thousands of newly trained technicians will be needed. According to estimates, approximately 400,000 jobs will be created by 2018.
If you're planning a career in electrical work, indoor climate systems, plumbing, or photovoltaics, you will be a part of the smart grid boom. Choose a career college that will prepare you for basic installation, maintenance, and repair, plus offer sustainability training. If you're not interested in trade education, you can also benefit from the smart grid job boom with a degree in design, marketing, or engineering.
---
Involved in the development and administration of online courses and programs since the early 1990s, Dr. Susan Smith Nash's current interests have to do with using innovative approaches to help students succeed, and helping organizations develop thriving, dynamic programs. Her latest book, Excellence in College Teaching and Learning was co-authored by George Henderson and deals with online teaching and learning.
Elizabeth O'Neill holds an MFA in Creative Writing. She is a contributing writer at eLearners.com, EarnMyDegree.com, and GradSchools.com.
You may also be interested in one of these Sponsored Listings: