Doctorates and PhDs
Published on: April 02, 2012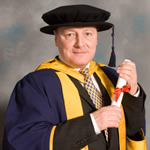 A doctorate is the highest academic degree bestowed by American universities.
The most common doctorate is the PhD, which stands for Doctor of Philosophy, and is awarded to students in the humanities and natural sciences who successfully complete a program of study and a dissertation in their field. It is a rigorous academic endeavor that should only be undertaken by the top crust of students most dedicated to advancing knowledge in their field.
While the PhD is the most common doctorate, other doctorates include Doctor of Education (Ed.D.), Doctor of Psychology (Psy.D.), and Doctor of Engineering (Eng.D.). Because all of these are research-oriented doctorates, the culminating academic experience for doctoral students in these degree programs is the dissertation.
You may also be interested in one of these Sponsored Listings: