Distance Learning Research & Theory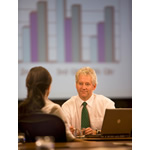 These organizations study distance learning as it relates to secondary school and college-level education. They encourage the adoption of technology in the classroom. Many groups study e-learning's effectiveness and work with the government and policymakers to raise funds and awareness for greater integration.
A Brief History of Distance Learning
What are the origins of distance education in America? You may not believe it, but distance learning has been around since the advent of the written language.
Advanced Distributed Learning Network (ADLNet)
The Advanced Distributed Learning (ADL) Initiative is a collaborative effort between government, industry and academia to establish a new distributed learning environment that permits the interoperability of learning tools and course content on a global scale.
American Center for the Study of Distance Education (ACSDE)
Penn State's American Center for the Study of Distance Education, established in 1986 by Michael G. Moore, is a network of scholars who have a common interest in studying, teaching, and doing research in the field of distance education.
Center for Distance Learning Research (CDLR)
The center's mission is to provide timely and appropriate information on the development, application and maintenance of information technology systems.
Distance Learning in Higher Education
This site features summaries of and links to reports covering topics related to distance learning, mainly as it applies to high schools and colleges.
International Centre for Distance Learning (ICDL)
ICDL provides information on institutions world-wide teaching at a distance and references, including abstracts, to the literature relating to all aspects of distance education.
International Society for Technology in Education (ISTE) Research and Evaluation
ISTE white papers, research studies, and reports over the years have helped shaped policy and practice in educational technology.
Issues in Distance Learning
This review of literature and current information related to distance learning deals with several primary research issues in distance education.
National Center for Education Statistics (NCES)
NCES, part of the U.S. Department of Education, collects, analyzes and makes available data related to education in the U.S. and other nations.
The "No Significant Difference" Phenomenon
This site provides selected entries from the book "The 'No Significant Difference' Phenomenon" as reported in 355 research reports, summaries and papers – a comprehensive research bibliography on technology for distance education.
Pew Internet & American Life
The Pew Internet & American Life Project will create and fund original, academic-quality research that explores the impact of the Internet on children, families, communities, the work place, schools, health care and civic/political life.
United States Distance Learning Association (USDLA)
The USDLA was founded to create a powerful alliance to meet the burgeoning education and training needs of learning communities via new concepts of the fusion of communication technologies with learning in broad multidiscipline applications.