Student Loans & Financial Aid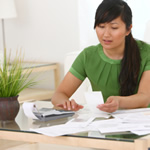 Why Should You Apply for Federal Financial Aid?
For many college students, financial aid seems like a complex subject. Just like filing income tax returns, people dread the confusion of paperwork and deadlines. But try to remember what you effort is worth: free money. In fact, an afternoon's worth of online forms can equal thousands in cash for your college education.
According to the College Board's 2012 "Trends in Student Aid" report, the total volume of education loans disbursed doubled from $55.7 billion to $113.4 billion between 2001-02 and 2011-12. [1]
Still, some students aren't willing to do their federal aid homework. Instead, many borrowed from non-federal sources, like private banks and lenders. Unfortunately, the interest rates on private loans are higher, and repayment protections are fewer.
If you're heading back to college, read up on the following sources of federal aid. You might be surprised by how much funding you can receive.
[1] http://trends.collegeboard.org/sites/default/files/student-aid-2012-full-report.pdf