Virtual Libraries
Published on: April 02, 2012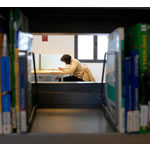 Long nights at the library are a thing of the past
Thanks to the Internet, you can access virtual libraries anywhere at anytime – from your own schools offerings to catalogs from around the world.
Locating scholarly sources for term papers and case studies has never been so convenient. And as more and more students pursue their degree online, these free resources have become excetionally valuable (view online degrees by subject and by level).
Our list of virtual, Internet libraries is organized first by general interest libraries, then university-based libraries, government libraries, libraries by subject, and, finally, literature libraries.