Transitioning From Military Life to a Career in Civilian Life
James Leary has enjoyed a successful and varied career path both inside and outside of the military. In 1967, he joined the army and was commissioned as a Second Lieutenant in the Signal Corps. After being chosen for flight school he then became a helicopter pilot in Vietnam.
After moving on to Germany he was appointed Company Commander for Communications for the U.S. Army Europe. Once back on home soil, Leary became an instructor for the Army's Signal School. He left active military duty in 1975 and returned to Massachusetts to attend school full time, graduating from UMass Amherst in 1977.
Leary then served as an assistant to the Mayor of Springfield, Massachusetts before being appointed to the Board of Assessors for the city. In this position, he was responsible for valuing more than 35,000 parcels of real estate. He left this post in 1985 when he started up a helicopter transport company.
Building on his real estate background, Leary started an appraisal business before taking the position of the Manager of Property Administration for the State of Maine's Department of Transportation. This lead him to a civilian position as the Chief Appraiser for the U.S. Army Corps of Engineers for New England. During this time Leary also earned an MBA from the University of Southern New Hampshire.
From New England, Leary was promoted to the Headquarters in Washington D.C. where he took on the responsibilities of all real estate actives in the southwestern United States. He also served for a short period in Iraq as a member of the Contingency Real Estate Support Team.
Leary then had the opportunity to move on to the U.S. Navy as the Director for Real Estate in the Pacific. This position was located in Pearl Harbor, and encompassed all Navy lands from Hawaii to Asia. He was then selected to manage the real estate transactions throughout the Navy, and moved back to Washington.
In 2009, Leary was appointed as the Director for Real Estate for the Navy, working for the Assistant Secretary of the Navy. This position required significant interaction with Congress, other Federal Agencies, and state and local governments. He retired from this post six months ago.
In our interview below, find out how Leary navigated the transitions between military life, college and career.
Before you entered the military, had you already been enrolled in college? What was it that made you realize you weren't prepared for it?
I attended Marquette University immediately after high school. My freshmen year was just OK, and I skated through without really doing much work. Come sophomore year, the work requirements did not fit with my maturity level and my strong tendency to procrastinate. After discussions with the Dean of Students, I realized that I was not ready for college. Basically, I was a thirteen-year-old student in an eighteen-year-old body. So, I left school, headed home and waited for Uncle Sam to call.
How did you end up entering the military?
After realizing I wasn't ready for college, I enlisted in the military in 1967. Selected for Officer Candidate School, I was commissioned as a Second Lieutenant in the Signal Corps.  I became a helicopter pilot and in 1969 I was assigned to an assault helicopter company in Vietnam, flying support missions throughout area around Saigon (now Ho Chi Minh City).
Where else were you stationed while on duty?
I moved around quite a bit. After being assigned to the staff of the Headquarters for the U.S. Army Europe in Germany, I was made company commander. From Germany we went to Georgia for training, and then on to Fort Monmouth, NJ where I worked as an instructor for the Army's Signal School.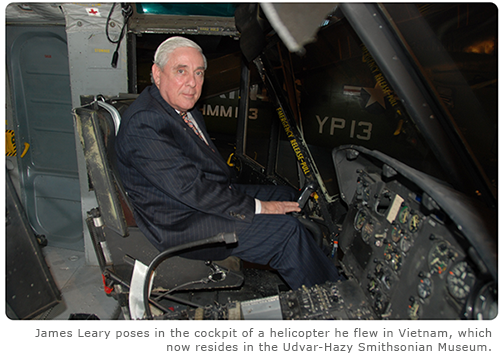 Did you then take any classes or do any coursework while you were in active duty? You attended full time in '75 and graduated two years later, so did you have a fast-track program, did you already have credits, or were you just letting your genius show?
I took a few courses through the University of Maryland while I was stationed in Germany. UM had an extensive program supporting the troops, and offered numerous courses. Since this was the early '70s, it was well before online courses were an option. Classes were held nights and weekends. In addition to the UM classes, I attended some Army training. These included Officer Candidate School, Flight School, and the Signal Corps Advanced Officer Course. UMass awarded me a substantial number of credits for this training, so when I started back to school in '75, I needed to earn 60 credit hours for my degree. 
Was there anything you learned while in the military that helped you succeed in completing your degree?
The major difference between my pre and post Army education was my maturity level. There is no doubt that serving in the military, particularly a year in combat, significantly influenced my thinking and approach to life. The military is does a great job at teaching it's members how to focus and maintain a singularity of purpose. As a commissioned officer, I was given a substantial amount of responsibility, and the obligation to direct troops is a very sobering experience. There aren't too many other careers where a 23-year-old is making life and death decisions.
Were there any challenges or difficulties you faced in your transition from civilian to military life, or military to civilian life?
In 1975, the Vietnam War was incredibly unpopular, particularly on college campuses. As a returning soldier, I faced daily criticism for having served. Frankly, it wasn't very pleasant and I didn't spend any more time on campus than was absolutely necessary.
What year(s) did you earn your MBA? What was that experience like? Was it full-time, part-time, and did you complete any courses online?
I completed the MBA program in 2003. It was a very enjoyable experience! When I enrolled, it was not for any specific career direction, but really just to learn something new. It was all part-time – a combination of traditional class work and on-line courses.  I found that when transitioning to online courses I missed the body language, non-verbal cues and interaction that you get in the classroom, but I eventually warmed up to it. My military background was especially helpful when working with teams in the online courses. Since the military is all about team work, it was fairly easy for me stay focused on the issue at hand and guide recalcitrant team members back on course.
Do you have any tips or suggestions for anyone who is considering going back to school, especially in a non-traditional path like yours?
It's definitely worth it so don't wait! In particular, service members returning to civilian life have already met challenges far more difficult than school.

The expert interviewed for this article may be compensated to provide opinions on products, services, websites and various other topics. Even though the expert may receive compensation for this interview, the views, opinions, and positions expressed by the expert are his or hers alone, are not endorsed by, and do not necessarily reflect the views, opinions, and positions of [eLearners.com] or EducationDynamics, LLC. [eLearners.com] and EducationDynamics, LLC make no representations as to the accuracy, completeness, timeliness, suitability, or validity of any information in this article and will not be liable for any errors, omissions, or delays in or resulting from this information or any losses or damages arising from its display or use.