Veteran Education Benefits Information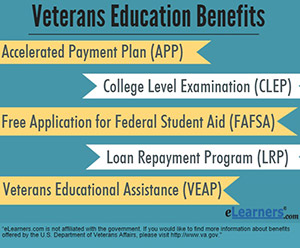 When it comes to finding veterans education benefits info, things can get confusing. That's why eLearners is here to help you better understand your potential benefit options!
In addition, to the more well-known Montgomery GI Bill® and Post 9/11 GI Bill® benefits, the Department of Veteran Affairs also offers a variety of other education assistance programs. However, the benefits and eligibility requirements can vary widely. To get you more acquainted, let's take a look at four different benefits programs that could potentially help you fund your education, if you qualify.
Veterans Education Assistance Program (VEAP)
VEAP provides education and training opportunities to eligible servicemembers who elected to make contributions from their military pay in order to participate in the program.
If eligible, contributions are matched by the government on a $2 for $1 basis
Benefit entitlement is 1-36 months depending on the number of monthly contributions
Benefits may be used for degree, certificate, correspondence, apprenticeship programs and vocational flight training programs
You have 10 years from the end of your active duty to use VEAP benefits
Eligibility Requirements:
You entered service for the first time between January 1, 1977 and June 30, 1985 and completed your first period of service
Your contribution account was opened before April 1, 1987
You voluntarily contributed $25 to $2,700
You weren't dishonorably discharged
If you're currently on active duty but wish to receive benefits, you must have at least 3 months of contributions available
For more information on how to apply for VEAP, visit: gibill.va.gov/benefits/other_programs/veap.html
Veterans Retraining Assistance Program (VRAP)
VRAP offers up to one year of training assistance to eligible unemployed Veterans. VRAP participants must attend full-time to receive up to 12 months of assistance equal to the monthly full-time payment rate under the Montgomery GI Bill-Active Duty Program, which is $1,648 effective October 1, 2013.
Participants must be enrolled in a VA-approved program offered by a community college or technical school
The program must lead to an associate's degree, non-college degree or a certificate that trains the Veteran for a high-demand occupation
Every veteran who completes the program will receive employment assistance from the Department of Labor.
Training benefits for 2013 will be paid out through March 31, 2014
Eligibility Requirements:
You may be eligible for VRAP benefits if you:
Are between the ages of 35 and 60
Are unemployed when you apply
Have not been dishonorably discharged
Are not eligible for any other VA education benefit program
Are not receiving unemployment compensation from the VA
Are not enrolled in state or federal job training
For more information on VRAP, visit: benefits.va.gov/vow/education.htm
Reserve Educational Assistance Program (REAP)
REAP is a Department of Defense education benefit program designed to provide educational assistance to reservists called or ordered to active duty in response to a war or national emergency as declared by the President or Congress.
The program ensures that certain reservists who were active for at least 90 days after September 11, 2001 are eligible for education benefits or increased benefits
Payment rates vary, depending on time of service
Some eligible reservists may contribute an additional $600 to the GI Bill® to receive up to $5,400 in additional GI benefits through the "buy-up" program
For more information on REAP, visit: gibill.va.gov/benefits/other_programs/reap.html
Accelerated Payment Plan (APP)
The accelerated payment plan offers eligible military students in certain high-cost, high tech programs a lump sum payment of 60% of tuition and fees. You may qualify for APP if you:
Are enrolled in a high tech program as defined by the VA
Certify your intent to seek employment in a high tech industry
Do not receive benefits from the Post-9/11 GI Bill, Dependents Education Assistance program or VEAP.
For a list of approved high technology programs, visit: gibill.va.gov/resources/education_resources/programs/accelerated_payment.html