Compare the Advantages of Online Colleges vs Campus Colleges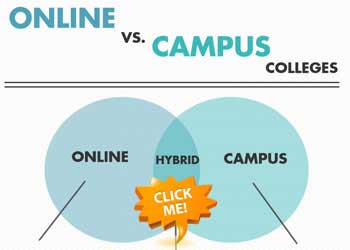 If you're studying something popular – like business or computer science – you may find that dozens of schools offer a degree in your major. That's good and bad news.It's always nice to have options, but more choices equal more research. In order to choose the best option among them, you'll need to weigh a handful of considerations, including student support services, class schedule flexibility, quality of the schools' instructors, average graduation rates, career placement services, and of course – cost.
If you're pursuing a very specific or unusual degree – like golf course turf management – you may only find 2 or 3 colleges that teach the courses you need. And you might not have a choice between an online school and a campus school. In this case, you shouldn't change your career goals just so you can attend an online program. Remember: your dreams and ambitions come first. Convenience should come second.
If you do find yourself choosing between an online program and a campus program, the following points can help you make your selection. Assuming that the 2 programs are relatively comparable in terms of their costs and other offerings, these advantages will isolate a clear front-runner, based on the educational factors that are important to you.
Advantages of a Fully Accredited Online College
Unparalleled convenience: Accredited online colleges are accessible whenever you want to study and learn.
Zero Hassle: You'll never have to fight traffic or do your makeup in order to attend class.
Savings: Online colleges require no costs for parking, fuel, babysitting, or on-the-go meals.
More Opportunities to Participate: Through emails and discussion posts, you'll always be "heard" in an online class – even if you're shy or lacking academic confidence.
More Time to Participate: In-person classes only last an hour or two. In that timeframe, instructors need to deliver their lessons and assignments. Students rarely have time to pose thoughtful comments and questions. And if they do, only the loudest, most aggressive students receive attention.
Everyone Is Welcome: No one feels "out of place" because of his/her age, appearance, or abilities.
Technology Skills: Even though e-learning isn't technologically complicated, you will learn a lot of terms and skills that you might not encounter in a traditional classroom. Getting comfortable with online exercises is an important part of 21st century career preparation.
Advantages of a Campus Based College
No Self-Policing: Class is always underway at a specific time. You either show up or you don't. It's impossible to procrastinate.
Immediate Answers: If you don't like waiting for emails or reading lessons on your own, you'll prefer to see your instructor in person.
Classmate Connection: Some students enjoy forming study groups at the local college library, or going out for coffee with classmates. The connection makes them feel more involved in their education.
Career Networking Potential: It is possible to network with online classmates/instructors, but campus based classmates are much more likely to live in your area and interact with professionals who can influence your career.
Extracurricular Events: Your local college probably hosts exhibits, readings, career fairs, and sporting events that can round out your college experience.
Advantages of a Hybrid Program (Partially Online, Partially on Campus)
More Degree Options: Certain degrees must involve an in-person component. Nursing programs, for example, usually involve clinical training in a medical facility. Teaching degrees often require student teaching at a local school. If you're willing to study partially online and partially in person, you may have more career options.
Your College Will Facilitate Local Placement: If your hybrid degree does require training hours at a local school, hospital, or social services setting, your college advisor will help you find a facility that is in your area. Local placement opportunities often evolve into fulltime jobs, once you graduate.
Medium Travel: Depending on your program requirements, you may have to be present for orientation, proctored exams, annual symposiums, or other events. You'll enjoy meeting your instructors in person, but you probably won't have to travel on a weekly basis.
More "Name Brand" College Selection: If you want an online degree, but you're concerned about attending a school that is only known for its online programs, you can often find a hybrid alternative from a more "traditional" college. Hundreds of small colleges and state universities are implementing online programs, though most are not 100% online. If you're willing to try a hybrid college, you can often get the best of both worlds.
Satisfaction of students who attend Online Colleges and Universities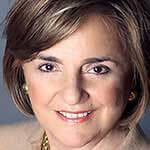 Carol Aslanian:With over 30 years of experience working with and researching Online Colleges and Universities, Carol's insights may be helpful to your decisions.
From a 2014 survey Carol has found these interesting facts related to students attending online colleges[ii]:
Online students are looking to improve their employment situation and in the respondents surveyed, they are generally satisfied with their investment in an online degree
Almost 90% of the online college students surveyed reported that online study was equal to or better than classroom study. BOTH students AND professors as noted above are in agreement on this one.
About 40% of students pursing an online degree report that within a year of graduation there is some improvement in their employment status, typically a raise or promotion.
About 60% of undergraduates and 70% of graduate students of an online college report being completely satisfied with their investment of time and money in their pursuit of an online degree
---
[i] bls.gov/emp/ep_chart_001.htm | [ii] aslanianmarketresearch.com | [iii] onlinelearningsurvey.com/reports/changingcourse.pdf | [iv] sloanconsortium.org/publications/survey/changing_course_2012 | [v] onlinelearningsurvey.com/reports/changingcourse.pdf
Online Colleges and Universities with Accreditation
Online colleges and universities with accreditation means that the school has been evaluated by education authorities, to ensure it's offering high quality learning opportunities. If an online college chooses to apply for regional accreditation, it is evaluated by the regional agency that presides over its home state. Many of today's accredited online colleges are developing innovative learning platforms for different types of students. At the same time, many traditional universities are building online programs, meaning some very well-known names in higher education are now also included as online schools. Collectively, these schools offer online degrees, professional certificates, graduate and continuing education courses, plus various 'credit for prior learning' options, which may be available to qualifying students.