172 Online Degree Programs Available in Nursing
Are Online Nursing Degree Programs Right for You?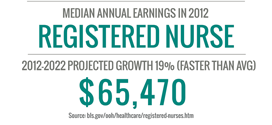 If you're considering online nursing degree programs as a possibility for your education, you're not alone. Online education is continuing to grow. In a Pew Institute survey, college presidents said that by 2021,... 50 percent of students at their schools will be taking classes online, up from 15 percent in 2011i.
Online learning is also becoming more accessible, as 89 percent of public colleges and 60 percent of private colleges offer online coursesii.
If you want to get an online nursing degree, here's what you should know.
Benefits of Online Nursing Degree Programs
At online nursing schools you attend classes on your schedule – a major advantage when you have a job or other responsibilities. You may also become more comfortable using technology in online nursing programs, which is an important skill in the technically advanced world of nursing. With online nursing programs, you can have the freedom to pursue your Master's degree and work class time around your existing nursing career.
Are Online Nursing Degree Programs for You?
Here are some things to find out about online nursing programs:
• When looking at online nursing programs, make sure that the school is accredited by the Accreditation Commission for Education in NursingIII and/or the American Association of Colleges of Nursing. They are the two recognized by the U.S. Department of Education.iii
• Find out if the state in which you plan to work will accept an online nursing degree from the school for your state nursing license.
• Ask how clinical experience requirements are handled in online nursing schools. Will clinical work be done through the school, or will you need to arrange clinical rotations on your own?
Tips for Getting Your Degree Through Online Nursing Schools
• Make sure you have a place where you can take your classes without distractions.
• Be organized. Keep your class notes and projects in one place so you can find and use them easily.
• Use a personal organizer, or online organizing apps, to keep track of exams, due dates, and other class requirements. Getting your nursing degree online will require you to make time commitments. Make sure you schedule not only time for taking the class, but for doing any homework, study group, or clinical requirement.
• Reach out. Connect with other students in your classes for study groups.
• Talk with nurses and nursing students about what to expect from nursing school and how to make the most of it.
[i]pewinternet.org/Reports/2011/College-presidents/Report/Overview.aspx [ii]pewinternet.org/Reports/2011/College-presidents/Summary.aspx[iii]ed.gov/admins/finaid/accred/accreditation_pg7.html#health
Sponsored Listings