Associate's or Bachelor's Degree First?
College is different for every student. Look for degree plans that can fit your unique needs.
Today, enrolling in an associates degree program is almost as common as enrolling at a four-year college.[i]
Associates degree students have many different options. Some plan to finish college after earning a certificate or two-year degree. Others plan to earn a bachelors degrees or more.
U.S. College Enrollment by Degree Level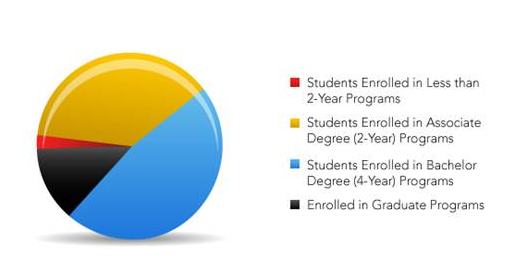 —at least to start. If you look for two-year programs with a focus on general education, you could sample the coursework in
various liberal arts subjects
—including philosophy, psychology, writing, art, history, computer science, and more. Most associates programs can put you in touch with instructors and advisors who can help you identify strengths and talents. You may have more flexibility to transition into a specific major or technical program, after starting with a shorter program.
Your financial situation is less than stable.
If you're having money problems, you may not want to sign on for a four-year degree right now. Completing a shorter degree (perhaps at a community college, where tuition rates are typically much lower than those at four-year schools) may help you make an incremental improvement in your career status. You don't have to forget about your long-term career dreams, just consider taking a break between the stages of your studies.
You want a bachelor's degree from a selective college, but your high school grades or SAT scores were low.
You can't get accepted into a top-notch college if your high school grades were mostly D's. And these days, even state schools are quite competitive. If you want to earn a bachelor's degree from a name brand college or your state's well-known university, you may need to prove yourself in an associate's program first. As an associate's student, you could rewrite your educational track record, using your newfound passion and determination. Schools may look favorably on your improved grades and your two-year effort.
Reasons to Only Earn an Associate's Degree
Your career goal only requires a 2-year degree.
Many of today's in-demand careers only require two years of college education as an entry-level credential. The following list represents just a few of them[ii]:
| | | |
| --- | --- | --- |
| Job Title | Entry-Level Credential | Growth Rate 2010-2020 |
| Paralegals and Legal Assistants | Associates Degree | 10 to 19% |
| | Associates Degree | 20 to 28% |
| Registered Nurses | Associates Degree | 20 to 28% |
| Radiologic Technologists | Associates Degree | 20 to 28% |
| Diagnostic Medical Sonographer | Associates Degree | 29% or faster |
| Occupational Therapy Assistant | Associates Degree | 29% or faster |
| | Associates Degree | 29% or faster |
You simply don't like school.
Not everyone has the necessary interest level or the attention span to complete a bachelor's degree. This has very little to do with being more or less intelligent. Research shows that human beings are more likely to enjoy tasks that they are naturally good at. For example, athletic people enjoy playing sports. Mechanical people enjoy tinkering with engines. Verbal people enjoy reading and writing, which happen to be two skills that are frequently utilized in a bachelor's degree program.
If you're not naturally a verbal person, you can still learn how to read and write, but you probably won't want to spend three or four years — beyond high school — doing these exercises at an advanced level. For you, a bachelor's degree may not be the best option. Instead, you should try to determine your natural strengths. Maybe you have excellent fine-motor skills, which could help you become a talented electrician, calligrapher, or tailor. An associate's degree in electrical science or business administration might teach you what you need to know, and you could start doing what you love that much sooner.
Search for Online Associates Degrees by subject here
---
[i] http://nces.ed.gov/pubs2011/2011230.pdf
You may also be interested in one of these Sponsored Listings: