High School Diplomas & GEDs
Published on: April 02, 2012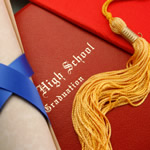 A high school diploma or GED is a minimum educational requirement for most full-time job positions.
Historically, the only option was to earn a GED if you were not a traditional high school student. Today, you are able to earn your high school diploma no matter your age.
Luckily, there are academic institution and schools offering high school diploma programs online. You will even find programs that allow you to earn your diploma for free. Selecting an online high school is not very different from selecting an online college; there are facts to know, methods for comparing schools and programs, and ways to pick out which Web sites are fakes simply posing as schools.