139 Online Degree Programs Available in Accounting
Earning an Online Accounting Degree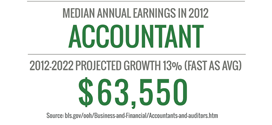 The state of the economy may vary from one year to the next, but there may always be a need for knowledgeable accountants. Pursuing an online accounting degree could help prepare you to pursue a potentially... stable career filled with potential opportunities for enhancement.
Different types of accountants
Completing an online accounting degree doesn't mean you're confined to pursuing a single career working with a specific type of financial records. In fact, there are a few different kinds of accountants or auditors you could work toward becoming:
Public accountants are trained to work with various clients, from individuals to major corporations and governments. When working with these clients, accountants must make sure financial records are accurate and adhere to the law, among other tasks.
Management accountants are sometimes referred to as private accountants. These professionals are employed by an organization and dedicate their time to recording and analyzing this entity's financial information. The work they do is for the benefit of the organization and meant for internal viewing.
Forensic accountants rely on knowledge of law and investigation strategies to determine whether specific financial activity should be considered illegal.
Finally, you can turn a critical eye toward an organization's financial activities and identify cases of fraud and wasteful spending as an internal auditor.
What does an accountant get paid?
What you could potential earn as an accountant or auditor will depend on the specific type of work you do, as well as the amount of experience you bring to the job, among other factors.
Accountant or auditor: $63,550i (13 percent employment growth expected through 2022)ii
Bookkeeping, accounting and auditing clerks: $35,170iii (11 percent employment growth expected through 2022)iv
Budget analyst: $69,280v (6 percent employment growth expected through 2022)vi
An attention to detail required
When you're working with numbers and the law, specific skills can be of value. For example, a strong handle on mathematics is essential, as are good analytical and organizational skills.
Fortunately, the online accounting programs you enroll in may help you acquire the knowledge and skills you'll need to pursue roles such as account and auditor. Courses you may encounter in your pursuit of a bachelor's degree in accounting include economics, information technology, finite mathematics and tax law.
Depending on your specialization, you may also need to study for the Public Accountant Examination. The CPA title proves that you've met specific education and professional requirements. At the same time, those who rely on CPAs can expect work that meets high-quality standards. If you wish to pursue accounting for an organization or pursue filing reports for a federal agency responsible for regulating and enforcing laws for the securities industry, the CPA title is a must.
[i] bls.gov/ooh/Business-and-Financial/Accountants-and-auditors.htm#tab-5 [ii] bls.gov/ooh/Business-and-Financial/Accountants-and-auditors.htm#tab-6 [iii] bls.gov/ooh/office-and-administrative-support/bookkeeping-accounting-and-auditing-clerks.htm#tab-5 [iv] bls.gov/ooh/office-and-administrative-support/bookkeeping-accounting-and-auditing-clerks.htm#tab-6 [v] bls.gov/ooh/business-and-financial/budget-analysts.htm#tab-5 [vi] bls.gov/ooh/business-and-financial/budget-analysts.htm#tab-6
Sponsored Listings