131 Sponsored Online Programs Available
EducationDynamics maintains business relationships with the schools it features
Online Accounting Degrees
Online accounting degrees offer individuals the opportunity to prepare for a variety of career paths. Accountants and auditors are employed in management, tax preparation, payroll, government, finance and insurance.i Their work requires careful examination of financial statements, computation, inspection, assessment and accuracy, and is a vital component of any business.
Accountants may help to find cost reducing strategies, enhance revenues, and improve profits of an organization. No wonder the Bureau of Labor Statistics projects an 11% growth in employment from 2014 to 2024. Sound interesting? Read on to find out which accounting online degrees might suit you.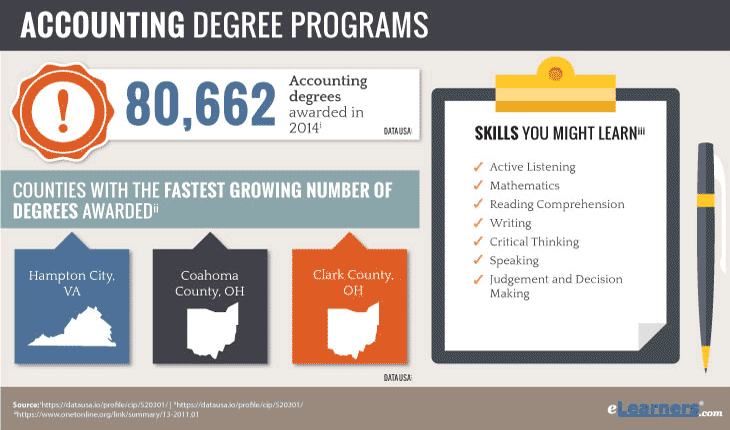 Types of Online Accounting Degrees
Earning an online accounting degree might prepare you to practice the profession of accounting and or to perform some of the business-related functions. It really depends on your goals – both for your own education and professional life. Whether you are initiating or advancing your studies, there are several types of online accounting degree programs that may be available as:
FUN FACT

In 2014, 52,536 bachelors degrees, 18,644 masters degrees, 6,073 associates degrees, and 47 research doctorates were awarded in the field of accounting, per DataUSA.ii

Click To Tweet!
What Is an Online Accounting Degree?
Earning your accounting degree online might mean different things across the variety of online accounting schools listed here. Some programs may be fully online, while some may entail brief visits to a campus. Also, educational web platforms vary and schools may use different technology, so read descriptions. Potential features of some accounting online degrees might include:
Use of podcasts, pre-taped seminars, live-streaming lectures, videoconferencing
Self-paced study when convenient to you
Interactive web-based courses
Communication with professors through course management system, emails, web chat
Online discussion boards to maintain participation
Online Certificate in Accounting Programs
If you are new to number crunching but have good math skills, an online certificate in accounting may be worth considering. Certificates are shorter term than degrees, with fewer courses and usually offer targeted skillsiii in an area such as payroll or taxation. Program lengths and course credits vary, but one might be able to complete an online accounting certificate program in one year full-time – about 10 courses. Some certificates are 'add-ons' meaning they might offer specialized skills that enhance your bachelors degree in accounting and may help prepare individuals for the Certified Public Accountant (CPA) licensing exams. Other certificates are 'stand-alone' meaning they may offer skills that you might be able to use in the workplace (bookkeeping, accounting, auditing clerks).
Online Associates in Accounting Degrees
Some online associates in accounting degrees may offer that next step if you have completed a certificate, or provide the opportunity to learn foundational accounting theory and principles. An associates degree in accounting online program may take about 2-years to complete, or 60 credits. Some programs may prepare students to pursue potential occupations such as debt collectingiv or entry level accounting assistant occupations after graduation. Other programs may prepare students to move toward a bachelors degree in accounting.
Online Bachelors in Accounting Degrees
On average, online bachelors in accounting degrees require about 4-years of full time study, or roughly 120 credits, though these factors may vary. Some of the courses at this level might include general education, as well as instruction in accounting principles and theory, financial and managerial accounting, auditing and taxationv. There may also be a components of management theory, business mathematics and statistics. Most accountants need at least a bachelors degree, however, if one aspires to take the CPA licensing exams, an extra 30 hours of coursework is typically required.vi These hours may be made up with a Masters in Accounting degree, and some online accounting schools may offer dual degree programs (Bachelor's/Master's).
Online Masters in Accounting Degrees
Online masters in accounting (MAcc) degrees may require an additional year beyond the bachelors degree. Students may decide, at this level of education, to pursue a concentration area. Coursework is usually less basic and may include legal aspects of accounting, planning and consulting, budget control, tax accounting, auditing and reporting, research methods and professional standards.
Online Doctorate in Accounting Degrees
Successful graduates of a masters in accounting program might consider earning an online doctorate in accounting degree. A PhD in accounting may involve substantial research and writing in preparation for the dissertation. This highest type of accounting degree might prepare graduates to research or to teach accounting at the postsecondary levelvii among other possibilities.
Choosing Accredited Online Accounting Degrees
Students should check that they are choosing an accredited online accounting degrees. Institutions may be accredited by the U.S. Department of Education or any of the regional accrediting bodies recognized by the U.S.D.E. Individual academic departments and degree programs may have additional accreditation from agencies that specialize in that profession. Online accounting programs may be accredited by the AACSB (Association to Advance Collegiate Schools of Business), ACBSP (Accreditation Council for Business Schools and Programs), or the IACBE (International Assemble for Collegiate Business Education).
Online Finance Degree or Online Accounting Degree?
You have great math and analytical skills, so how do you choose between an online finance degree or an online accounting degree program? Both finance and accounting are disciplines within business, and both may provide interesting and challenging opportunities. In fact, accounting is listed by the Bureau of Labor Statistics as being one of the 'business and financial occupations.viii
Pursuing an accounting degree online may prepare you to work as an accountant or in a related field (e.g. financial analyst, business analyst). Accountants analyze financial information and prepare financial reports. They are interested in assets and liabilities, profit and loss, taxation and ensuring compliance. Financial managers, might be in charge or coordinating financial activities, preparing operational or risk reports for management analysis. Somewhat different potential career paths. Just keep in mind your career aspirations, as both financial and accounting fields may be regulated by different authorities and may require different types of certification for practice within the profession.
Potential Next Step: Chartered Public Accountant
Since licensure is required for some accounting positions, working towards an online accounting degree from an accredited accounting program may be an important step. As mentioned, not all undergraduate accounting degree online programs fulfil the Certified Public Accountant (CPA) examination requirements, which in most states includes 150 credit hours of education.xii If becoming a licensed CPA is your goal, it is never too early to review exam, state and academic program details. You might refer to the American Institute of Certified Public Accountants (AICPA) for some relevant information.
Potential Next Step: Types of Accountants
When choosing online accounting degrees, you may arrive at a point where you might take specialized courses to potentially prepare for a niche accounting career. Many accountants and auditors do specialize so perhaps one of the following types of accountants resonate with you. If so, look for online accounting programs with a supportive curriculum.
Public Accountants: Perform a broad range of accounting, auditing, tax and consulting tasks; many are CPAs and may file reports with the Securities and Exchange Commission (SEC).
Management Accountants: Also called 'cost, managerial, industrial, corporate or private' accountants may prepare reports that are intended to be used by business managers.
Government Accountants: May be employed by federal, state and local governments
Internal Auditors: Check for mismanagement of an organization's funds.
External Auditors: These auditors are similar to internal auditors but are employed by an outside agency.
Information Technology Officers: Internal auditors who review controls for their organization's computer systems.
Take the Next Step
Ready to search for online accounting degrees? Find associates, bachelors, masters and doctorate accounting degrees online. Review our sponsored listings and contact the providers straight from our site; just use the 'request info' setting. This helps you determine what unique features a school offers and how to stay on top of upcoming admission deadlines.
---
[i] bls.gov/ooh/business-and-financial/accountants-and-auditors.htm |[ii] https://datausa.io/profile/cip/520301/[iii] bls.gov/careeroutlook/2012/winter/art01.pdf | |[iv] onetonline.org/link/summary/43-3011.00 | |[v] https://nces.ed.gov/ipeds/cipcode/cipdetail.aspx?y=55&cipid=88885 | |[vi] bls.gov/ooh/business-and-financial/accountants-and-auditors.htm | | |[vii] onetonline.org/link/summary/25-1011.00 |[viii] bls.gov/ooh/business-and-financial/home.htm |[ix] bls.gov/ooh/business-and-financial/financial-analysts.htm |[x] onetonline.org/link/summary/13-2011.01 | |[xi] onetonline.org/link/summary/11-3031.02 | |[xii] bls.gov/ooh/business-and-financial/accountants-and-auditors.htm