265 Sponsored Online Programs Available
EducationDynamics maintains business relationships with the schools it features
Online Criminal Justice & Legal Studies Degree Programs
From investigation and law enforcement, to the court and correctional systems, the field of criminal justice is a broad one. Judging by the enduring popularity of television
shows like Law & Order and CSI: Crime Scene Investigation, it's one that captures the attention of mainstream America. But what does it take to actually pursue a career in criminal justice? If you're seriously interested in the field, beyond the TV shows and podcasts, you may want to check out Online Legal Studies Degree Programs.
Essentials of Online Legal Studies Degree & Criminal Justice & Degree Program
Depending on schools, programs, and your situation, there are many different paths you may take to earning an online criminal justice degree. One of the first things to consider when looking at programs is which level degree you might want to pursue: associate's, bachelor's, master's, or doctorate. Beyond that you may also want to look into what subject you might want to focus on. Criminal justice spans a number of skills, fields, and disciplines, from law enforcement, security, and investigation, to the court system and the correctional system. To learn more about all these potential degree paths, keep reading!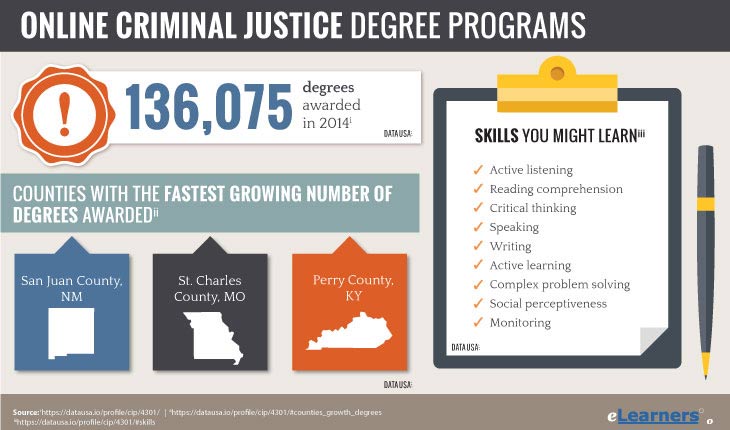 Online Associate's Degrees in Criminal Justice [i]
The most introductory level of degree, associate's degrees tend to have one of two purposes: preparing students to pursue a specific entry-level career, or preparing students to transition into a bachelor's degree program. The first type of associate's degree is often known as a technical degree and will typically have a three-letter acronym: AAS, or an associate's of applied science, or possibly an AGS (associate's of general studies), are two examples. The second type, sometimes called a transfer degree, tends to be known by a two-letter acronym: AS or AA, for associate's of science or associate's of arts. The difference between an AS and an AA can be found in the different courses they focus on: either science or humanities. In general, associate's degrees tend to take around 2 years to complete, usually encompassing around 60 to 120 credits of coursework. [ii]
Online Criminal Justice Bachelor Degree Programs
While similar to associate's degree programs in that they offer coursework at an introductory level, bachelor's degrees tend to require a bit more to earn than associate's degrees. Generally taking 4 to 5 years to complete [iii], bachelor degree programs provide both broad instruction, and allow students to dive deeply into their areas of focus. [iii]
Bachelor's degrees, like associate's degrees, may be offered in different types. The two major bachelor's degree types you will likely come across are the bachelor of arts (BA) and the bachelor of science (BS) degrees, though there may be others.[iii] If you're not sure what the title of a program's degree means, be sure to contact the school for more information.
Online Master's Degree Programs in Criminal Justice
Master's degrees, which may typically take about 2 years to earn, might be considered second cycle degrees, offering graduate-level coursework which may or may not lead to further studies. Typically, the most common types of master's degrees may be the master of arts and the master of science degrees, but you might even see schools offering a master of criminal justice degree. [iv]
While some of these degrees, unsurprisingly, might focus on criminal justice almost exclusively, you may also find master's degree programs in other subjects that offer criminal justice as a concentration. These might include programs that confer a master's in business administration (MBA) or a master's in public administration (MPA). While these programs may focus on the topic in their titles, they might also devote a portion of their coursework to criminal justice and how it intersects with business or public administration.
Earning a Doctorate Degree in Criminal Justice Online
The highest level of study in the American education system, doctorate degrees typically require students to complete a dissertation for graduation [v]. Enrollment in a doctorate degree program typically requires you to have earned a master's degree, which, depending on the program, may not need to have been in criminal justice.
Potential Coursework in Online Legal Studies Degree Programs
Now that you know what levels of study may be available, you're probably curious what it looks like to actually earn an online legal studies degree. One of the major factors that could influence your experience in an online legal studies degree program is the coursework you take. Typically, lower level degrees like an associate's or a master's will feature coursework giving introductions to broad areas of focus in criminal justice. This could include looking at topics like the following:
Ethics
Criminal law
Criminology
Statistics
Corrections
For higher level programs, the coursework tends to become more focused and advanced. Some class topics you might see offered in master's and doctorate programs could include subjects like:
Weapons of mass destruction
Forensic psychology
Emergency management
Victimology
Conflict resolution
Concentrations in Online Legal Studies Degree Programs
One factor that could affect what coursework you take to earn an online legal studies degree is whether or not you're able to choose a concentration. Typically, picking a concentration means you'd take targeted coursework in an area of focus within criminal justice. Not all schools offer concentrations, but if they're available, you might be able to specialize in an area similar to one of the following:
Leadership
Public policy
Homeland security
Education
Law enforcement
Corrections
Knowing the Online and In-Person Requirements
Although you're looking into earning a criminal justice degree online, it's important to know that not every program will be fully online. Depending on the school and the level of the degree, you may have to fulfill certain in-person requirements, such as an on-campus residency. This might be common especially in higher level programs, and some doctorate degree programs require as many as four residencies. Be sure, when looking at programs, to check with the school about whether they require any work that's conducted offline.
Start on the Path to Earning a Criminal Justice & Legal Studies Degree Online
If you feel like you know enough to start looking, you can begin right here on eLearners.com by checking out our listings for various online criminal justice degree programs. If you see a program that interests you, give it a look and be sure to suss out additional information from the school.
---
[i]bls.gov/ooh/office-and-administrative-support/bookkeeping-accounting-and-auditing-clerks.htm#tab-4 [ii]onetonline.org/link/summary/43-3031.00#WorkActivities [iii]onetonline.org/link/summary/43-3031.00#Tasks [iv]ed.gov/about/offices/list/ous/international/usnei/us/associate.doc [v]bls.gov/careeroutlook/2002/winter/art01.pdf [vi]onetonline.org/link/summary/43-3031.00 [vii]onetonline.org/link/summary/43-3031.00#Knowledge [viii]onetonline.org/link/summary/43-3031.00#WagesEmployment [ix]onetonline.org/link/summary/13-2082.00#Education [x]onetonline.org/link/summary/13-2082.00#WagesEmployment [xi]onetonline.org/link/summary/43-3021.02 [xii]onetonline.org/link/summary/43-3021.02#Education [xiii]onetonline.org/link/summary/43-3021.02#WagesEmployment