258 Sponsored Online Programs Available
EducationDynamics maintains business relationships with the schools it features
A Guide to Online Liberal Arts Degree Programs
Online Liberal Arts Degree Programs are available in a number of specific subjects at the associate, bachelor, master, or doctorate level. Bachelor of Arts (BA, BS), Associate of Arts (AA), or Master of Arts (MA, ALM, MLA, MLS, or MALS) are the most common names for liberal arts degrees.i The perfect candidate for a liberal arts degree has a passion for subjects like History, English, Politics, and Sociology, and enjoys learning across a range of disciplines.
Liberal arts degrees are useful as a gateway to pursuing a wide range of careers.ii Studying for a liberal arts or liberal studies degree involves a lot of research and writing. The critical skills taught in this field such as research, writing, communication, and critical thinking are widely needed in the workforce. In fact, over time, employment and earnings for liberal arts majors have steadily risen.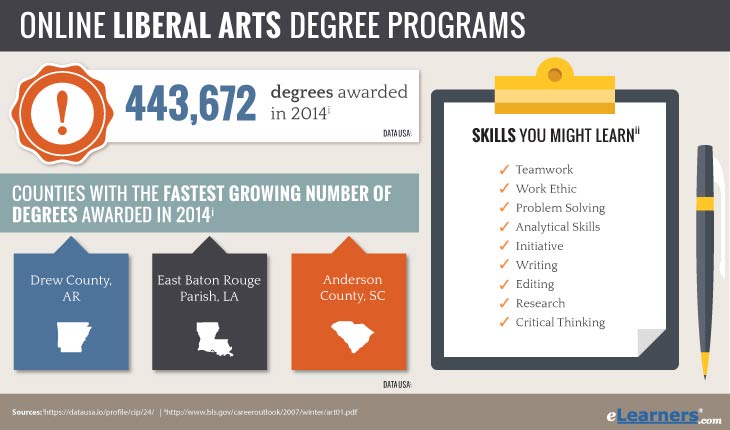 What Is an Online Liberal Arts Degree?
The liberal arts include a number of different subjects that involve similar types of knowledge in writing and critical thinking. The National Center for Education Statistics considers the following to be liberal arts fields:
Social sciences
Psychology
English language and literature
Foreign languages
Philosophy and religion
Cultural, ethnic or gender studies
Liberal arts degrees may also refer to courses of study that combine many of these disciplines together, like Ethnicity in English Literature to name one example. Combining disciplines is its own subject, called Interdisciplinary Studies. These might also be called liberal studies, general studies, or liberal arts degrees.
Many schools simply use the specific subject name instead of advertising a "Liberal Arts Program."
Potential Online Liberal Arts Degree Concentrations
You're considering an online liberal arts degree, so it's likely you have fairly broad interests. Yet, you may find yourself gravitating toward one particular field or subject. Many students, even in liberal studies, want to narrow their education to a specific topic they can become an expert on. Colleges and universities let you choose a specialization such as:i
Religious Studies: This is the study of global religions and their values and beliefs
Fine arts: Focuses on the ins and outs of creative art ranging from topics both traditional – painting, sculpture, architecture, music, and poetry – to modern sine arts like film, photography, design and printmaking. Includes art history and the applied arts.
Communications: Programs will focus on writing, speaking, and people skills in preparation for a pursuit of media, journalism, PR, advertising or marketing roles.
History: Courses addresses issues like the significance of Global History, U.S. History, European History, Women's History, military history and role of history in digitization and research methods.
Peace Studies: Includes the basics of building peace and using conflict resolution as a tool in the military, in violence prevention and in international institutions.
Global studies: This is the cross-cultural studies of different cultures across the globe, their religions and worldviews, as well as current international trends.
Creative writing: Focused on learning the basics of high-quality, interesting writing that has the right tone and style for the occasion. Can be applied to writing novels or books, writing copy for TV and entertainment or even advertising, or creating content for websites, to name a few.
Linguistics: Addresses the fundamentals of human language, such as phonetics and phonology, how we use words and form sentences, and what we mean and convey in our spoken words.
Many of these concentrations may overlap, and include courses from different departments. Creative writing, for example, may include courses in English, Communications, Film or Journalism. Keep in mind also that schools may have very different options, and not all may be included in the list above. Reach out to the school directly to see what their choices for specialization may be in an online liberal arts degree program.
eLearners has information on the following Liberal Arts Degree Programs:
Online Ethnic & Cultural Studies Degree Programs
Online Communications & Public Relations Degree Programs
Online Economics Degree Programs
Online English Degree Programs
Online History Degree Programs
Online Interdisciplinary Studies Degree Programs
Online Languages Degree Programs
Online Philosophy Degree Programs
Online Creative Writing Degree Programs
Course Offerings in a Liberal Arts Degree Program
With so many different subjects under the umbrella of liberal arts, courses might range in subject matter from Mythology to Violence Prevention, from Neuropsychology to English composition. You may be able to combine one of these with a course on Research Methods.
Other courses may focus on teaching students about a variety of cultures, art forms or languages. Classes may include topics such as Hispanic film, Latin American cultures, American literature, or spoken and written film.
You may also take classes such as health and society, information systems, or education. These focus on the society we live in, and aim to help students understand how the world works.
Why Consider an Online Liberal Arts Degree?i
Search the Sunday classifieds and you are not likely to find a posting for a Liberal Artist. Nevertheless a liberal arts degree is very practical. There is a strong case for pursuing an education for education's sake — and studying what interests you — as opposed to trying to predict the future job market. Market-based degrees that are "hot" today, may not be tomorrow. Since liberal arts majors do not narrow their focus to one field of study or receive specialized training for a specific job after college, they get to choose from a broad range of course work in disciplines as varied as philosophy, sociology and foreign language. The result is a well-rounded job candidate able to think critically and creatively. Earn a liberal arts degree online and you are not only marketable, but in demand.
Fun Fact: Earning an associates of liberal arts might be more popular than ever. Between 2003-2004 and 2013-2014, the number of students that earned associates degrees in the field jumped from 227,700 to 353,400, an increase of 55%! iii
Careers with a Liberal Arts Degree
After earning an online liberal arts degree, many students may even go on to earn additional degrees. Others might opt to enter the workforce. Depending on subject and specialty, liberal arts might prepare students for a wide variety of career pursuits. Consider the following options.
High School Teacher: important qualities include communication skills, patience, and resourcefulness. To pursue this occupation, you might generally need a bachelors degree, and potentially special certification.iv Median 2015 salary was $57,200 per year. v
Social Worker: important qualities might be empathy, interpersonal skills, problem solving and time management. To pursue this occupation, you might generally need a bachelors degree, although some employers may require a masters degree and/or special certification.vi Median annual income in 2015 was $45,900.vii
Writer or Author: If you're a word wizard, you may consider pursuing this career. Important qualities may include creativity, determination and social perceptiveness.viii Entry-level education may typically be a bachelors degree.vii The median yearly salary was $60,250 in 2015.ix
Getting Started
Finding an online liberal arts degree program is easy using the eLearners.com navigation settings. Browse sponsored listings that might include liberal arts programs from writing to history to psychology. You might see programs such as:
Online Masters of Arts in Communication
Online Master of Science in Communication
Online Master of Arts – Strategic Communication
Online Post-Masters Certificate in Quantitative Methods
Online master of Communication Management
Online Master of Science in Communication – Health Communication
Online MA Behavioral Economics
Online Masters of Arts in New Media Journalism
Online BS in Liberal Studies
Online BA History
Online Peace Studies Graduate Certificate
Online Master of Business Administration – Public Relations
Online Doctor of Philosophy in Organizational Development and Leadership – Sport Fitness and Wellness Management Specialization
Click the Request Info button to determine which of these programs aligns with your unique goals and ambitions and get on the path to learning!
---
[i] bls.gov/careeroutlook/2007/winter/art01.pdf [ii] nces.ed.gov/programs/coe/indicator_cta.asp [iii] bls.gov/ooh/education-training-and-library/high-school-teachers.htm#tab-4 [iv] bls.gov/ooh/education-training-and-library/high-school-teachers.htm#tab-1 [v] bls.gov/ooh/community-and-social-service/social-workers.htm#tab-4 [vi] bls.gov/ooh/community-and-social-service/social-workers.htm#tab-1 [vii] bls.gov/ooh/media-and-communication/writers-and-authors.htm#tab-4 [viii] bls.gov/ooh/media-and-communication/writers-and-authors.htm#tab-1