68 Sponsored Online Programs Available
EducationDynamics maintains business relationships with the schools it features
Why Pursue an Online Fine Arts Degree
Earning a fine arts degree online is the first step to sharing your gift with the world. You already consider yourself a creative person. You'd like to find a way to channel your artistic instincts into your day-to-day life. So you might want to consider pursuing an online degree in fine arts to bone up your skills with some formal training. You may not think of fine arts as a traditional academic subject, but most fine artists do in fact earn a degree (and sometimes more than one!) to help them follow their bliss.i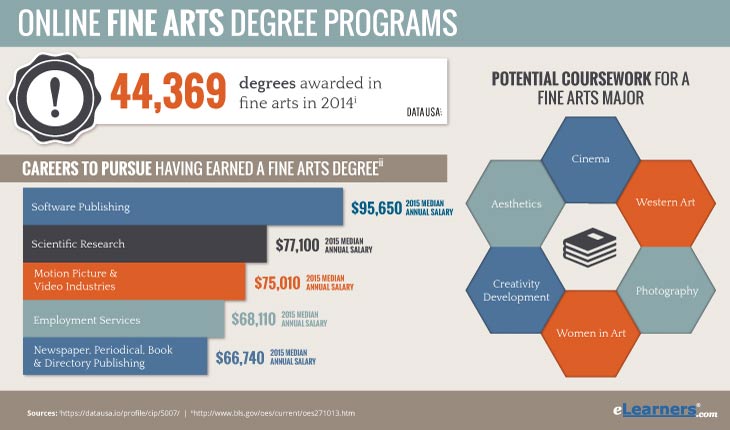 Fine Arts Degree Online: Professional Insight
"The most helpful aspect of earning my Bachelors of Fine Arts was the exposure that I had to so many different areas of art and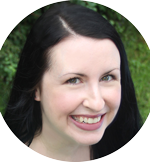 design. Whether it was photography class, sculpture class, even life drawing- each creative skill that I learned studying art directly and greatly benefits the product design work that I do today."
~Kristen Keenan, Design Director at Trichromatic Studio
Fine Arts Degree Online
While a lot of people think that art is an innate skill, there is actually a great deal aspiring fine artists must learn at the beginning of their journey. Researching art history, discovering contemporary methods of painting, sculpting and designing, and learning about the most recent trends in the art world are all critical facets of an education in fine art.
Art students may need to take classes to stay on top of the latest technology and software used in their chosen medium be it video recordings or illustrations. Furthermore, one of the most important things a student can do is begin to construct an impressive portfolio. Taking a Fine Arts Degree Online may help you achieve these goals.
First things first, you probably want to know what your options might be for earning a degree in fine arts online. Depending on your current educational background, your life goals, and other factors, you might want to look at one level of degree or another. Here's a breakdown of what choices you might have for your Fine Arts Degree Online.
While you may notice that many bachelor's degrees are called a Bachelor of Arts (BA), this title actually covers numerous subjects, some of which don't sound so artistic like a BA in mathematics or geography. The bachelor of fine arts degree, or BFA, meanwhile, applies directly to the subject of fine arts and design. You may, however, see some BA programs in creative, artistic fields like theater studies, music, or film studies. Yet for now, we want to focus on the BFA—emphasis on the fine arts.
However, across the board the BFA has some features that are the same as a regular BA. A BA is the most common degree for students in United States universities to earn, since the bachelor's degree is a cornerstone of American higher education. Earning a bachelor's degree usually takes most students about four years of full-time study. The coursework might be both broad to earn your BFA degree, with general education requirements (math, English and so on), but with a deep focus on the chosen major. The chosen major in a fine arts degree online could be in a subject such as:
Painting or drawing
Photography
Glasswork
Ceramics
Sculpture
Textiles
Graphic design
Illustration
Jewelry
Interior design
Printmaking
Furniture
Animation
Master of Fine Arts
For those who have already earned a bachelor's degree, a master's degree in fine arts or design might be an option. Master's degrees are considered graduateiii or second-cycle degrees, and may take about two years of coursework to complete. Generally, master's degrees are more advanced than bachelor's degrees. While some master's degrees are research focused and could lead to further study, the Master of Fine Arts could be considered a terminal degree.
MFA subjects could be in the same subject areas as BFAs. Yet they could also go more in-depth on a subject. Or they may also branch into more advanced areas such as curatorial practice or integrated practices which addresses studio installation methods and systems.
Coursework for a Fine Arts or Design Degree
If you're curious as to what earning a BFA or MFA degree in design or fine arts might look like, you should do a deep dive into the curriculum for each program you're considering. This may typically list the exact class offerings or requirements for a specific course of study. While there's no set path to earning a fine arts degree online or any other art or design degree, you may notice a lot of similar class topics. These could include some of the following examples or similar subjects:
Fundamentals of art
Visual development
Creativity development
Photography
Western art
Cinema
Keep in mind that there are many types of art you can study. Different programs will offer different courses, so be sure to look into this for each school you're interested in! Fine art can be anything from the traditional to the modern, from landscape and portrait painters to tattoo artists.
Fun Fact: From 1912 to 1948 architecture, literature, music, painting, and sculpture competitions were part of the Olympic Games.
Career Pursuits in Fine Arts and Design
Craft and fine artists span a wide range of specific occupations and, depending on what you study during your fine arts degree program, you might pursue one of these careers.iv They might range from painters to cartoonists to jewelry artists, and even glassblowers, furniture makers and scientific illustrators.iv Beyond formal education, many of these artists may benefit from long-term on-the-job training, private lessons, or apprenticeships.i Altogether, workers in these roles earned median annual wages of $45,080 in 2015, though the position is expected to grow at a slower than average rate until 2024.v
You may also be able to pursue a career as a graphic designer.vi Graphic designers might create visual layouts, production designs, and artwork for business enterprises or media outlets.vii They could work with computers or by hand, and typically have expertise designing both images and text.vii In 2015, they earned a median annual income of $46,900.viii
Skills Needed to Get a Fine Arts Degree Online
There are some qualities it might be important to work on along the way as you gear up to pursue a career in the arts world. They include things like:
Artistic ability: Well this one is a no-brainer!
Creativity: Another one that ranks up there as a must-have!
Business skills: Not necessarily top of mind when you think of a fine artist, but think about it. Unless you're already established in your industry, you need to hustle to get your name out there and get on people's radar. Self-promotion is the name of the game, people! You'll need to put on your business and social media manager hats for this one.
Customer-service skills: Again, you'll be interacting with the public at shows, gallery events and other functions. Remember that everyone is a potential customer! So work those customer-service skills.
Dexterity: Almost all artists work with their hands. Whether you're sketching with a pencil, mixing up paints on your palette, drawing an illustration on a touch-screen with your fingers, twisting jewelry and pounding metals, or changing lenses and filters on your camera. . . You're using your hands.
Fine Arts Degree Online: Professional Insight
We asked graduates of fine arts about how earning a master's degree in fine arts can build your skills to practice your passions:
"Earning a Masters of Fine Arts Degree helped me expand my horizons and train myself to be a writer. For me, the MFA program was not about a career goal, but about building the life I wanted with the skills and practice that I picked up during my graduate courses."
~Sarah Donawerth, Writer
Getting Started
If you've read enough and are ready to pursue a fine arts degree online, feel free to start your research right away! You can begin right here on eLearners.com by taking a look at our sponsored listings. You might see sponsored listings such as an MFA in media design or any of the subjects mentioned above. You can use the Request Info button to reach out to the school directly and learn more about each program.
---
[i] http://www.bls.gov/ooh/arts-and-design/craft-and-fine-artists.htm#tab-4 | [ii] http://www2.ed.gov/about/offices/list/ous/international/usnei/us/bachelor.doc | [iii] http://www.bls.gov/careeroutlook/2008/fall/art01.pdf | [iv] http://www.bls.gov/ooh/arts-and-design/craft-and-fine-artists.htm#tab-2 | [v] http://www.bls.gov/ooh/arts-and-design/craft-and-fine-artists.htm#tab-1 | [vi] http://www.bls.gov/ooh/arts-and-design/graphic-designers.htm#tab-4 | [vii] http://www.bls.gov/ooh/arts-and-design/graphic-designers.htm#tab-2 | [viii] http://www.bls.gov/ooh/arts-and-design/graphic-designers.htm#tab-1