22 Sponsored Online Programs Available
Online Fine Art Degree Programs
An online fine arts degree teaches how to combine creativity with the technical and technological aspects of the field. Typically, this is through studio practice courses and an analysis of theories and modern research.
As there are many types of online fine arts degree programs, many schools offer a variety of majors and concentrations for you to choose from. These options range from ethnomusicology to visual arts all the way to more technological programs such as graphic design and digital media arts.
Program formats vary and may combine some aspect of campus learning in addition to your online classes. Other online options may include the time-saving self-paced online classes.
Fun Fact

Vincent Van Gogh's Starry Night depicts Saint-Rémy-de-Provence, a small town in the south of France. He painted the work while a patient at the psychiatric hospital located in town, which currently has a wing named after the painter.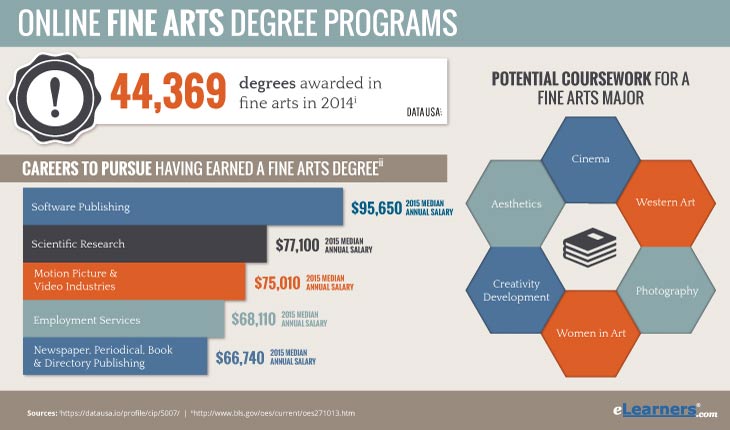 Fine Arts Degree Online: Professional Insight
"The most helpful aspect of earning my Bachelors of Fine Arts was the exposure that I had to so many different areas of art and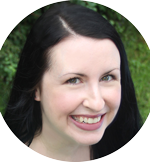 design. Whether it was photography class, sculpture class, even life drawing- each creative skill that I learned studying art directly and greatly benefits the product design work that I do today."
~Kristen Keenan, Design Director at Trichromatic Studio
Online Fine Arts Degree Programs
When it comes to pursuing an online fine arts degree you have many options. This includes finding the right major or concentration, the right degree level to pursue, and finding the perfect school for you.
Why Is It Important to Study Art?
Although some may view the study of art as a luxury, studies show that simple creative activities are some of the building blocks of child development. Plus, studying the humanities in college, including art, helps students in whatever endeavors they pursue.
Some of the benefits of studying art include understanding how to:
Think critically and independently
Read perceptively
Imagine how others lived
Provide a larger context for how to live and how to confront issues
Strengthen problem-solving and critical-thinking skills
Plus, art awakens your imagination and allows you a moment to contemplate your own experiences. By teaching about cultures and peoples from around the world or from distant pasts, you're gifted a moment where form and meaning are intertwined.
Online Fine Arts Degree: Different Degree Levels
Typically, there are four different levels of online fine arts degree programs, plus three types of certificates. Each of these levels are designed to teach an understanding of the tools, processes, and histories of the various fields.
In fact, some fine arts programs use technology and interactive tools to create art for new audiences. This may include how to create art with technology, to share news through digital media, or for business purposes such as branding.
The four levels of online fine art degree programs and the three certificates are listed below with the distinct features of each. This may include admissions requirements, how long that level takes full-time students to complete, and any unique graduation requirements.
Level 1 - Online Associates of Fine Arts
Typically, an online associates of fine arts degree is designed to teach a strong technical and artistic foundation. This may allow you to continue your education in a bachelors program by offering a curriculum that reflects those at four-year universities. In fact, some schools that offer an associates degree have joint enrollment agreements, which may make transfer to pre-specified four-year institutions even easier.
Many online associates degrees in fine arts require students to complete roughly 60 credits. However, some programs may require more based on their individual design. Depending on that unique design, courses are broken into general education requirements and major courses. Check with a number of different programs before applying in order to find a perfect program for you.
Level 2 - Bachelor of Fine Arts Degree Online
Many online bachelor of fine arts degrees, or BFA, introduce students to a wide range of artistic styles and periods in both the western and nonwestern world. This usually includes an analysis of theory, criticism, and research methodology in a chosen major or concentration in order to develop critical thinking, research, and writing skills.
Many BFA programs require that you earn about 120 credits, depending on the unique design of the program. Typically, this includes courses that cover your general education requirements and art courses that foster an understanding of the aesthetics, production, patronage, and consumption of art.
Many bachelor of fine arts degree programs ask students to choose a major or concentration for their degree. This allows your curriculum to be tailored to a specific type of visual art and range from a variety of subjects.
Level 3 - Online Masters of Fine Arts
In order to earn your online masters of fine arts degree, or MFA, many schools require that you complete 36 credits, though some schools require as many as 42, depending on the design of the program. Many full-time students can earn their MFA in two years. However, some schools offer an accelerated design that students may complete in as little as one year.
Typically, schools require that you've earned a bachelors degree from an accredited university. Some schools may have additional admissions requirements, such as a statement of purpose, letters of recommendation, and a resume.
In order to earn your online MFA, most programs require that you complete a thesis or capstone project. However, every program has a different design and some programs may not have that requirement. At some schools this may be a design project that you may present to a panel of your peers and professionals in order to demonstrate your artistic skills and knowledge of strategy.
Level 4 - Online PhD in Fine Arts
Online PhD fine arts degree programs are the "terminal" degree in the field, or the highest degree you can earn. Therefore, programs are designed to develop more critical analysis, research, and writing skills. This may provide a comprehensive approach and many programs are offer an interdisciplinary curriculum to teach how a specific concentration fits into the greater fine arts industry.
The admissions requirements for an online fine arts degree at the doctoral level typically include a masters degree from an accredited university. Many schools also require that you meet minimum GPA requirements, minimum GRE scores, and provide letters of recommendation.
Some schools may accept up to 30 credits transferred from your masters degree towards the completion of your PhD. However, not all programs offer this type of transfer credit, so be sure to check with a number of programs before applying, especially if this is important to you.
Earning an online PhD in fine arts usually includes proposing, writing, presenting, and defending a dissertation to a board of faculty. Normally, this is your main focus during your last two years of your PhD, however, every program has a unique design.
3 Online Certificates in Fine Arts
Online certificates in fine arts come in a variety of sizes and lengths to provide students with a number of options. As non degree programs, certificates may be offered as:
Undergraduate or Professional: Usually only requires a high school or GED equivalent diploma
Post Baccalaureate: Requires a bachelors degree
Post Masters: Requires a masters degree
Keep in mind that every school has unique admissions requirements. Therefore, some programs may have additional requirements. Also, some schools may not offer all of the certificates mentioned above.
In order to earn your online certificate in fine arts, some programs require that you only complete three courses. However, more often requirements range from four to eight classes. Many certificates allow you to choose a concentration, so that your curriculum is focused on a particular aspect of fine arts.
The majority of certificates can be completed in one year, though some recommend that you take longer in order to account for responsibilities outside of the classroom.

Different Types of Online Fine Arts Degree Programs
When it comes to an online fine arts degree, you have many choices. These options include choosing the degree level that fits your current academic standing and your goals.
More importantly, you also have a number of options when it comes to majors and concentrations. Most degree levels offer many of the options listed below, plus others. However, many associates degrees may not provide as many options as the other levels.
Some of the available majors and concentrations options are listed below, with common goals and a list of some of the common courses.
Online Graphic Design Degree
Online graphic design degree programs teach design principles and processes in a constructive and collaborative environment. By focusing on real-world applications, programs expose students to hands-on learning opportunities in order to apply the theories and principles.
Often, the curriculum examines concept design, the design process, design systems, and strategy. Some programs also require students to complete a professional portfolio and promotional materials, which may be used to enhance your resume upon earning your degree.
Many programs also combine exploring the practice and history of art and design. This allows for the academic exploration of design on culture, human centered design, and social design.
Common Online Graphic Design Courses
Many of the courses you may take while earning a graphic design degree examine different aspects of digital design. This may include topics such as publication design, vector illustration, typography, and animation. Typically, this includes using the latest advanced technology commonly used in the field.
Some of the courses you may take include:
Advanced Typography
History of Graphic Design
Interactive Publication
Digital Graphic Design for the Web
Advanced Digital Imaging
Online Art History Degree
An online art history degree strives to teach an understanding about different cultures and epochs through an analysis of art and architecture as a means of communication. Typically, this includes examining the tools and artifacts to encourage humanity and sympathy, and to provide a better understanding of the processes and living standards of the different time periods.
In order to teach a comprehensive understanding of art history in a variety of ways, these degrees offer a diverse curriculum that fosters critical understanding of the aesthetics, consumption, and production of art. By using multiple approaches and methodologies, courses examine art from a variety of cultures, time periods, and geographies.
Common Online Art History Courses
Some programs are designed to provide students with an opportunity to learn about a number of different styles or time periods. For instance, some schools require students to take at least one course in subjects such as Ancient, Medieval, Renaissance/ Baroque, Modern, and Non-Western eras.
This is to understand the similarities and differences between these types of art, as well as an understanding of current research in the field. Through the methodologies and historiography of each of the time periods, courses emphasize visual literacy, an understanding of the social forces and cultural ideologies that shaped the different periods and styles.
Some of the common art history courses include:
Art from Prehistory Through Middle Ages
Art from Renaissance to Present
History of Photography
Buddhist Arts of Asia
Art History of the World Regions
Online Museum Studies Degree
An online museum studies degree teaches students the full spectrum of museum endeavors, from organization and mission planning to institutional histories, as well as current developments in the field. This curriculum allows students to examine the collection, preservation, interpretation, and presentation of specimens, artifacts, materials, monuments, and historic sites.
Usually, programs analyze the role of the contents museums and other institutions, as well as the political, cultural, legal, and economic significance of these artifacts. Some programs also focus on the leadership and management skills required to run museums of different sizes. This may include topics such as financial management, organizational behavior, and resource development.
Common Courses for Online Museum Studies Degrees
Typically, courses combine research, theories, and direct interaction with museums and their collections to study the material culture. Many programs strive to unite the history, and practicum of the field into the curriculum.
Some of the common courses in museum studies include:
Introduction to Museology
Collection Management
Exhibitions
Conservation of Material Culture: Art, Artifacts, and Heritage Sites
Recreating Ancient Greek Ceramics
Visual Communication Design Degree
An online visual communication design degree comes in many different shapes and sizes in order to provide you a variety of options. Some of these options are visual arts, which provides a studio environment for students to pursue their creative interests.
These programs teach creativity, which can be applied to any field and focus on perceptual skills and cognitive flexibility. These skills may improve reasoning and help you better understand data sets.
However, there are many other options of visual communications. Some of these include concentrations such as:
Animation and Motion Graphics
These programs are usually more focused on the digital side of visual communications, which combines creativity and technology.
Online Visual Communication Design Courses
Depending on the type of degree you choose to pursue, your courses may vary widely. As with many of the other online fine arts degree concentrations, visual communications focuses on the creative process and studio applications.
However, those concentrations that are more focused on the digital side typically involve more technology. This may include understanding coding, such as CSS, HTML, and specific software.
Some of the common visual communication degree courses include:
Studio Drawing
Painting Workshop
Design Studies: Detail, Product, Prototype
Web Site Design
Design and Development Analysis
Online Theater and Performing Arts Degree
An online fine arts degree in theater analyzes world history, art, culture, literature, and all other aspects of the human condition. This type of curriculum teaches how theater explores the great philosophical questions by placing humanity under the microscope in real time and in front of a live audience.
Many theater degrees focus on providing students with a well-rounded liberal arts education, which includes creative experiences in studio and performance work. This may develop artists who create performances of credibility, power, and imagination, as well as a comprehensive analysis of acting, directing, and playwriting.
Common Courses for Theater and Performing Arts Degrees
Typically, the curriculum for online theater and performing arts degrees include courses that cover each of the different aspects of theater production. This may help students understand theater and the craft of theater arts through the combination of historical, theoretical, and practical training.
Some of the common courses you may take include:
Performing Musical Theater
Scene Study
Playwright Strategies
History of Modern Theatre and Drama
Practicums in Theater Production
Online Interior Design Degree
Online interior design degrees teach how a space connects to the people who use it. This may include how to utilize space in order to maximize production for professional use or how various colors and furniture can affect mood.
Therefore, programs and courses are designed to develop the technical and creative skills to design interior spaces that meet demanding requirements, such as aesthetics, safety, accessibility, and sustainability. Typically, this is through a collaborative experience where students work together to complete projects.
Besides teaching the elements of design, all parts of the design process, and the history of interior design, programs also strive to develop other skills. These may include critical analysis, effective communication, and the teamwork necessary to succeed in the field.
Common Courses for Online Interior Design Degree
Many undergraduate programs focus on developing the basics, such as perspective, proportion, color, drafting, and rendering. This provides a foundation that subsequent courses and degree levels can build upon. More advanced topics may include textiles, furnishings, lighting, computerized design, and computer-aided design.
Some of the common courses you may take while pursuing an online interior design degree include:
Basic Interiors
Colors for Interiors
Design Process
History of Interior Design
Rendering for the Interior
Online Art Education Degree
Online art education degrees teach a comprehensive and critical understanding of the key topics of how the field has continued to evolve. By examining theories and best practices in education with studio practice and critical analysis of the elements of art, programs focus on developing reflective and critical thought.
Many programs also teach students to be aware of the benefits and challenges of promoting democratic values in our diverse society. This allows students to assert art's role in fostering multi-cultural and intercultural understandings in order to effectively teach students of all backgrounds.
Some schools offer a variety of majors or concentrations for your art education degree, which include:
Art Criticism
Art History
Museum Education
Curriculum Theory
Child Growth and Development
Keep in mind that some schools may offer these concentrations or others, and other schools may not. Be sure to check with a number of options before applying in order to find the perfect school for you.
Common Online Art Education Degree Courses
Typically, courses are designed to teach a complete understanding of the concepts of visual art, but also the history and current issues in the field. This usually includes a combination of studio practice, art history, and theoretical research in the field of art education.
Some of the common courses you may take include:
History of Teaching Art
Curriculum in Teaching Art
Contemporary Issues in Art Education
Principles of Instructional Supervision
Contemporary Art and Public Pedagogy
Potential Careers With a Fine Art Degree
Once you've earned an online fine arts degree, there are a number of careers that you may pursue. These careers usually depend on what type of major or concentration you chose to earn your fine arts degree in and what level of degree you've earned.
For instance, both graphic designers and multimedia artists and animators are required to have a bachelors degree and a strong portfolio.i On the other hand, while many art directors have a bachelors degree, many also have five years of work experience as fine artists or photographers. In addition, some go on to earn a master of fine arts (MFA) in order to show they want to take on more responsibility.ii
In order to become a postsecondary teacher, many programs require that you have earned a PhD. However, there are some fields in fine arts where the terminal degree is a masters, in which case that is the required degree to become a postsecondary teacher. However, check with a number of employers to see specific educational requirements.iii
Some of the careers you may pursue upon earning an online fine arts degree include:
Art Director:
2020 Median Annual Salary: $97,270iv
Projected Change in Employment, 2019 – 2029: -2%v
Graphic Designer:
2020 Median Annual Salary: $53,380vi
Projected Change in Employment, 2019– 2029: -4%vii
Multimedia Artists and Animators:
2020 Median Annual Salary: $77,700viii
Projected Change in Employment, 2019 – 2029: 4%ix
Art, Drama, and Music Teachers, Postsecondary:
2016 Median Annual Salary: $68,650x
Projected Change in Employment, 2014-2024: 11%xi
These are just some of the examples of careers you may pursue upon earning your online fine arts degree. Depending on your major or concentration, there may be a number of other careers available.
Find the Perfect Online Fine Arts Degree for You
Are you interested in applying your creativity to earning an online fine arts degree? Then take the next step to finding the perfect school for you.
Click on any of the sponsored listings on this page for program descriptions, common courses, and different online art degree programs offered. Plus, you can even contact your favorites directly to request more information and learn how to apply today.
---
[i] bls.gov/ooh/arts-and-design/graphic-designers.htm#tab-4 [ii] bls.gov/ooh/arts-and-design/art-directors.htm#tab-4 [iii] bls.gov/ooh/education-training-and-library/postsecondary-teachers.htm#tab-4 [iv] bls.gov/ooh/arts-and-design/art-directors.htm#tab-1 [v] bls.gov/ooh/arts-and-design/art-directors.htm#tab-1 [vi] bls.gov/ooh/arts-and-design/graphic-designers.htm#tab-1 [vii] bls.gov/ooh/arts-and-design/graphic-designers.htm#tab-1 [viii] https://www.bls.gov/ooh/arts-and-design/multimedia-artists-and-animators.htm#tab-1 [ix] https://www.bls.gov/ooh/arts-and-design/multimedia-artists-and-animators.htm#tab-1 [x] bls.gov/ooh/education-training-and-library/postsecondary-teachers.htm#tab-5 [xi] bls.gov/ooh/education-training-and-library/postsecondary-teachers.htm#tab-6