5 Sponsored Online Programs Available
EducationDynamics maintains business relationships with the schools it features
Why Pursue an Online Degree in Fine Arts?
If you're passionate about pursuing a career in the realm of fine arts, but unsure what professions, requirements or expectations this field may yield, it may be worth it to
work toward your
online degree in fine arts
. Earning an online degree in fine arts may help you develop the right skills for harnessing those creative ideas and working toward applying them in a practical setting.
Whether you're employed in the professional services, retail, education or manufacturing industry, you could benefit from knowledge gleaned from an online degree in fine arts. Individuals employed in this profession can generally dedicate their degrees toward honing their craft, whether they prefer visual or performing arts.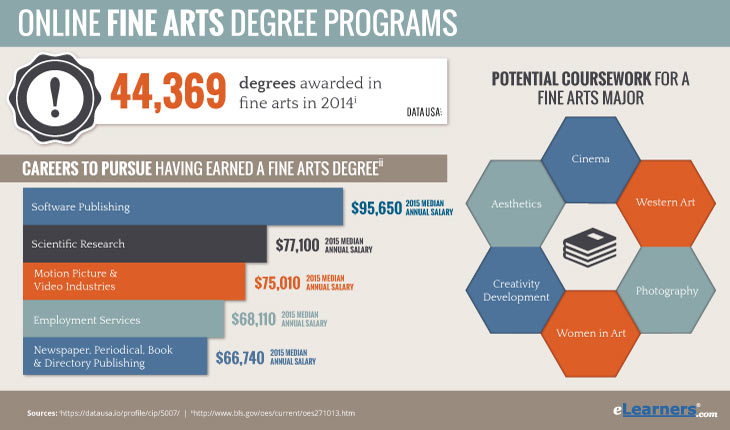 A glimpse into the realm of fine arts
Pursuing certification in this field allows students a variety of benefits that may greatly serve their professional careers. During courses specifically geared toward their individual artistic talent, students could develop pieces to supplement their portfolios. As they work toward their degree in fine arts, they may use course time to perfect methods, learn new skills, develop connections and increase industry knowledge. Additionally, as these students may frequently complete tasks alongside fellow artists, they could foster deeper relationships with professionals. These connections may be crucial for students upon graduation, as they may rely upon friends and mentors to pursue employment after school.
There are several different disciplines in which students could specialize, including graphic design, painting, drawing, theater, illustration, animation or photography. If students know they want to pursue an online degree in fine arts, but do not yet have an area of specialty, courses may guide learners through the basics of certain fields to give them a better glimpse into individual realms. Upon earning certifications, these workers could pursue employment in many industries - from corporate organizations to postsecondary institutions.
What Might the Typical Coursework Look Like for an Online Degree in Fine Arts?
Much of the coursework for an online degree in fine arts is generally project-based, so students may have the opportunity to develop a portfolio of work samples to show possible future employers or potential clients.
Each program is different, but the typical course of study to earn a bachelor's in graphic design, for example, may include some or all of the following:
Principles of Design
Computerized Design
Art History
Drawing
Printing Techniques
Website Design
In addition, students who envision themselves pursuing a career in the corporate world may want to consider writing, marketing, and business courses, which may be helpful when it comes to collaborating on project teams in a businesslike environment.
What Areas of Study May Be Available?
Depending on their interests, talents, and career objectives, visual artists may choose to earn a degree in any of the following areas of study:
Fine Arts
Graphic Design
Computer Graphics
Animation
Information Technology
What Career Paths Might Graduates Pursue?[iii]
You may find several pathways from which to jumpstart a career in visual arts, and career paths for visual artists may span multiple industries. Art and design occupations could include jobs like the following:
Art Directors
Craft and Fine Artists
Fashion Designers
Industrial Designers
Graphic Designers
Interior Designers
Craft or Fine Artists
Multimedia Artists and Animators
What Are Potential Career Paths in Art and Design?
Earning a fine arts degree online may help enhance your skills and education, depending on which type of program you choose.
Multimedia artist or animator - For anyone interested in becoming a multimedia artist or animator, the ever-changing landscape in media and digital arts means today's employers may prefer strong technical skills. Typically, a bachelor's degree is required, along with a well-developed portfolio. [ii]
Graphic designer - That may also be true if you have an interest in becoming a graphic designer: The strongest candidates for jobs in this field may have a bachelor's degree as well as a portfolio full of their best work. [i]
Art director - Another career path pursued by some graduates of fine arts degree online programs is the role of art director. These positions typically require at least a bachelor's degree in the arts or design, in addition to hands-on work experience in an arts-related field.[iv]
Fine artist - Artists who create works of art for sale or exhibition often choose to earn degrees in order to improve their likelihood of jumpstarting their career [v]. Fine arts degree online programs may offer opportunities to learn important skills that employers may be seeking.
Possible salaries for a career in fine arts
On the whole, projected growth for art and design occupations is expected to move at a slower pace than the average for all occupations up to 2024, according to the Bureau of Labor Statistics: The growth rate is projected to be 2 percent from 2014 to 2024, which translates into about 16,700 new jobs.[iii]
As the digital world continues to expand and influence more areas of our lives, both the business and entertainment sectors will need workers to help them maximize their presence through digital means. [iii]
For that reason, much of the projected growth in art and design occupations is expected to come from these areas. The BLS speculates that much of the growth that may occur is likely to be in the digital media arts sphere. Employers are projected to be looking for people who can create visually appealing web presences, assist with branding across the various media platforms, or create visual effects for video games, TV, and movies.[iii]
For multimedia artists and animators, growth is projected to be 6% between 2014 and 2024, which matched the national average for all occupations.[vi]
Craft and fine artists: 2012 Median annual salary of $44,380 (3 percent projected growth through 2022)[i]
Multimedia artists and animators: 2012 Median annual salary of $61,370 (6 percent projected growth through 2022)[ii]
Art directors: 2012 Median annual salary of $80,880 (3 percent projected growth through 2022)[iii]
Salary Potential
Overall, the median annual wage for the broad category of arts and design occupations was $43,100 in May 2014. [iii] However, here's a sampling of median annual wages in other career paths in the field of art and design:
Multimedia Artists and Animators: $63,640
Industrial Designers: $64,620
Art Directors: $85,610
Craft and Fine Artists: $44,400
Graphic Designers: $45,900
All figures above are median annual salaries for 2014. Compared to the median annual wage in 2014 for all occupations, which was $35,540 for 2014, median pay for arts and design occupations rank higher on the pay scale. [iii]
Additional skills required for a career in fine arts
The field of fine arts is competitive, as individuals are constantly pitted against peers, professionals and works from their past. Because of this, you must have thick skin. This is especially true for students who wish to pursue a career developing creative pieces for a living, as no matter how many hours and resources are poured into a project, everyone's a critic.
---
[i] bls.gov/ooh/arts-and-design/craft-and-fine-artists.htm | [ii] bls.gov/ooh/arts-and-design/multimedia-artists-and-animators.htm | [iii] bls.gov/ooh/arts-and-design/art-directors.htm [iv]bls.gov/ooh/arts-and-design/graphic-designers.htm#tab-4 [v]bls.gov/ooh/arts-and-design/multimedia-artists-and-animators.htm#tab-4 [vi]bls.gov/ooh/arts-and-design/home.htm [vii]bls.gov/ooh/arts-and-design/art-directors.htm#tab-4 [viii]bls.gov/ooh/arts-and-design/craft-and-fine-artists.htm#tab-4 [ix]bls.gov/ooh/arts-and-design/multimedia-artists-and-animators.htm#tab-1