187 Sponsored Online Programs Available
EducationDynamics maintains business relationships with the schools it features
Online Religious Studies Degree Programs
If you have a keen interest in developing your own intellectual and personal growth, as well as cultivating cultural literacy and gaining diverse perspectives to help understand people, pursuing an online religious studies degree may be a fitting choice for you.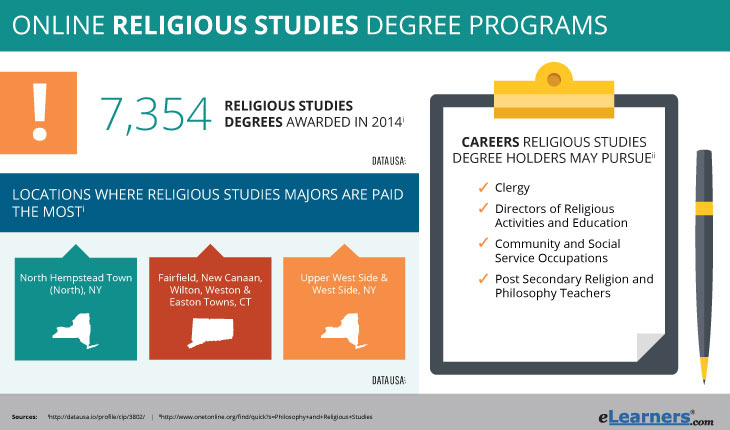 Our global society thrives on cross-cultural connections and a deeper understanding of other cultures. In addition to studying other cultures, religion majors are taught to empathize with fellow human beings in order to see things from their perspective.i
The global economy and the multicultural workplace that supports it rely on people who can interpret information, perform complex analysis, and present their observations in a clear, engaging manner.i
An online religious studies degree program may focus on all these skills, possibly preparing you to launch a career in any number of industries, in addition to, of course, ministries and teaching.
What Careers Might You Pursue After Earning a Degree?
People who graduate with a degree in religion may have a number of career paths that they can pursue. Like a liberal arts degree program, the online degree in religion program may offer preparation in critical thinking, analysis, data collection, and research.
This may prepare graduates to pursue fulfilling careers in any of the following roles, which typically require at least a bachelor's degree:
Clergyii
Directors of Religious Activities and Education

iii

Community and Social Service Occupations

iv

Post Secondary Religion Teachersv
Online Religious Studies Degree : Professional Insight
"Earning a religious studies degree allowed me to view the world from a different lens. How people from different religions and cultures think, learn, and conduct business. Culture and religion plays a large part not only in personal development but in business relationships and transactions, and having a deeper understanding of the way people operate on a global scale has allowed me to serve an international client base and expand my offerings beyond the USA."

- Andrea Holland, co-founder of PR Traction, 6 week coaching program for entrepreneurs
Click To Tweet!

Common Coursework for an Online Religious Studies Degree Programs
Coursework may vary by program, but here is a sampling to help you gauge your expectations when considering a religion degree. One type of religion degree you may consider earning is a Doctor of Education in Christian Ministry. Coursework may include:vi
History of Leadership Theory
Ethical Stewardship
Leadership and Theology
Review of Past Research
Modern Christian Ministry
If you are interested in earning a bachelor's degree rather than a doctorate, typical coursework may include the following:vii
Foundations of the Evangelical Church
General Epistles
Research and Professional Development Skills
Introduction to Theology
Foundations of Teaching
Ethics from a Pastoral Perspective
Prophets of the Old Testament
What Knowledge Should I Possess?
For clergy, certain types of knowledge may be important to some employers. Some areas to focus on could include:viii
Philosophy and Theology: knowing about the various religious and philosophical systems and the customs and ways of thinking that go along with them
Therapy and Counseling. Diagnosis, treatment, and rehabilitation of physical and mental issues may be helpful in some clergy roles
Education and Training. The basic principles of learning, curriculum design, and testing
For directors of religious activities and education, it may be important to focus on cultivating the following types of knowledge:ix
Customer and Personal Service. This includes assessing the needs of those you serve, as well as fulfilling their expectations for customer satisfaction
Administration and Management. In some roles, directors may find knowledge of business principles and leadership techniques to be valuable
What Skills and Abilities May Be Ideal to Develop?
It takes a diverse set of skills and abilities to be able to provide spiritual and moral guidance, perform cross-cultural analysis, or provide assistance with groups who need to communicate across cultural and religious barriers.
Religion majors are cut from a wide swathe of cloth, and the career paths they take after earning their degrees vary. Nevertheless, there are certain skills and abilities which may be important to develop, no matter which career path one might choose:
Clergy:x
Speaking. Conveying information is key for clergy.
Active Listening. Giving your undivided attention to those you serve in the role of clergy is a valuable asset.
Service Orientation. The desire to help people is also key.
Social Perceptiveness. Reading the reactions of others and understanding those reactions is helpful for deeper personal connections, which are important in the role of clergy.
Oral Expression. dvanced communication skills are helpful when dealing with people and expressing ideas so others understand
Directors of Religious Activities and Education:xi
Social Perceptiveness
Speaking
Coordination. This is a leadership skill that often comes into play in this field.
Oral Comprehension and Expression. Interaction with many types of people is common in this role.
What Industries May Employ People Who Earn an Online Religious Studies Degree?
People who earn an online religion degree may continue on to pursue employment in any number of areas. Religious workers can be found in such industries as:xii
Religious organizations
Elementary and secondary schools
Home health care services
Colleges and Universities
Hospitals
Child daycare services
Continuing care retirement communities
Grant making and giving services
Salary Potential and Projected Job Growth

The salary potential varies across the diverse field of potential opportunities for people who have graduated from an online religion program.
For clergy, the May 2015 medial annual wage was $44,250, with a projected growth rate of 6%. xiii The growth rate is as fast as the national average. For the ten year period between 2014 and 2024, there are 66,300 jobs projected to open up.xiv
For Directors of Religious Activities and Education, the median wage was $18.65 per hour, and the median annual salary was $38,780 in May 2015. The projected growth for 2014 to 2024 is 2% to 4%. That translates into 41,200 projected job openings in that same ten-year period.xv
For all other religious workers, the median hourly wage and median annual salary are lower. According to O*NET, as of My 2015 the median hourly wage was $13.82 and the median annual salary was $28,750.xvi
There were 56,000 employees classified as "other religious workers" in 2014, with a projected growth for 2014 to 2024 at 5% to 8%, which is average when compared to all occupations. That means 12, 500 jobs are projected to be added in those same 10 years.xvii
For postsecondary religion teachers (with philosophy teachers), the median annual wage, May 2015 was $66,380.xviii
After you've earned an online religious studies degree, you might pursue a career in any of the career tracks mentioned above, where your online course preparation may prove valuable. The cultural and personal insight that graduates of online religion programs could gain may inspire careers that lead to positive change in the world... something we could all use more of.
[i]onetonline.org/link/summary/21-2011.00#Skills [ii]onetonline.org/link/summary/21-2011.00#Skills [iii]onetonline.org/link/summary/11-9151.00 [iv]onetonline.org/link/summary/11-9151.00 [v]onetonline.org/link/summary/25-1126.00 [VI]gcu.edu/degree-programs/edd-christian-ministry [vII]ohiochristian.edu/adult-graduate-studies/bachelor-arts_/leadership-ministry [VIII]onetonline.org/link/summary/21-2011.00#Knowledge [iX]onetonline.org/link/summary/21-2021.00#Knowledge [X][Xi]onetonline.org/link/summary/21-2011.00#Skills [XII]bls.gov/oes/current/oes212099.htm[XIII]bls.gov/ooh/about/data-for-occupations-not-covered-in-detail.htm [XIV]onetonline.org/link/summary/21-2011.00 [XV]onetonline.org/link/summary/21-2021.00 [xvi] onetonline.org/link/details/21-2099.00 [xvii] onetonline.org/link/summary/21-2099.00 [xviii] bls.gov/oes/current/oes251126.htm