13 Sponsored Online Programs Available
Online Religious Studies Degree Programs
Online religious studies degree programs focus on the complex system of religious beliefs, practices, and institutions around the world. This multi-disciplinary field uses a variety of perspectives to understand different belief systems and their historical and cultural contexts.
While in many cases these programs aim to take a somewhat objective view, some religious studies programs may be informed by or designed around specific belief systems and values. Some may even focus exclusively on a single religion or belief system and prepare students for roles within that system.
Online religious studies and related degrees are offered from associate through doctorate and may be available in formats such as self-paced classes.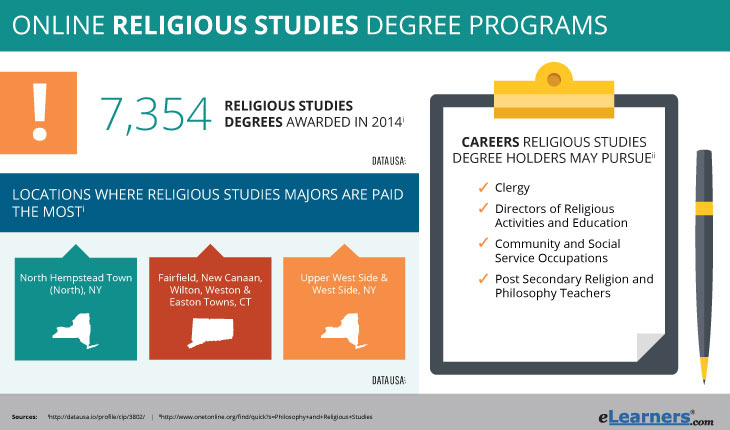 What Is Religious Studies?
Religious studies is a complex field that aims to understand religious beliefs, practices, and philosophies around the world. To do this, religious studies programs bring together psychology, sociology, anthropology, philosophy, and theological studies, and uses each one to analyze how those beliefs and systems function in an interdiciplinary way.
Different religious studies programs might approach this in unique ways. Some might emphasize the sociological aspect of religious practices, whereas others might examine the psychology of religious belief, or religious belief systems throughout history.
Earning an online religious studies degree may support a variety of careers, even if you're not looking for something education or ministry-related. For example, religious studies could lend a useful perspective for a professional in a role interacting with people from different cultures, such as in social work or nonprofit organizations.
Online Religious Studies Degree : Professional Insight
A graduate degree in religious studies was the right for me. I tested several classes out before fully committing to the program, but found that I loved the history of cultural evolution. I also gained many insights about who and how we are today. Now, I am faculty teaching religion courses at St. Petersburg College. Through my passion for this field of knowledge, I am working to educate the next generation about the philosophy, beliefs and interactions that define the world.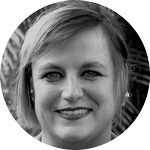 Brandy Stark, PhD. Department of Fine Arts and Humanities, Saint Petersburg College
Click To Tweet!

Religious Studies Degree Online Programs
Online religious studies degree programs are a diverse lot. So whether you're looking for a more objective, scientifically-minded religious studies program, or one anchored in a certain belief system, you might have plenty of choices. With programs ranging from associates all the way through doctorate, you could find programs focused on your interests, at your level.
Online Religious Studies Associate Degree Programs
The first type of online religious studies degree one might earn is the associate degree. In many cases, associate in religious studies programs are designed so that students can transfer to a related baccalaureate program after they finish. However, that's not the case across the board, so if you're interested in going on to earn your bachelor's degree (or, conversely, if you want to prepare for a certain professional role) make sure you follow up with that program.
Associate degree programs are not typically focused on performing research, and in religious studies, that's no different. Rather, online associates in religious studies programs typically aim to foster a solid understanding of major religious belief systems and practices, and the related cultural and historical context. Some subjects covered in a religious studies associates degree program online may include introductory philosophy, anthropology, history, as well as specific religious traditions in regions around the world.
Bachelors Degree in Religious Studies Online
As with associate degrees, online bachelors in religious studies tend to focus on establishing a firm grasp of the different major religious traditions around the world, rather than research or analysis. The difference for bachelors programs is often that the program is more in-depth, spending more time discussing the history, beliefs, and practices of specific faiths.
That being said, many religious studies bachelors programs will also touch on the major critical approaches to studying religion. Sometimes this could be in the form of a single overview; other times students might find a series of related courses covering religious studies research practices and theories.
Most bachelors programs confer a BA (bachelor of arts) upon completion of an online religious studies degree program. However, some Bachelor of Science programs may also be offered. At the bachelors level, the degree type may only indicate the types of core requirements (such as foreign language requirements or laboratory sciences) rather than the specific approach to religious studies as a topic.
Masters in Religious Studies Online
Online religious studies programs at the masters level are a little different than undergraduate programs. One major difference is that programs might have one of two major approaches to the topic.
Programs focused on the study of various religious traditions from an objective perspective:
These kinds of masters programs would likely place a greater emphasis on the multi-disciplinary aspect of religious studies. For example, students might attend courses in philosophy, anthropology, psychology, and sociology. All these topics would come together, not just in a comprehensive picture of religious studies research practices, but to better understand the relationship between religion, individuals, and society.
Programs focused on the study of one or a family of religious traditions from an internal perspective:
This type of masters program is likely to be offered by a school or university associated with a particular religious tradition. These religious studies programs would instead aim to establish a comprehensive understanding of one religion, often in support of professional roles within that tradition, such as working for the church, in religious education, or another type of ministry.
Most masters in religious studies programs confer a Master of Arts when you finish successfully. However, some Master of Science programs may also be offered. Typically (though not always) Master of Science programs would tend to emphasize research practices and objective analysis.
Online Religious Studies Doctorate Degrees
In most cases, religious studies doctoral programs tend to be focused on performing and analyzing research into to the relationship between religion, people, and society. As with masters programs, they may utilize theories, approaches, and research practices from many different social sciences. These may include anthropology, psychology, and sociology, among others. But that's not all doctoral programs do. Most religious studies programs also spend time developing the command of history and culture to put all that information into context.
The specific path a doctoral candidate's study may take depends heavily on the program they enroll in and there area of research. Some students might choose to specialize in a certain religion or class of faiths. Others might focus on analysis of religious texts or artifacts. Still more might examine the interplay of religious faith and global politics. Above all, the paths one might take in online religious studies doctoral programs may be as diverse as the religious traditions you'd talk about every day.
Online Certificate in Religious Studies Programs
Religious studies certificate programs may be offered at the undergraduate and graduate level. They're typically short in duration compared to the course load of full degree programs. In many cases, they focus on a specific topic rather than surveying the whole field of religious studies. Because of the broad potential religious studies certificate programs may cover, make sure you follow up with the schools you're considering for more details on the avenues of study available.
Online Biblical Studies Degree Programs
Online biblical studies degree programs generally focus on developing a thorough understanding of the Bible, including the Old Testament and the New Testament. As such, the program is generally anchored in a Christian perspective, and offered by Christian universities. However, there may be occasional exceptions to this rule. Earning an online biblical studies degree may support a variety of faith-based occupations, including in clergy, ministry (including youth ministry), or religious education.
Online Biblical Studies Associate Degree Program
Earning an associates in biblical studies online often acts as a stepping stone toward a bachelors degree. As such, programs at this level often aim to build a solid foundation of essential knowledge of the bible and its cultural context. Because many schools offering these programs are associated with a certain religious tradition, the approach courses take to these topics is often informed by those beliefs. For more information about how a particular associates degree in biblical studies approaches its curriculum, reach out to the school in question.
Online Bachelors in Biblical Studies Programs
Online Biblical Studies Bachelors Degree programs, like associate degrees, aim to foster an in-depth understanding of the Old and New Testament, usually from a Christian perspective. Bachelors programs go more in-depth than at the associate level, preparing students not just to understand the Bible on a personal level, but also teach others. As such, earning an online biblical studies bachelors degree may support a variety of religious occupations, from clergy to ministry to religious education. Course content may not only include in-depth studies of particular books of the Bible, but also the teachings, doctrines, and texts that inform how they're interpreted. However, the specifics may vary widely, depending on the religious tradition (if any) the school adheres to. For more information, reach out to the program itself.
Online Biblical Studies Masters Programs
Pursuing biblical studies at the masters level may open up a variety of fascinating paths of study. For example, many programs build on the expertise gained at the bachelors level in a fairly direct way. That would include aspects like more in-depth study and scholarship, independent discussions, and a keen focus on how students might apply this expertise. But that's far from the only option. For example, biblical exegesis programs focus on studying biblical scriptures in their original languages, preparing students to interpret texts as they were written, in their own linguistic, cultural and historical contexts, rather than through a second-hand interpretation. Each program may have a unique set of options available for students to pursue. Find out more by reaching out to the school.
Online Biblical Studies Certificate Programs
Want to enhance your knowledge of biblical scholarship, but aren't ready to commit to a full degree program? Or maybe you just want to learn more about a certain topic within this complex field. Either way, online certificates in biblical study programs could be an option for you. Potentially offered at the bachelors or graduate level, certificate programs offer focused examination of a specific issue within bible study, in less time than it might take to earn a degree. In some cases, the credits you earn might even be able to be transferred toward a degree program at a later date! For more information on what you might study and whether credits might transfer toward a degree program, reach out to the certificate program you're looking at.
Online Christian Counseling Degree Programs
Online Christian Counseling Degree Programs offer students a unique blend of psychology and counseling practice anchored in Christian perspective. Many of these programs look toward potential lay ministry roles in their curriculum and approach—however, the concepts covered in these programs may apply in a variety of other personal or professional areas. Christian counseling degrees may be offered from associate through doctorate. The specific level of education pursued by a student may in particular be informed by their career goals. For example, many counseling roles in a clinical setting require at least a masters degree to qualify. i
Online Associate Degree in Christian Counseling Programs
Online Christian counseling associate degree programs may help students to establish a foundation of expertise in the basics of psychology and counseling. They tend to look toward application in roles in the church or otherwise related to ministry, rather than in a clinical setting. However, it's possible that some programs might also act as a launching point for further study, helping students prepare to go on to earn their bachelors degree. Christian counseling associates degree programs may include course topics such as developmental psychology, Christian counseling skills and theory, psychology research, and more. For more information, contact the program you're considering.
Online Christian Counseling Bachelors Programs
Earning an online bachelors in Christian counseling, students might take one of two distinct paths.
Preparing for future study at the graduate level to work toward potential clinical counseling roles
Preparing for roles in lay ministry working with members of a certain faith community
Whatever your reasons for pursuing a bachelors in Christian counseling, whether it's one of the two listed above or something else, a variety of programs might be out there for you to consider. At the bachelors level, Christian counseling programs may discuss a variety of practice models for counseling and psychotherapy from a Christian perspective. Courses may also cover various theories and research about psychology and personality development, and analyze how that information might inform a Christian-oriented counseling practice.
Online Masters in Christian Counseling Programs
Online masters in Christian counseling programs are often designed to support students as they work toward clinical counseling roles. As such, at this level, programs often have a strong scientific component and may emphasize the knowledge and skills students might need when they pursue licensure. Some topics covered in this type of program may include:
Behavioral Psychology
Psychopathology
Trauma & Grief Counseling
Psychology Research & Analysis
What makes Christian counseling masters programs unique as compared to other counseling programs is that these programs may also emphasize the relationship between religious teaching and research-based psychology practice, and discuss how to apply religious teaching in a counseling setting.
Online masters in Christian Counseling do not themselves confer counseling licensure. Each student would have to complete additional steps to prepare for and earn licensure in their state. However, the school may have guidance to support you in this effort, if it is your goal.
Online Christian Counseling Certificate Programs
Online Christian counseling certificates could be a flexible option to bolster skills and knowledge on psychology and counseling from a Christian perspective. Because certificate are not degrees in themselves, some students might choose to pursue them in addition to other education (such as a bachelors degree), to enhance their overall expertise with additional related knowledge. Because certificate programs often require fewer courses overall to complete, some may focus narrowly on a certain topic or skill area within Christian Counseling. For more information about curriculum requirements and options for study, contact the program you're considering.
Online Ministry Degree Programs
Online ministry degree programs teach students skills and knowledge related to a variety of religious professions. This could potentially include clergy, religious education, youth ministry, and a variety of organizational roles within faith communities. The specific requirements for acting in each of these capacities may vary by faith tradition and community, so make sure you familiarize yourself with the requirements that pertain to you if you aspire to a role of this nature. Online ministry programs may range from associate through doctorate.
Online Ministry Associates Degree Programs
Online associate in ministry programs combine a command of religious teaching with the leadership skills to bring those teachings into the community. Programs may bring together concepts from education, nonprofit leadership, theology, and biblical studies. Some associate programs may also be designed to transfer credits toward an affiliated bachelors program. If you think you might be interested in continuing your study once you earn your associate degree, this could be a useful option. Specific curriculum requirements, philosophical approach, and other details may vary depending on the religious tradition of the school or program in question.
Online Bachelors in Ministry Programs
Similar to associate degree programs, online ministry bachelors programs teach students to help people in their community understand and embrace religious teaching and practice. Programs may accomplish this through a combination of theology, bible study, education, communication skills, and commitment to service. Because ministry is, in many ways, unique to the tradition in which the individual serves, the curriculum requirements and course content in each program may vary according to the faith it's designed around. Ministry bachelors programs may support a variety of ordained and lay ministry roles, as well as honing skills applicable in a variety of other areas. For more information about what a certain online ministry bachelors degree program entails, contact the school that offers it.
Online Ministry Masters Programs
Online masters in ministry programs bring an element of leadership to theology and service. They aim to prepare students for leadership roles in church communities. Online ministry masters degree programs emphasize small group leadership as well as broader organizational skills. Masters programs may include advanced bible study courses, as well as emphasizing effective communication with people of all backgrounds, leadership, theological principles, religious education skills, and more.
Doctorate in Ministry Programs Online
A Doctor of Ministry (DMin) is a terminal professional doctorate. Programs aim to hone those theological and religious leadership chops, to support students in making a difference in their church communities. At the doctoral level, study may be specialized, emphasizing expertise in a particular area over developing a broader array of skills. For example, students might choose to develop counseling skills, pastoral leadership, church planning, or organizing and leading in worship. Specific paths of study available may vary depending on the program you choose, so contact the school to learn more about what's on the table.
Certificate
Online ministry certificate programs could be a solid option for active or aspiring ministers to hone certain skills or learn more about certain kinds of ministry. Programs may have a variety of focus areas, from religious education leadership, to youth ministry, to ones related to organizing worship services. Certificates may be offered at the undergraduate or graduate level, and tend to require relatively few courses to complete. For more information about what you could study in a certificate program, get in touch with the schools you're considering.
Online Christian Studies Degree Programs
Online Christian studies degree programs could be a fascinating option for anyone who wants to learn more about Christianity. Programs may take two approaches. Some may be designed as a more secular program, discussing the different types of Christianity, how those traditions were formed, their similarities and differences. Others might be a little closer to ministry programs, helping students to prepare for professional roles within their faith community. In Christian Studies, students could earn degrees and certificates ranging from associate degree through doctorate.
Online Associate Degree in Christian Studies Programs
Online associate degree in Christian studies programs bring together bible study and ministry to encourage a more comprehensive understanding of Christianity as a whole and its place in society. As such, programs may include courses on the old and new testament, teachings from prominent Christian thinkers, ministry and religious education, the history of the church, and even its impact on contemporary society.
Online Christian Studies Bachelors Programs
Online Christian studies bachelors programs may vary depending on the goals of the program. If it's designed as a secular option, to use scholarship to understand Christian belief and how they influence society, then the curriculum might emphasize topics like history and sociology. However, some programs operate a little differently. Instead, they may examine Christianity on its own terms, teaching students knowledge and skills related to roles in in religious education, ministry, or church leadership. Especially in the latter case, specific curriculum content and requirements may vary by school, religious affiliation (if any), and other influencing factors. Contact the school in question for more details.
Online Christian Studies Masters Programs
Online Christian Studies Masters Programs may approach the topic in a few different ways, depending on the school and the goals of that program. For example, they might aim to:
Establish comprehensive understanding of Christian faiths, traditions, and teachings, and how each of those traditions is influenced by and impacts society, from a scholarly perspective
Develop leadership skills to help students prepare for or enhance their current roles as leaders in their Christian communities, as a layperson or member of clergy
Help students develop teaching skills in preparation for potential religious education roles, helping people of all ages learn more about Christian faiths, history, and teachings.
Because of the many shapes masters study could take, the types of things your masters in Christian studies curriculum teaches may vary. This could include advanced bible study, church history, the teachings of different leaders and Christian philosophers throughout various traditions, worship practices, and even leadership, organizational and administrative skills to help run a church group effectively.
Doctorate
Online Christian studies doctoral programs combine theological teaching with the rigors of social sciences research practices, to help students hone their understanding of Christianity and its place in society. Some programs may be aimed toward practitioners—that is, people who will use their expertise to work directly with a faith community in some capacity. Those types of programs may emphasize leadership and organizational prowess, and expertise regarding religious teaching and worship practices. Other programs may be more scholarly in nature, using research methodologies and principles from sociology, psychology, and anthropology to study Christianity and its relationship with society.
Online Certificate Programs in Christian Studies
Online Christian Studies Certificate Programs may be a unique option to pursue advanced study of Christianity outside the context of a degree program. Certificates include both baccalaureate and graduate level programs. This could potentially make them a possibility for students of many different levels of education.
Online Theology Degree Programs
Online theology degree programs may have a great deal in common with other paths like religious studies and biblical studies, while bringing its own unique perspective. Theology literally translates to "the study of god." At their core, online theology degrees are about studying the belief systems by which people seek to understand the divine. Theology, however, tends to do this from a somewhat more internal approach than religious studies, focusing instead on a particular set of teachings and understanding and interpreting those teachings. Those could be biblical or doctrinal. As such, the path to earning a degree in theology could look a little different in each program.
Bachelors in Theology Online Programs
Online bachelors in theology programs focus on developing a thorough understanding of church teachings, and the ability to explain those teachings to others. This includes biblical context as well as doctrines, philosophy, and related traditions. As such, bachelors programs may examine and discuss a wide array of sacred and secular texts. They may also discuss the history and cultural context behind certain teachings, and examine the sociological context and contemporary issues shaping the future of those traditions.
Masters in Theology Online Programs
Online masters in theology programs combine biblical expertise with historical and cultural context, doctrinal and ethical teaching. The aim is to establish an advanced and well-rounded expertise about theology, preparing for roles as wide ranging as ministry, clergy, religion teacher, apologetics, or even scholarship. Programs may offer students the opportunity to concentrate their study on specific issues or in relation to specific professional roles. For example, some might choose to focus on bible study, history, or apologetics. Others might look more closely at cultural contexts for that faith around the world and how that impacts practice and teaching.
Online Theology Doctoral Programs
Doctor of Theology is a terminal degree, often abbreviated as Th. and seen as an alternative to a PhD. Studying theology at the doctoral level online, one might pursue either degree type. Many theology doctoral programs, in either degree type, are research-intensive. They often focus on researching church teachings now and throughout history. As such, earning a doctor of theology degree may help to prepare students to teach and pursue in a university or seminary setting.
Online Theology Certificate Programs
Online theology certificate programs focus on a combination of bible study, doctrine, and scholarship to establish a thorough understanding of the beliefs and teachings of a certain tradition. Because certificate programs are comparably brief, programs might focus on any number of specific topics within theology. This could include hot-button issues, working with certain populations, bible study, and more. Follow up with your selected school to learn more.
Apply to Online Religious Studies Degree Programs
Ready to being your search for online religious studies degree programs? Start here with eLearners! First, think about the type of degree you want. Then use the menu to choose the degree level or certificate, along with the subject you'd like to study. Then read more about those programs, and begin reviewing sponsored online religious studies degree programs. Click on Request Info to find out more. Then get in touch and start your application!
---
[i] bls.gov/ooh/community-and-social-service/mental-health-counselors-and-marriage-and-family-therapists.htm