Sponsored Online Programs Available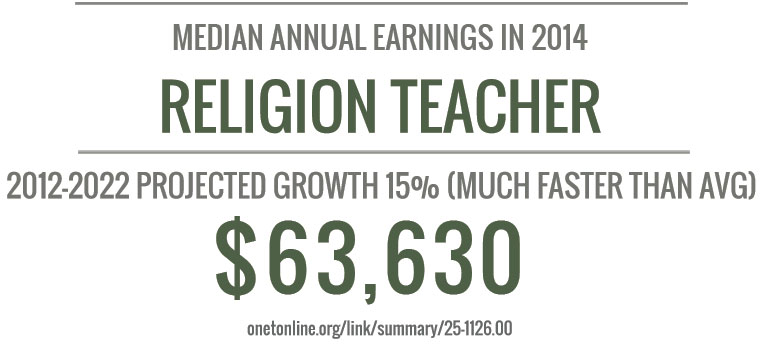 Online Bachelor's Degree in Theology
By choosing to earn a Bachelor Degree in Theology Online, you may be opening up a wide range of exciting intellectual and spiritual possibilities. This degree could help prepare you to pursue a future in ministry, teaching, or further education. If you are fascinated by the Bible and would like to learn more about ethical and philosophical questions, earning this degree, a Bachelor Degree in Theology Online, may be a perfect choice for you.
Concentration Options for Bachelor Degree in Theology Online Programs
An online bachelor's degree in theology could be adjusted to meet your individual needs. An online course schedule is sometimes more flexible to accommodate people who have pre-existing job responsibilities and family responsibilities. Theology degree programs also recognize that students have many different interests and preferred concentrations. Some of the possible options for customizing your degree may include:[i]
Concentration in Church History
Concentration in Pastoral Ministry
Concentration in Biblical Studies
Concentration in Religion and Modern Ethics
Depending on the career you are interested in pursuing, one of these concentrations may be the ideal choice for you.
Qualities and Talents for those Pursuing a Career in Theology
People who want to pursue a career in theology degree may need a number of strong skills. According to O*Net, some of the most important skills in this area, specifically those who are directors of religious activities and education, are:[ii]
Thinking Creatively — Developing, designing, or creating new applications, ideas, relationships, systems or products, including artistic contributions.
Establishing and Maintaining Interpersonal Relationships — Developing constructive and cooperative working relationships with others, and maintaining them over time.
Making Decisions and Solving Problems — Analyzing information and evaluating results to choose the best solution and solve problems.
Critical Thinking — Using logic and reasoning to identify the strengths and weaknesses of alternative solutions, conclusions or approaches to problems.
Complex Problem Solving — Identifying complex problems and reviewing related information to develop and evaluate options and implement solutions.
Instructing — Teaching others how to do something.
Active Learning — Understanding the implications of new information for both current and future problem-solving and decision-making.
Online degree programs are designed to help provide the education to people who want to jumpstart their career in theology.
What Careers May People Who Earn a Bachelor Degree in Theology Online Pursue?
After earning a bachelor's degree in theology, people may choose to pursue a variety of different career paths. Some possible industries for graduates include clergy, health care, pastoral ministry and youth ministry. A bachelor's degree is also the traditional preparation for a higher degree in theological studies, including a master's degree or a doctorate. People who choose to go on to a higher degree may have an even broader choice of career options, including college teaching and seminary teaching.[i]
According to the Bureau of Labor Statistics, there are 42,040 clergy currently employed in America. Clergy earn a median annual wage of $41,730, with the bottom 10% currently earning a median of $21,450 and the top 90% at $74,280.[iv] The highest current concentration of people in this profession can be found in Oregon, Montana, Hawaii, New York and Rhode Island.[v] A bachelor's degree might help prepare you to pursue a clergy or assistant clergy job in a number of denominations and organizations.[ii]
Why Choose an Online Bachelor's Degree Program in Theology?
A bachelor's degree program in theology could be an adventure for people who enjoy learning and debating serious issues. Schools may offer financial aid if you qualify. With the growth of online programs, there may be no need to spend time away from your job and family while earning a traditional four-year undergraduate degree. The future may be bright for theology programs in the 21st century. Is this degree an ideal pursuit for you?
[i]catalog.apu.edu/undergraduate/school-theology/theology/theology-major/ [ii]onetonline.org/link/summary/21-2021.00 [iii]bls.gov/oes/2008/may/oes212011.htm [iv]bls.gov/oes/2008/may/oes212011.htm [v]bls.gov/oes/2008/may/oes212011.htm#st