63 Sponsored Online Programs Available
A Guide to Online Technology Degrees
For students who can't put down their smartphones, love to tinker with computers, and are always up to date on the newest, sophisticated gadgets, online technology degrees might be a way to develop that knowledge and prepare to pursue a career in the modern, digital world.
Technology has become an essential part of many industries and career pursuits, and those with the knowledge and passion to become experts in this field may be setting themselves up well to pursue a range of careers.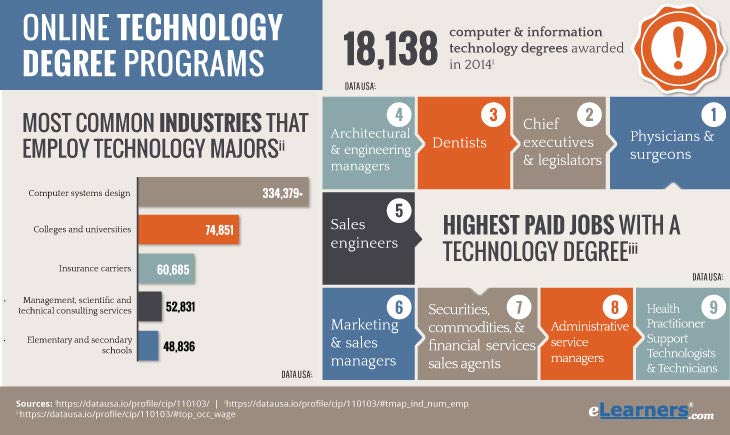 Technology degrees come in a number of specific subjects, and students may be able to pursue them at the associate's, bachelor's, master's or doctorate level. Be sure, when looking at potential options for online technology degree programs, that you're considering all the fields you might be interested in.
Depending on your prior education and career goals, you might want to consider a wide span of online technology degrees. You may also want to consider all styles of learning, such as self-paced college programs.
Potential Fields for Online Technology Degrees
Anyone who has experienced "technical difficulties" with their computer, smartphone, or one of many other modern devices knows that technology can be a complicated and demanding field. As such, there may be a number of specialties within technology that students can make the focus of their online degree program. Keep in mind that there may be a lot of overlap between these discipline since technology is a constantly developing and changing field. Here is a brief summary of some of these potential options for online technology degrees.
Computer Science
A program that awards computer science degrees may typically provide instruction in a fairly broad range of topics related to the design, function and operation of computers, as well as research analysis.i Within this field, you might include a lot of subjects that we'll cover below, such as information technology, information systems and programming.i
Though courses of study might vary depending on school, the level of the online technology degrees, and various other factors, you're probably curious as to what classes might be offered in a computer science degree program. Potential options could include:
Computer forensics
Network security
Computer systems
Information Technology
Information technology degrees, though not as broadly focused perhaps as computer science, may offer a fairly wide-ranging course of study. Typically, information technology, or "IT" as you may have heard it called, focuses on computer systems design and services, often for large firms, such as businesses.ii IT specialists may design custom software or computer systems for their clients, and then train them to use these systems.ii They may also then be on hand to give technological support for their clients.
Some potential courses for an information technology or information systems degree might include:
System maintenance
Wireless networks
Routers and switching
Platforms and network technology
Information Sciences
Some students, though, will be less interested in business applications of computers, and may be more interested in the fundamentals of how computers work. Information scientists might study the complex issues surrounding computer science, and develop theories of how to design and use new computers.iii They may be creative-minded and willing to explore advancements in data mining, robotics or programming.iii Information scientists may be at the cutting edge of advancements related to the performance and efficiency of computer hardware.iii For the theoretically minded computer junkie, this may be an area to focus on.iii
Courses for information science or information systems degrees can vary, but you may be able to take some of the following potential options:
Network theory
System analysis
Futurism and innovation
Database Management
Database management degrees might help prepare students to pursue a career as a database administrator. This field may generally deal with the use of software to store and organize data.iv Topics might include data back-up, loss prevention, data security and database efficiency.iv They may make sure that the people that need access to a certain database have it, and that the database is usable and operates cleanly.iv They may also oversee database upgrades or debugging.iv
Geographic Information Systems
Geographic information systems are a much more specific specialty than many of the other subjects within technology. Focusing on a particular set of programs that allow users to analyze and display data about places on earth, geographic information systems technicians may work on maps or geodatabases.v While this may seem limited, geographic information systems, or GIS, are used in a variety of industries for numerous purposes.vi
Fun Fact
If you live in Washington, D.C., you may be rubbing shoulders with a lot of Geographic Information Scientists. According to Data USA, the three locations with the highest concentrations of GIS specialists in the United States are all in the District of Columbia! vii
Typical course subjects you might see offered in a geographic information systems degree program could include one or more of the following:
Web mapping
Remote sensing
Spatial analysis
Project management
Cartographic design
Software Developmentviii
Software Development Degrees may typically offer instruction in the science and art of creating computer programs. Taking into account the needs of computer users and the capabilities of technology, software developers write code, design applications, and create software that is useful for consumers.
Though technology degrees in software development will vary from school to school, you may expect to see some of the following classes in a typical curriculum:
Mobile application development
Software modeling
Operating systems
Team management
Web Development
For students who take one look at a website and start thinking of ways they can make it better, web development may be a good focus for their online technology degrees. Web developers design and create websites, often for clients with specific needs.ix They may know how to write code, work with graphics and analyze website traffic.ix They may also have good customer service skills, as they could be asked to work closely with their clients.x
Potential course offerings for web development degree programs, while they could vary, might include such topics as:
Interface design
Website optimization
Construction and administration of websites
Technical communication
Video Game Design
Video game design might be fairly self-explanatory, but it's worth driving home the point that not every degree in technology may be science- and business-based; there can be a fair amount of art in computer science as well. Classes in this field may include such topics as:
Artificial intelligence
Game development
Telecommunications
Aspects of Online Technology Degrees
Earning computer science degrees or information systems degrees online might make a lot of sense – what better way to learn technology than to learn using technology? Keep in mind, though, that earning a technology degree online might not be as easy as logging on from any old computer. A lot of these degree programs might demand computers with a lot of processing power or memory. When looking into potential options for technology degrees online, be sure to look into whether or not a program has any minimum required specifications for hardware. If you don't see any listed, don't hesitate to request info either! Minimum hardware specifications ensure that students will be able to learn adequately, and they could include a host of fields, from operating system to hard drive to software.xi
Keep in mind, too, that as much as it makes sense to learn about technology on a computer, not every program may be fully online. Some schools might require students to visit campus to complete certain requirements, such as residencies. Again, feel free to request information directly from each school you're considering, in order to see what their programs might involve!
Getting Started
You've checked out all the different aspects of technology degrees online, and you're ready to find the perfect program for you. The good news is you can start right here on eLearners.com! Check out our sponsored program listings for computer science degrees, information technology degrees, information systems degrees and other specialties. If you find one that interests you, be sure to reach out directly to the school for more information. With a little bit of searching, you might find a good fit for your goals in technology!
---
[i]http://www.bls.gov/soc/2010/soc251021.htm [ii]http://www.bls.gov/opub/btn/volume-2/pdf/careers-in-growing-field-of-information-technology-services.pdf [iii]http://www.bls.gov/ooh/computer-and-information-technology/computer-and-information-research-scientists.htm#tab-2 [iv]http://www.bls.gov/ooh/computer-and-information-technology/database-administrators.htm#tab-2 [v]http://www.bls.gov/ooh/architecture-and-engineering/surveying-and-mapping-technicians.htm#tab-2 [vi]http://www.bls.gov/mlr/2007/03/art4full.pdf [vii]https://datausa.io/profile/cip/450702/ [viii]http://www.bls.gov/ooh/computer-and-information-technology/software-developers.htm#tab-2 [ix]http://www.bls.gov/ooh/computer-and-information-technology/web-developers.htm#tab-2 [x]http://www.bls.gov/ooh/computer-and-information-technology/web-developers.htm#tab-4 [xi]http://www.snhu.edu/online-degrees/masters/ms-in-information-technology/game-design-and-development