The Importance of Women In Technology
Sheryl Sandberg, Marissa Mayer, Susan Wojcicki: with high profile roles at Facebook, Yahoo, and YouTube, respectively, these executives are just some of the many women paving the way for female leadership in the male-dominated world of technology. Although they've made major inroads for other women to follow in their footsteps, gender-related stereotypes still abound in Silicon Valley – namely that it's an exclusive boys-only club where women can't compete with the "nerdy" male geniuses (or, as recent news stories reveal, arrogant "frat boy" types) who dominate the scene. 

Mary Dobransky, Dean of the College of Science and Technology at Bellevue University in Nebraska, knows these stereotypes all too well. The recipient of the 2010 College Technology Educator of the Year award, Dobransky is committed to dispelling the myths that often discourage women from pursuing their dream jobs in tech and other STEM (science, technology, engineering and math) fields.   
Before becoming a college administrator – and dedicating her career to steering students toward careers in science and technology – Dobransky was the Director of Learning Assessment at Bellevue University.  Prior to working for the university, she was Director of Computer and Telecommunications Programs and Professor of Computer Information Systems at College of Saint Mary. 
Dobransky's credentials include a Master of Science in Systems Science and Bachelor of Arts in Philosophy from Binghamton University, State University of New York. She also holds a Master Certification in Prior Learning Assessment from the Council of Adult and Experiential Learning, which helped her understand how to better serve her school's primarily adult student body.  In addition to heading the technology and science departments at Bellevue University, Dobransky frequently contributes articles to technology websites, blogs and journals, and has been featured on USAToday.com and Yahoo.com. 
Find out why Dobransky thinks women are naturally suited for careers in STEM, how educators can inspire more female students to pursue tech careers, and why technology skills have become more important and useful than ever. 
eLearners: What led you to the technology field?  Did you possess any characteristic, skills or aptitudes that you found to be useful at the start of your career?
MD: I began using technology when personal computers became mainstream in the 80's. I was thrilled to be able to use office software for my college assignments. Given the potential of the field, I decided to take some courses to learn more about computers.  
I've always loved thinking of multiple ways to solve a problem or achieve a goal. I appreciate that, for any starting point, there can be an infinite number of paths to the desired end point. Unstructured problems are my favorite, because they provide the opportunity to devise especially creative solutions. My love of problem solving and creative thinking was very useful at the start of my career, and these skills continue to be important. I also enjoy collaboration and appreciate diversity in ideas, which has been very valuable throughout my career.    
eLearners: As compared to your undergraduate degree, how did earning your master's degree or doctorate prepare you for your professional journey?
MD: My undergraduate degree in philosophy helped me develop communication, critical thinking and problem solving skills. My master's degree in systems science, which is essentially applied computation and problem solving, furthered these skills and gave me a strong foundation in computer science. My master's degree also helped me develop my collaboration and creative thinking skills. A foundation in computer science, combined with skills in communication, collaboration, creative thinking and problem solving, was excellent preparation for my professional journey.   
eLearners: What are some of the biggest challenges you face as an educator and university leader in your field?
MD: The increasing need for technology resources can present challenges for a university leader. Both educational and workplace technology resources can be a significant investment for a university. 
eLearners: What are some challenges that someone in your field may face, especially women?
MD: While women hold an increasing number of senior leadership positions in technology, the majority of these positions are held by males. Also, inequitable compensation may be an issue in some areas and organizations. We need to continue to overcome these challenges. 
eLearners: What are some of the stereotypes in the tech world?  What do you think needs to be done to break them?
MD: That it is necessary to be a game-obsessed "tech-nerd" to be successful in technology; that tech jobs are boring and uncreative; and that men are better suited to technology careers than women. 
To break these stereotypes, we need to showcase technology for what it is – a discipline that permeates every imaginable career field and whose growth depends on a diversity of skills. Technology is a dynamic, exciting field, filled with innovation, imagination and inspiration.
eLearners: What can women do to overcome these stereotypes and earn a better shot at landing coveted tech jobs?
MD: Embrace that technology is a terrific field for women. I encourage women to consider that technology is not a single type of job, but rather a broad spectrum of careers that appeal to a variety of individuals with diverse skills. The technology job market offers many excellent opportunities. These jobs, which are wide open for women, come with pleasant work environments and competitive pay.
eLearners: What can educators do to encourage more women to join the tech field and other STEM fields?  How do you and other educators at Bellevue University accomplish this?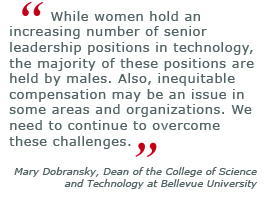 MD: Educators should take advantage of every opportunity to encourage women to join the tech field and other STEM fields. Whether presenting the exciting facets of technology or highlighting the benefits of STEM careers, the key is sparking the interest of women and encouraging them to learn about technology. In education, it is important to provide a comfortable and effective learning environment to help students achieve success in their technology courses. At Bellevue University, our professors utilize many techniques, such as posting videos and examples in the online classroom so students can view materials as often as needed, or holding virtual office hours.  Reaching out to students in middle school or high school is another way to get females interested in these areas. At Bellevue University we offer summer technology workshops for high school students.
eLearners: Besides "hard" skills in math, science, or computer studies, which soft skills should tech candidates possess?  Are women more likely to have these skills? 
MD: Soft skills such as problem solving, creative thinking, communication and collaboration are essential for technology candidates. Women have excellent skills in these areas.
eLearners: Other than information technology, what other types of careers can technology students pursue?
MD: Technology students can pursue numerous careers in addition to information technology. For example, robotics, advanced manufacturing, game design, graphic design, media communications, data science, information visualization, business analytics, bioinformatics, web development, cybersecurity and technology management, to name a few.  
eLearners: Technology is always evolving.  How can students keep up with innovations and trends? 
MD: There are excellent e-news sites devoted to technology innovations and trends. Visiting or subscribing to these sites is a great way for students to keep up with innovations and trends. Sharing information with colleagues is another great way to keep up with innovations and trends. If you find a great app or website, tell your friends!
eLearners: How do you stay current with trends and changes in the industry? 
MD: I subscribe to e-news sites that focus on technology, such as ZDnet, and I attend technology conferences that offer a high level view of technology – present and future, such as the Gartner Symposium/ITxpo. I also participate in professional organizations, such as the Association for Information Technology Professionals and Women in Technology.
eLearners: Is there anything else you would like to share that you feel would be valuable to students – women, in particular – who are considering studying technology? 
MD: Fundamental technology skills are essential for many jobs – not just tech careers. Take every opportunity to build your technology skills. The high paying jobs, even in fields outside of STEM, are demanding tech skills. This can be seen in the growth of fields such as data science, informatics, digital humanities, and other crossover fields. At a minimum, it is vital to understand what technology can, and cannot, do for you.
The expert interviewed for this article may be compensated to provide opinions on products, services, websites and various other topics. Even though the expert may receive compensation for this interview, the views, opinions, and positions expressed by the expert are his or hers alone, are not endorsed by, and do not necessarily reflect the views, opinions, and positions of [eLearners.com] or EducationDynamics, LLC. [eLearners.com] and EducationDynamics, LLC make no representations as to the accuracy, completeness, timeliness, suitability, or validity of any information in this article and will not be liable for any errors, omissions, or delays in or resulting from this information or any losses or damages arising from its display or use.