Sponsored Online Programs Available
Online Public Affairs Degree Programs
Society is organized around the institutions that provide structure, safety, and support for its citizens. Individuals in law, social services, education, and government serve society by working to keep order while trying to improve the system as a whole.
Most of these jobs will be found in the public sector, which represents the government's allocation and delivery of goods and services for its constituents on the national, regional, or local/municipal level. Public schools, law enforcement, and most social services are run through government entities.
However, the private sector furnishes many of these goods and services as well, including private school education, charity work, and independent law practice.
If this sounds of interest to you, you may want to pursue an online public affairs degree.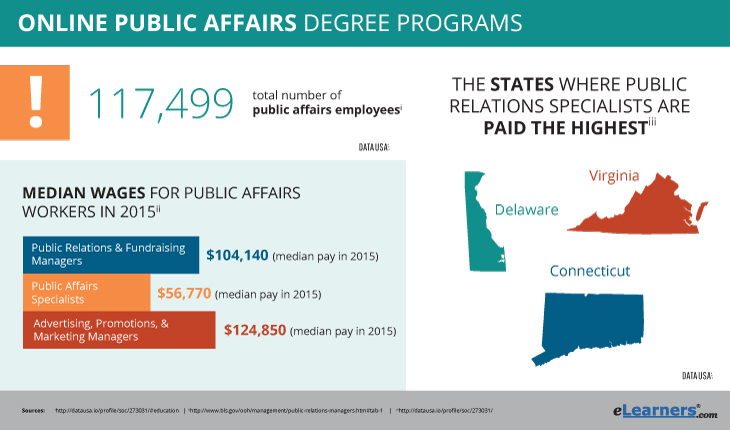 Many non-public institutions that provide social services are not-for-profit. Non-profit organizations are run by unpaid Boards of Directors rather than owners or shareholders, and any surplus funds they receive must go toward furthering their mission. Non-profit organizations are designed to meet needs that public institutions don't, or are restricted, from fulfilling.
Professionals in this field are often driven by a desire to change society for the better. Because of the collaborative nature of the work, individuals must have excellent communications skills and an innovative way of thinking. Turning ideals into reality is no easy task, but our world has always depended on this kind of leadership to make things better for the rest of us.
The field of social sciences is very broad and encompasses a wide range of topics. Most students choose a focus area that interests them and matches up with a career path that may be ideal for them. Some typical courses that you could take as part of a social science degree program include Anthropology, Economics, Political Science, Psychology, Sociology and more [i]. Taking a variety of courses allows you to see which aspects of the social sciences you enjoy the most (and which ones you are not so interested in).
Graduates of these social science degree programs could pursue careers in a variety of fields, including social services, education, health services, and government[ii]. Some potential job titles graduates may pursue include Anthropologist, Economist, Environmental Scientist, Political Scientist, and Sociologist.[iii]
Online Public Affairs Degree - Social Science Branches & Subjects
While pursuing social sciences degrees online, you'll notice there are a variety of branches and subjects you could focus on. Here are just a few of the concentrations you could study, along with a brief description of each.
Anthropology - the study of the origin, development, and behavior of humans.
Economics - the study of the production and distribution of resources, goods, and services.
Environmental Management - the study of protecting the environment and human health.
Human Services - the study of individual and communities' needs and well-being.
Political Science - the study of the origin, development, and organization of political systems.
Public Administration - the study of how decisions in governments are made and how to carry them out.
Social Work - the study of the welfare of communities, individuals, and societies.
Sociology - the study of social behavior within society.
Peace & Conflict Studies - The study of alternatives to war and human conflict
Social Science Skills
To pursue social sciences degrees online, it's good to have certain skills and strengths. These include, but are not limited to, research skills, sound reasoning and judgment skills, critical thinking, communication, teamwork, intellectual curiosity, and human relations. The innate need to help people and change society is critical to succeeding in the field of social science. During your studies, you may have an opportunity to learn how to communicate effectively with various audiences, use theories and principles to explain events, perform quantitative and qualitative research, analyze complex social problems, and much more.
Social Science Career Paths
Careers in the social sciences vary greatly depending on which area or discipline you choose to focus on. Here are a few of the potential career paths you could pursue, along with their median pay according to the Bureau of Labor Statistics in 2020.
• Sociologist - $86,110 [iv]
• Anthropologist- $66,130 [v]
• Environmental Scientist and Specialist- $73,230 [vi]
• Economist- $108,350 [vii]
• Political Scientist- $125,350 [viii]
• Survey Researcher- $59,870 [ix]
• Social Worker- $51,760 [x]
• Social and Community Service Manager- $69,600 [xi]
Students who graduate with a degree in social sciences can potentially pursue work from a variety of employers. These include individual and family services, state and local government, religious organization, nursing care facilities, and more. [xii]
Fun fact

Employment of life, physical, and social science occupations is projected to grow 7 percent, about as fast as the average from 2014 to 2024, which will result in about 97,600 new jobs according to the BLS. [xiii]
How to Choose a Social Science Degree Program
The level of schooling you choose is dependent upon your intended career path. Some career paths require a master's degree or Ph.D. while others only require an associate's degree . [xviii] It's best to talk to an educational advisor before selecting any degree program.
Social Sciences Associate's Degrees
These two-year degrees may be an option for students looking for an introductory program. Some possible careers you could pursue with an Associate's Degree in Social Sciences include an Agricultural Technician and Environmental Science Technician [iii]. Many students go on to pursue their bachelor's or master's degree for a more specialized study in the field. [xviii]
Bachelor's Degrees in Social Science
Many students interested in social sciences will choose to pursue a four-year degree, also known as a bachelor's degree. This type of program typically provides students with a strong liberal arts education while also allowing them to focus in areas they are interested in, such as environmental studies or anthropology. Some possible careers you could pursue with a Bachelor's Degree in Social Sciences include a Conservation Scientist, Environmental Scientist [iii], and Social Science Research Assistant. [xv]
Masters in Social Science
Students who are looking to open up their career options may pursue their Masters in Social Sciences. These degrees are also sometimes referred to as MSSc or M.Soc.Sci. Earning these postgraduate courses may allow students to pursue a wide variety of roles that use the student's research and analytical skills. Some possible careers you could pursue with a Master's in Social Sciences include Anthropologist, Archaeologist, Survey Researcher, Political Scientist, and Economist. [iii]
Doctorates and Ph.Ds in Social Sciences
Select universities offer a Doctor of Social Science degree program for students looking to continue their advanced education in the field. This particular degree program is offered for students looking to pursue a career particularly in the academic field. Some possible careers you could pursue with a Doctorate or Ph.D. in Social Sciences include a Postsecondary Social Work Teacher [xvi], and Sociologist. [xvii]
Why Choose a Social Sciences Degrees Online Program?
If you're looking for a flexible way to study social sciences, an online degree program may be the way to go. With these online programs, you can potentially work around your busy schedule and learn at your own pace. Within the social sciences field, you generally have the ability to choose your area of focus, ranging from Anthropology to Environmental Studies. The graduate programs may be a great way to enhance your career while still working full-time. Self-paced online classes are just one of the types of classes that make online learning a good potential option for harried professionals, or anyone with a full schedule.
---
[i] cgs.pitt.edu/academics/majors/social-sciences-ba [ii] bls.gov/ooh/life-physical-and-social-science/sociologists.htm#tab-6 [iii] bls.gov/ooh/life-physical-and-social-science/home.htm [iv] bls.gov/ooh/life-physical-and-social-science/sociologists.htm [v]bls.gov/ooh/life-physical-and-social-science/anthropologists-and-archeologists.htm [vi]bls.gov/ooh/life-physical-and-social-science/environmental-scientists-and-specialists.htm [vii]bls.gov/ooh/life-physical-and-social-science/economists.htm [viii]bls.gov/ooh/life-physical-and-social-science/political-scientists.htm [ix]bls.gov/ooh/life-physical-and-social-science/survey-researchers.htm [x]https://www.bls.gov/ooh/community-and-social-service/social-workers.htm [xi]bls.gov/ooh/management/social-and-community-service-managers.htm [xii]bls.gov/ooh/management/social-and-community-service-managers.htm#tab-3 [xiii]bls.gov/ooh/life-physical-and-social-science/mobile/home.htm [xiv].bls.gov/ooh/life-physical-and-social-science/agricultural-and-food-science-technicians.htm [xv]onetonline.org/link/summary/19-4061.00 [xvi]onetonline.org/link/summary/25-1113.00 [xvii]onetonline.org/link/summary/19-3041.00 [xviii]bls.gov/ooh/life-physical-and-social-science/sociologists.htm#tab-4, bls.gov/ooh/life-physical-and-social-science/anthropologists-and-archeologists.htm#tab-4, bls.gov/ooh/life-physical-and-social-science/environmental-scientists-and-specialists.htm#tab-4, bls.gov/ooh/life-physical-and-social-science/economists.htm#tab-4, bls.gov/ooh/life-physical-and-social-science/political-scientists.htm#tab-4, bls.gov/ooh/life-physical-and-social-science/survey-researchers.htm#tab-4, bls.gov/ooh/management/social-and-community-service-managers.htm#tab-4, bls.gov/ooh/life-physical-and-social-science/agricultural-and-food-science-technicians.htm#tab-4