574 Sponsored Online Programs Available
EducationDynamics maintains business relationships with the schools it features
Online Medical Degrees
Health and medicine is a tremendous industry. There are dozens of work titles and job prospects that may be available for people studying health care and medical treatments.
There are registered nurses, health service managers, home health aides, medical assistants, pharmacists, epidemiologists and dozens of other professionals that have made a comfortable living off of their health care and medical knowledge, sometimes through earning Online Medical Degrees.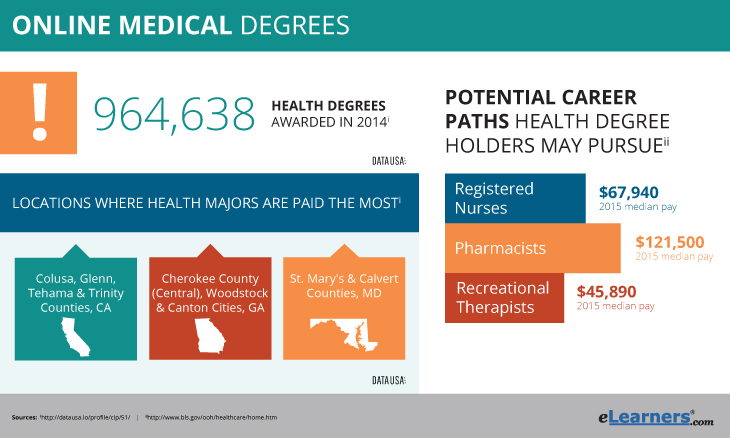 Why Pursue Online Medical Degrees
Taking up a career in medicine and health care is no easy task, however. In many professions, advanced degrees are required to enter the workforce, which can require passing additional exams and attaining licensure.[i] Such as for those who have completed an online nursing degree program. There are several levels of certification that you could pursue after getting your degree. This is why pursuing medical degrees online can be so valuable.
Certain approved online programs may offer specialized nursing diplomas or other certificates that make working with patients possible. Moreover, an online health degree can give you the basic information necessary to navigate the complex and diverse industry of health and medicine to find exactly the career path you would like to pursue.
A glimpse into the realm of health & medicine
Professionals in health and medicine - no matter the job title - work to keep patients healthy, safe and satisfied. Some do this by working directly with individuals in a hospital. Others study in labs and carefully design and carry out experiments to develop new medicines or treatments. More take their expertise outside of designated health care facilities to serve patients directly at their homes. While working, health care professionals may be responsible for using complex tools and equipment and using calculated doses of medicines to serve patients. Dosages of particular sizes are incredibly important and analyzing the exact amount of a drug to give to a patient can be a matter of life and death. This is just one of the reasons the health care profession requires such rigorous preparation, and often learning obtained through online medical degrees. Medical professionals are expected to know correct health procedures, calculations and methods to provide the highest quality patient care and keep individuals safe.
Possible salaries for a career in health & medicine
Your salary as a health and medicine professional is largely decided by your specific job title, your level of education and certification, your related experience and whether you have attained a license. Consider the following careers, with statistics compiled by the BLS in 2012.
Pharmacists: 2012 Median annual salary of $116,670 (14 percent projected growth through 2022)[ii]
Registered nurses: 2012 Median annual salary of $65,470 (19 percent projected growth through 2022)[iii]
Medical scientists: 2012 Median annual salary of $76,980 (13 percent projected growth through 2022)[iv]
Additional skills important for a career in health & medicine
Learning about health care is a lifelong pursuit. There are new discoveries made every day that may change the way patients are treated or what drugs they are prescribed. In any profession in the medical field, it is important to keep in mind that providing the best care to patients requires studying well after you've attained any online medical degrees. Becoming a successful health care provider means learning constantly.
Accreditation of Medical Programs Online
Why is accreditation important? Because it lets you know that your prospective school—or program —is held to a set of standards by an outside body, to ensure a specific level of quality. Since the health and medicine field is vast, the type of accreditation that you look for will depend on the area you plan on working in. For example, if you're looking to go into nursing you may want to seek out nursing programs that have been accredited by the Accreditation Commission for Education in Nursing (ACEN), which is responsible for the accreditation of specialized nursing education programs at the certificate, diploma, or recognized professional degree level [v]. It's worth the research!
Preparation for Professional Exams
When choosing a health & medicine degree online program, you'll also want to investigate what's in place to help prepare you for things like taking licensure or certification exams. Sticking with the example of pursuing a nursing specialty: in every state, registered nurses must earn a nursing license, which requires that you graduate from an approved nursing program and pass the National Council Licensure Examination (NCLEX-RN)[vi]. Other licensing requirements will vary depending on where you live—and you can search for your state board of nursing here. So when you're looking into different health and medicine programs, you should definitely try to find out what type of prep is offered for professional exams in your area of interest. You'll be glad you did when it's time to take your tests!
Helpful Resources for Online Medical Degrees
Since you're planning on earning your health & medicine degree online, you may not have considered that there are certain campus resources that you may need to access. Some of the different types of services you may want to keep an eye out for include: tutoring; 24/7 IT consultation; online libraries; and online job boards/internship assistance. It also may be a good idea to contact the prospective schools directly so you can get more detailed info on the types of resources available—and find out more about how accessible professors are in their medical programs online.
Great Student Support [vii]
Your digging is not done yet! Now it's time to find out how committed your potential schools are to educational and career enhancement. To that end, here are some stats you may want to consider—most of them can likely be found by searching for your colleges here:
Graduation rates
Retention rates
Job placement rates
Loan default rates
As we mentioned earlier, another thing to keep in mind is how much access you will have to your professors. You may get an idea of this by taking a look at the student-to-faculty ratio for your prospective school. The lower the number, the less spread-thin your instructors may be. It may also be beneficial to seek out some current or past students of the health and medicine degree programs that you've set your sights on, so you can get input on their experiences with online medical degrees. So get cracking!
---
Sources: [i] bls.gov/ooh/healthcare/home.htm | [ii] bls.gov/ooh/healthcare/pharmacists.htm | [iii] bls.gov/ooh/healthcare/registered-nurses.htm | [iv] bls.gov/ooh/life-physical-and-social-science/medical-scientists.htm [v]acenursing.org/mission-purpose-goals/ [vi]bls.gov/ooh/healthcare/registered-nurses.htm#tab-4 [vii]studentaid.ed.gov/sa/prepare-for-college/choosing-schools/consider#statistics