45 Sponsored Online Programs Available
EducationDynamics maintains business relationships with the schools it features
Online Medical Certificate Programs
Earning Medical Certificates Online could help you get involved with the healthcare industry - one of the fastest-growing industries in the country. By 2024,
the healthcare industry is predicted to employ more Americans than any other sector. And it's not all just nurses and doctors, either. The healthcare industry includes career paths relating to pharmacies, athletic training, medical records and equipment, and much more
[ii]
. If you're interested in pursuing a career in this large and growing industry, how do you start? One option is to begin looking into earning a medical certificate in the field of your choosing through our wide range of listings for medical certificate programs, and attend online medical courses with certificates.
What is a Medical Certificate Online?
Just like many degree programs, medical certificate programs online offer coursework at the undergraduate or graduate level intended to provide an in-depth education on a specific subject. Certificate programs typically differ, though, in that they tend to be shorter and focus on narrower topics than degree programs. Sometimes, medical certificates online programs might focus on helping to prepare students to pursue a very specific career, such as a Medical Assistant, whereas degree programs may tend to examine a broader discipline, such as Health Science.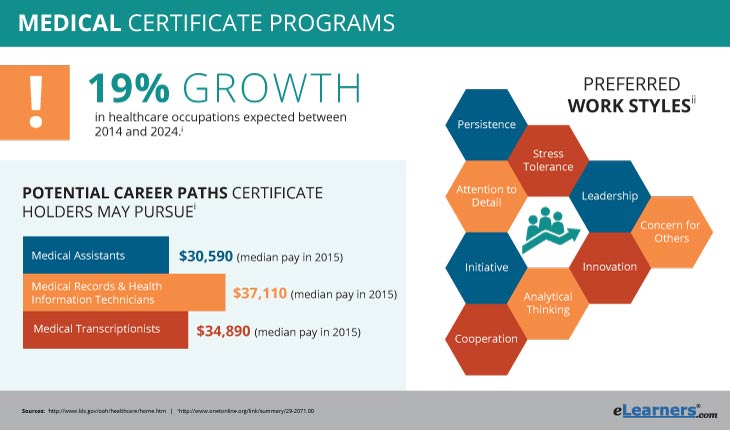 Medical Certificates Online vs. Medical Certification Online
When researching career and education options, you might come across information on both certificates and certifications. Though these words might seem interchangeable, they're actually two very different things. As mentioned above, a certificate may be issued to students by an educational institution after completing a certain course of study.
A certification, meanwhile, is awarded not by a school, but by a professional organization as proof that someone may be qualified to practice that profession. It usually entails a certification exam, but some organizations may have other requirements, such as professional experience. [iii]
The good news is that some online medical certificate programs may help you prepare to take certain professional certification exams. For example, a completing a Medical Billing and Coding certificate program may qualify you to take a Certified Billing and Coding Specialist certification exam (sponsored by the National Healthcareer Association).
Please contact the schools you are interested in to see whether or not they may help you prepare to sit for a certification exam.
Remember though that not every career path requires a certification (or, possibly, even has one available). Be sure to contact schools for more information on whether their program may help prepare you pursue professional certification.
How long might a Medical Certificate Online Program be?
So if earning a medical certificate online typically takes less time than earning a degree, how long of a commitment is it exactly? Unfortunately, it's hard to say exactly. Depending on the school, the program, and the subject, online medical certificate programs can vary greatly in length. Many may be rather short, as few as 12 credits [iv]. Others, though, may be longer than 50 credits.
Am I Ready to enroll in Medical Certificates Online?
Similar to the length of study, qualifications for enrolling in medical certificates online programs can be quite different from program to program. Some online medical certificate programs are offered at the undergraduate level, while others are taken at the graduate level, and may require that you earn a Bachelor's Degree to enroll. Some programs are even recommended for those who may already be working in the health industry, and are looking to enhance their career [v].
What Might I Study in Online Medical Courses with Certificates?
As mentioned above, the health industry is enormous, with many different types of career paths. The concentrations available for study in online medical certificate programs are similarly varied. Here are some potential areas of focus in Medical Certificates Online:
Despite all being related to health and medicine, there is a great variety among what you would study in each of these programs. Some lean more towards the business or administrative side of health, while others are more scientifically oriented, but there may be a degree of overlap. Students pursuing a medical assistant certificate might study medical coding and insurance, online professionalism in healthcare or medical law and bioethics, but they also could take courses on pharmacology and human anatomy and physiology [vi].
Potential Career Paths Starting with a Medical Certificate Online
One of the largest industries in the country, healthcare is still growing. If you have any interest in a career in the health field, you could not have found a better time to get into it with ten of the 20 most rapidly expanding occupations related to healthcare. Look into medical certificate online programs for a snapshot of all the types of positions you could work toward. If you are already working in medical services, there are also many opportunities to launch your career to spectacular heights.
Working in healthcare and medicine can mean many different things, including diagnosing, treating illness or injury, and administering physical care. Bear in mind that healthcare also encompasses a broader range of health needs, such as psychological and mental health, and preventative care.
If providing hands-on care is not your thing, yet you still want to work in medicine and health, then join the multitudes needed to provide administrative and technical support to this enormous institution. Medical billing, fitness, pharmacy, and medical informatics are a few options with a health and medicine certificate or diploma. Online classes allow you the convenience to take only the coursework that you need to meet your unique goals.
Your choices for workplace environments are as diverse as the specialties available in online healthcare and medicine non-degree programs. You could work in a clinic or hospital as a nurse, medical assistant, or radiology technician. But you may also work in a small physical therapy facility, a dental office, a non-profit agency as a health administrator, or for a government organization in public health.
Virtually all areas of healthcare are expanding, but one group, more than any other is requiring greater attention to health issues. Due to the elder population's rapid and sustained growth, workers are needed to respond to their increase in healthcare needs. Most healthcare related jobs require less than four years of college education, which is why an online health and medicine non-degree program is a perfect match.
While the concentrations available when earning a medical certificate online vary greatly, each one typically has a narrow focus. Many Medical Certificates Online are designed to help prepare students to pursue just one career track. So, you're probably interested to know what the outlook is for these careers. Since there are so many facets of the health industry, it would be difficult to dive into all of them, but here are some examples.
Medical Assistants are a career for which certificates are common, with 65% of O*Net's poll respondents having earned a postsecondary one. The median salary for medical assistants in 2015 was $30,590 [vii]. This career is expected to grow much faster than average in the next decade, more than 14% by 2024. Keep in mind that this is also a field for which a professional certification may be needed to pursue a career. [viii]
Medical Records and Health Information Technicians
Another career that may be benefited from a professional certification,[v] medical records and health information technicians earned a median 2015 salary of $37,110. The profession is also expected to grow much faster than average until 2024. [ix]
Certificates are slightly less common, though still not rare, for medical secretaries who, in 2014, earned a median salary of $32,240. Following the trend, this profession is expected to grow more than 14% between 2014 and 2024. [ix]
Take the Leap Into a Medical Certificate Online Program
Knowing all this, if you're interested in taking the leap and searching for Medical Certificate Online Programs, get started right here on eLearners.com. You can check out the listings for different Medical Certificates Online programs and schools, attend Online Medical Courses with Certificates or request more information from each school. Good luck!
---
[i]bls.gov/emp/ep_table_201.htm [ii]bls.gov/oes/current/oes_stru.htm#31-0000 [iii]bls.gov/ooh/healthcare/mobile/medical-records-and-health-information-technicians.htm [iv]umassonline.net/degrees/online-undergraduate-certificate-gerontological-social-policy [v]umassonline.net/degrees/online-certificate-clinical-pathology [vi]umassonline.net/degrees/online-graduate-certificate-global-health [vii]umassonline.net/degrees/online-certificate-clinical-pathology [viii]umassonline.net/degrees/blended-certificate-health-informatics [ix]bls.gov/ooh/healthcare/medical-assistants.htm#tab-4