2 Sponsored Online Programs Available
Online Medical School Certificate Programs
While earning an online certificate in medicine, programs examine how to help diagnose, treat, and prevent diseases. They can also look at some of the other specific aspects involved in patient care.
A medical certificate specializes students' knowledge and skill set in areas of medicine, whether nursing, dentistry, medical coding, or pharmacy technology. Students earn certificates through one year of full-time study to complement existing degrees or launch a new career path.
Did You Know?

The percentage of children consuming caffeine on a given day increases with age: 55.3% of children aged 2-5 years, 69.1% of children aged 6-11 years, and 70.7% of children aged 12-19.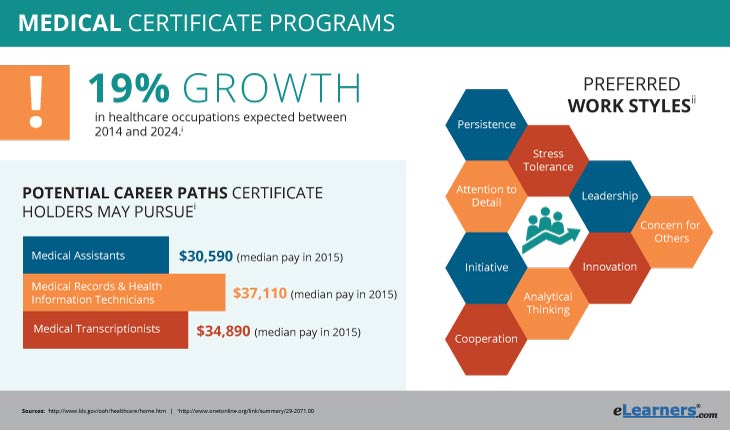 Online Certificate in Medicine: Basics
While pursuing an online certificate in medicine, remember that these are typically shorter, non-degree programs. Usually, they come in three different types, which are:
Post-Secondary Certificate
Post-Baccalaureate Certificate
Post-Masters Certificate (also called a Post-Graduate Certificate)
Each of these are designed for students at different educational levels and professional experience. Regardless of which certificate level matches your goals and academic standing, many only require four to six courses for you to earn your online certificate in health and medicine.
The higher level of the certificate, the more concentrated the curriculum is likely to be. For instance, a post-secondary certificate may be more generalized and introduce you to a certain field of health care, such as medical billing and coding. On the other hand, post-graduate certificates may be more concentrated to a specific topic, such as an epidemiology and public health certificate.
Some post-baccalaureate certificates allow you to apply some, or all, of the credits you earn while pursuing your certificate to a masters degree. However, this depends on the makeup of the school. Therefore, if this is a high priority for you, make sure to check to see which schools offer this option before applying.
Admissions Requirements for Health and Medicine Certificates
Besides the three different levels of certificates in health and medicine, there are also a wide variety of majors or concentrations available for you to choose from while earning an online certificate in medicine.
Some common admissions requirements for all of the different types of online certificates in medicine include:
Resume or CV
Official Transcripts
References
Post-secondary certificates usually only require that you've earned a high school or GED equivalent diploma in addition to some or all of the requirements listed above.
On the other hand, a post-baccalaureate certificate usually requires that students have earned a bachelors degree from an accredited university. Some schools require a minimum GPA, such as a 3.0, while earning your bachelors. Other schools may have a lower standard or no GPA requirement at all.
Post-graduate certificates usually have similar requirements to a post-baccalaureate certificate, and require a bachelors degree from an accredited university. However, there are some post-graduate certificates that require that you've earned a masters degree in a health-related field.
Before applying to each school, be sure to check the specific requirements and remember to consider your current academic standing and your future goals.
How Long Does It Take to Earn Medical Certifications Online?
Most full-time students can earn a certificate in as little as one year. However, this depends on the specific program, college, or university, and when courses are available, and your own availability.
There are some programs that take longer, such as the pre-med certificate for non-science bachelors degree majors, which typically takes two years. These are designed for part-time students in order to fulfill the science requirements for medical school.
List of Medical Certificate Options
Health care combines many aspects, such as technology, medicine, finance, management, biology, and a number of other components that help diagnose, treat, and prevent illnesses and diseases. As a result, there are many options for you to choose from when it comes to earning an online certificate in medicine.
These options can range from the business aspect, such as health care administration, to billing and coding and all the way to biotechnology. Some of the common online certificates in health and medicine, as well as some of the common courses you may take while pursuing each of these, are listed below.
Online Clinical Research Certificates
Clinical research certificates examine the process of getting new drugs, biologics, or medical devices approved. Many programs focus on teaching a combination of the following components of the process of gaining approval, which are:
Clinical research business and financial practices
Ethical and regulatory aspects of research
Overall management of clinical drug, biological, and medical device trials
Common Courses in Clinical Research:
Responsible Conduct of Clinical Research
Clinical Research Data Management and Technology
Fundamentals of Compliance
Online Medical Billing and Coding Certificates
Medical billing and coding online certificates teach all of the rules and regulations in health care, different insurance policies, and billing guidelines. Typically, these certificate programs prepare you for the three licensing exams, which are:
Certified Billing and Coding Specialist (CBCS) from the National Healthcareer Association
Certified Professional Coder (CPC) offered by the American Academy of Professional Coders (AAPC)
Certified Coding Assistant (CCA) from the American Health Information Management Association (AHIMA)
Common Medical Billing and Coding Courses:
Medical Coding
Medical Insurance and Billing
Medical Terminology
Pharmacology Online Certificates
Pharmacology certificates, which are also referred to as online pharmacy technician certificates, are medical certifications online that teach the fundamentals of pharmaceutical dispensing and the personal and professional ethics required in the field.
Some of the other key topics of pharmacy technician certificates include:
Dosage forms
Routes of administration
Infection control
Medication safety
Common Pharmacology Certificate Courses:
Pharmacy Management and Operations
Pharmacy Billing and Reimbursement
Pharmacy Software Management
Online Health Care Administration Certificates
Another online certificate in medicine you can pursue is a health care administration combines all of the business aspects of the health care industry with effectively treating patients in order to provide the best care. This may include how various leadership and management styles work in different organizations and how organizations effectively treat patients and make a profit.
Some of the key topics you may examine while earning an online health care administration certificate are:
Financial and managerial costing and accounting
Strategic planning
Emergency management
Common Courses for Health Care Administration Certificates:
Strategic Health Care Planning
Health Care Quality, Risk, and Regulatory Compliance
Economics and Decision Making in Health Care
Medical Assistant Certificates Online
Medical assistant certificates teach the skills and knowledge to effectively complete administrative and clinical tasks in the health care setting.i Therefore, courses usually examine a combination of medical and administrative tasks.
Some of the key topics include:
Collecting medical samples
Explaining treatments to patients
Assisting physicians with examinations
Common Online Courses for Medical Assistant Certificate:
Medical Law and Bioethics
Medical Terminology
Diseases of the Human Body
Online Pre-Med Certificates
As opposed to some of the other certificates mentioned, pre-med certificates normally take two years to complete for part-time students. That's because these certificates are designed for students who have earned a non-science bachelors degree and would like to pursue a career in health care.
As a result, usually these programs are specifically designed to help you earn your science credits and develop a strong foundation in these science topics, in order to prepare you for medical school.
Common Pre-Med Certificate Courses:
General and Organic Chemistry
General Biology
General Physics
Additional Online Certificates in Health and Medicine
You have many options when it comes to earning an online certificate in medicine. Some of these are listed above, but that's only a sample because there are so many majors and concentrations available for certificates.
As the health care industry continues to grow and as technology continues to impact all of the processes and aspects of health care, there continues to be more fields to cover. In fact, there may be certificates offered in each particular subject of every field.
As a result, there may be many other certificates available, especially post-masters options for students who have already earned a masters degree or even a PhD. These may be more concentrated on specific aspects of a particular field, such as environmental health for public health graduates or operations and management for health care administration graduates.
Some of the different medical fields include:
Primary Care
Nurse Educator
Epidemiology
Biotechnology
Health Science
Kinesiology and Exercise Science
Keep in mind that these, just like all other certificates, vary from school to school. Therefore, be sure to consider your future goals, as well as your current academic standing, while researching an online certificate in medicine.
What Is the Study of Medicine?
The study of medicine is broken into two different definitions:
The science of healing, which includes diagnosing, treating, and preventing disease and the promotion of healthy living
The medications, drugs, and substances used to treat and cure diseases, as well as to promote health
Both definitions are dedicated to the health and well being of patients. This includes creating and implementing new technologies to diagnose or treat illnesses and injuries, using biotechnology to create new medications, and having a better understanding of how to live healthy lives in order to prevent diseases.
Over the years, the study of medicine has taken on new meanings as technology and research has changed the field. Therefore, studying medicine also includes:
Clinical Practice
Biomedical Research
History of Medicine
Surgery
Alternative Medicine
What Are the Areas of Public Health?
Public health is one of the largest fields in medicine and consists of 20 major fields of study with five core disciplines.
The five core disciplines of public health are:
Behavioral Science
Biostatistics
Environmental Health
Epidemiology
Health Services Administration
However, you can still earn an online certificate in a number of different subjects that fall under the umbrella of public health. Some of these other options include:
Global Health
Infectious Diseases
Public Health Nutrition
Health and Social Behavior
There are a number of different medical fields with majors and concentrations that you can choose to pursue an online certificate in public health. Be sure to research a number of different schools to find one that matches your goals.
Possible Careers in Health and Medicine
Depending on which online certificate in medicine you choose to pursue, there may be a variety of careers available. Typically, students choose which certificate they'd like to earn after deciding which career they'd like to pursue after earning their certificate. However, this is not always the case.
Some of the common careers you may pursue in health and medicine after earning only a post-secondary certificate, and their 2016 median annual salary, include:
Medical Records and Health Information Technicians: $38,040ii
Pharmacy Technicians: $30,920iii
Surgical Technologists: $45,160iv
Medical Assistants: $31,540v
Phlebotomists: $32,710vi
Each of these have different responsibilities and work in different settings. For instance, medical assistants usually perform the administrative tasks of health care offices.vii On the other hand, surgical technologists, also referred to as operating room technicians, prepare operating rooms and help doctors during surgery.viii
Additional Certifications in Health and Medicine Careers
Many careers in the health care field require additional certifications or licenses beyond a certificate program. Typically, these are issued from the state, though some positions require a federal license.
For instance, to earn a certification, pharmacy technicians usually need to pass one of the following tests:
Certified Pharmacy Technician (CPhT) administered by the National Healthcareer Association (NHA)
Pharmacy Technician Certification Exam (PTCE) administered by the Pharmacy Technician Certification Board (PTCB)ix
Many other positions require certification or licensure. While other positions don't require it, many employers look for candidates who are licensed or certified to prove professional acumen.
For example, in most states, medical assistants and surgical technologists aren't required to have certification.x However, employers may prefer to hire candidates who are.xi Keep this in mind while earning your certificate to better prepare yourself for finding a job.
Learn More About Online Certificate in Medicine
Searching for an online certificate in medicine so that you can help patients? Then take the next step to find the perfect program for you. Click on any of the sponsored listings on this page to learn more about individual programs.
You can learn about specific courses, program descriptions, and admissions requirements. You can even reach out to your favorite colleges and universities directly to request more information and learn how to apply.
---
[i] bls.gov/ooh/healthcare/medical-assistants.htm#tab-2 [ii] bls.gov/ooh/healthcare/medical-records-and-health-information-technicians.htm#tab-5 [iii] bls.gov/ooh/healthcare/pharmacy-technicians.htm#tab-5 [iv] bls.gov/ooh/healthcare/surgical-technologists.htm#tab-5 [v] bls.gov/ooh/healthcare/medical-assistants.htm#tab-5 [vi] bls.gov/ooh/healthcare/phlebotomists.htm#tab-5 [vii] bls.gov/ooh/healthcare/medical-assistants.htm#tab-2 [viii] bls.gov/ooh/healthcare/surgical-technologists.htm#tab-2 [ix] bls.gov/ooh/healthcare/pharmacy-technicians.htm#tab-4 [x] bls.gov/ooh/healthcare/surgical-technologists.htm#tab-4 [xi] bls.gov/ooh/healthcare/medical-assistants.htm#tab-4