19 Sponsored Online Programs Available
EducationDynamics maintains business relationships with the schools it features
Online Nursing Certificate Programs
According to the Bureau of Labor Statistics in March, 2015, registered nurses were the fifth largest occupation in America, and the largest occupation with an above-average ...
According to the Bureau of Labor Statistics in March, 2015, registered nurses were the fifth largest occupation in America, and the largest occupation with an above-average median wage,[i] with a median wage of $32.45 per hour.[ii] This doesn't include nursing occupations other than registered nurse, such as nurse practitioners, whose median hourly wage for 2015 is higher.[iii] If you're interested in pursuing such a career, Online Nursing Certificate Programs might offer some potential options.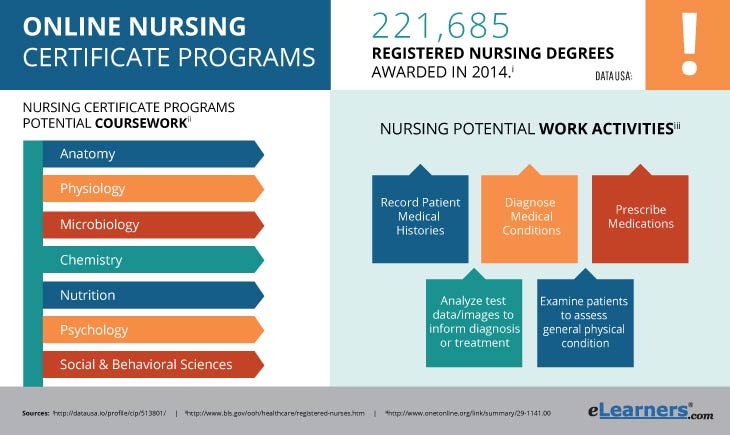 Are You Ready to Pursue Nursing Certifications Online?
As mentioned above, Online Nursing Certificate Programs are generally offered at the post-Master's level for those who've already earned a Master's Degree in Nursing. Since these certificates tend to build upon prior nursing education, they're typically not designed for people looking to pursue a new career in nursing, but rather those looking to enhance their existing nursing career.[iv]
Some nursing certifications online are only open to those who already hold certification as a nurse practitioner and are seeking additional education in advanced practice nursing.[v] For specific enrollment requirements, be sure to reach out to the programs that you're interested in and request more information.
Good to Know: Schools may require you to have maintained a certain GPA, or have met other academic requirements, during your Master's Degree Program in order to enroll in a certificate program.[vi]
What Might a Nursing Certificate Help You Work Towards?
Generally, the purpose of earning nursing certifications online is to help prepare you to earn some variety of nursing certification.[vii] If this seems confusing, you're not alone. The key is to know the difference between a certificate and a certification. A certificate program is fairly similar to a degree – you earn one by taking and passing a course of study offered by a school. It usually lets people know that you've received a certain type of education in a specific subject.
A certification meanwhile, is typically awarded by a professional organization, rather than a school, and generally indicates that you meet the necessary requirements to practice that profession. This is usually proven by passing an exam, completing a certain number of on-the-job-hours, or both.[viii]
In the case of Online Nursing Certificate Programs, you're likely to be earning a certificate that, through its coursework, may prepare you to sit for a certification exam. Examples of certification opportunities might include Family Nurse Practitioner[ix] or Nurse Educator.[x]
Keep in mind that nursing certifications online might not help you with all of the preparation for certification. Request information from specific schools to see if their programs cover all of the coursework required to sit for a certification exam.[xi]
Good to Know: Certification and Licensure requirements can vary from state to state, so make sure you know what you'll need before starting to earn a certificate. Information can be obtained from your state's Board of Nursing, or the American Nurses Credentialing Center.
[xii]
Earning Your Certificate
Depending on the school and the concentration, Online Nursing Certificate Programs can vary in length. Some may only require 12 credits of coursework,[xiii] while other programs might demand 60 credits of coursework.[xiv] The difference between program lengths may depend on what certifications they aim to prepare students to pursue, and what the requirements are for enrollment.[xv]
As far as coursework, since nursing certifications online may be offered at the post-Master's level, you might expect some fairly advanced classes. Some examples, depending on your program, could include the following:
Advanced Pharmacology and Pharmacotherapeutics[xvi]

Advanced Health Assessment and Diagnostic Reasoning[xvii]

Mental Health Problems of Urban Family[xviii]

Advanced Physiology and Pathophysiology Across the Life Span[xix]
Concentrations in Nursing Certifications Online
Many Nursing Certificate Programs aim to help prepare students to pursue certification and a career as a nurse practitioner. However, there are different types of nurse practitioners, so there are different concentrations available to students with different interests.
Beyond studying to pursue a career as a nurse practitioner, some nursing certificates online may focus on other career tracks. One example of these is a Nurse Educator Graduate Certificate, which could help prepare you to sit for the Certified Nurse Educator exam, sponsored by the National League for Nursing.[xx]
Career Prospects in Nursing
So, if you do earn a certificate, pass the certification exam, and pursue a career as a licensed nurse practitioner, what are the potential career prospects? Nurse practitioners in 2014 earned a median salary of $95,350.xxii Moreover, the projected growth of the profession between 2014 and 2024 is much faster than average, at more than 14%.[xxi]
If you choose to go a different route and pursue a career as a nurse educator, you may be interested to know that Nurse Instructors and Teachers at the Postsecondary level earned a median salary of $66,100 in 2014, with a similarly fast growth prediction.[xxii]
Getting Started
If you're ready to get going on your search for the perfect Online Nursing Certificate Program, start by checking out the listings on eLearners.com. If you've found a program that interests you, be sure to request information from the school on how they may help prepare you for any certification exams, or on any other question you might have.
---
[i] http://www.bls.gov/news.release/ocwage.nr0.htm [ii, iii] http://www.bls.gov/news.release/ocwage.t01.htm [iv] http://www.kaplanuniversity.edu/nursing/adult-gerontology-nurse-practitioner-certificate.aspx [v] https://www.umb.edu/academics/cnhs/nursing/professional_development/family_nurse_practitioners/adult_fnp[vi] https://www.umb.edu/academics/cnhs/nursing/professional_development/family_nurse_practitioners/admission_information [vii] http://www.umassonline.net/degrees/blended-certificate-post-master-nurse-practitioner [viii] http://nursecredentialing.org/FamilyNP [ix, xi] http://www.kaplanuniversity.edu/nursing/family-nurse-practitioner-certificate.aspx [x] http://www.kaplanuniversity.edu/nursing/nurse-educator-graduate-certificate.aspx [xii] http://www.kaplanuniversity.edu/nursing/nurse-educator-graduate-certificate.aspx [xii] http://www.umassonline.net/degrees/blended-certificate-post-master-nurse-practitioner [xiv] http://www.kaplanuniversity.edu/nursing/family-nurse-practitioner-certificate.aspx [xv] http://www.umassonline.net/degrees/blended-certificate-post-master-nurse-practitioner [xvi, xvii] http://www.kaplanuniversity.edu/nursing/adult-gerontology-nurse-practitioner-certificate.aspx [xviii] https://www.umb.edu/academics/cnhs/nursing/professional_development/family_nurse_practitioners/courseslist [xix,xx] http://www.kaplanuniversity.edu/nursing/nurse-educator-graduate-certificate.aspx [xxi] http://www.onetonline.org/link/summary/29-1171.00 [xxii] http://www.onetonline.org/link/summary/25-1072.00