Sponsored Online Programs Available
Online Nursing Certificate Programs
Online nursing certificate programs focus on providing care, in a short, focused curriculum. A variety of certificates might be available, designed to serve the needs of all different students. Some might be designed to help new nurses take their first steps into the world of nursing. Others might support experienced nurses who want to try something new.
Either way, an online certificate program could be out there for you. And in a flexible digital format, online nursing certificate programs could fit into your busy life.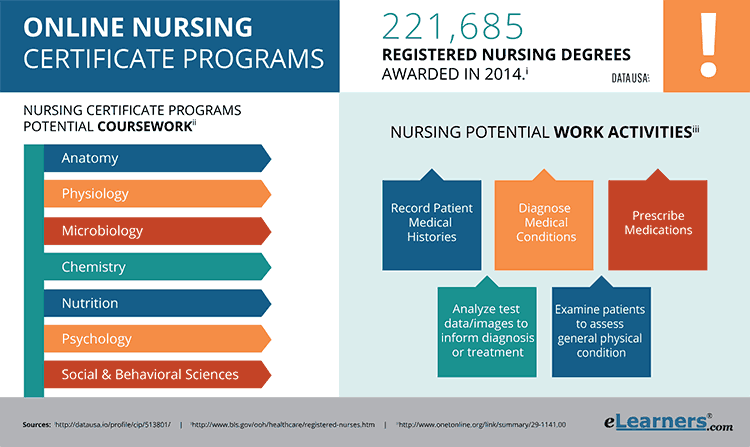 What Is A Certificate in Nursing?
A certificate in nursing is a non-degree nursing credential. They're generally awarded by schools or universities once students complete the requirements. Certificate programs tend to be shorter than degree programs, with fewer required courses.
Online certificate in nursing programs might vary, depending on the goal of the program and the students they serve. Programs aimed at new nurses may tend to be broader. They might focus on basic caregiving skills and medical knowledge to help students get started. Similar options may be online nursing diploma programs, or nursing diploma certificate programs. Online nursing certificate programs designed for experienced nurses may be a little different. They might focus on a particular subject of interest.
It's important to note that nursing certificates are not themselves certification or licensure. That said, some certificate programs might help students take the necessary steps to earning that license. If you need to become licensed for the first time, for more information, get in touch with your school of choice, or contact your state nursing board.
Why Earn a Certificate in Nursing?
Different students might have a variety of motivations to earn a certificate in nursing. The specific benefits depend on the certificate in question. For aspiring nurses, earning a certificate could be one way to earn a credential and get out into the field a little more quickly. Nursing certificate programs also present the opportunity to learn more about a specific subject. That could potentially help more advanced nurses develop their skills and expertise. On top of that, the credits earned in some programs might be transferable toward a degree later. Certificate programs may fulfill continuing education requirements for maintaining licensure.
Types of Online Nursing Certificate Programs
Online nursing certificate programs might be available at several different levels. They might also support a variety of levels of experience. Generally, certificate programs could fall into two categories.
Undergraduate Nursing Certificate Programs Online: Many undergraduate online nursing certificate programs focus on the basics. Programs like this might tend to be a little broader in nature. In some cases, that's because they're aimed at new nurses with no prior experience. However, others might be tailored toward associate degree nurses interested in learning more. Certificates could be offered at the associates level, or at the bachelors or post-bachelors level. Undergraduate diploma programs may also be available.
Graduate Certificates in Nursing Online: These programs are open to students who have already earned a bachelors or higher. Many nursing graduate certificate programs are narrower in scope. They may aim to build graduate-level expertise in a single nursing topic or skill area. Some certificate programs directly correlate to specific career paths. Examples include transitioning to a nurse practitioner role, becoming a nurse educator, or moving to a different type of care. Graduate certificate programs could include masters, post-masters, and even doctorate-level programs.
Online Nursing Certificates: Example Areas of Focus
Because of the wide variety of potential online nursing certificate programs, the kinds of courses you take might vary. One of the things that influences your potential curriculum is the certificate level. But it's not the only factor. Your courses might also depend on what you're studying. Here are some possible certificate program topics.
Online LPN Certificate Programs: These programs (and similar ones) are aimed at new and aspiring nurses. They cover both the skills and the science behind effective healthcare. They might also be designed to help students take those steps toward licensure.
Online Nurse Practitioner Certificate Programs: These are generally graduate certificates. They may aim to educate current nurses about the roles, responsibilities, and knowledge to work as a nurse practitioner. Some nurse practitioner programs are even more specialized than that. For example, some NP certificates might focus on the needs of pediatrics or family practice nurse practitioner roles.
Online Pediatric Nursing Certificates: Passionate about helping children? Pediatric nursing certificates discuss a wide variety of topics related to children. Examples include psychological development and behavior, stages of growth, and pediatric health issues. Courses may also look at how those things impact care practices in a variety of healthcare settings.
Online Gerontology Nursing Certificates: Online certificates in gerontology nursing focus on the elderly. Courses may look at treating patients in residential care facilities. They also may discuss the unique healthcare challenges of dealing with aging adults and their families.
Online Certificates Psychiatric Care Nursing: This unique subject area focuses on psychological health. Courses might touch on psychological and behavioral health issues many people face. Classes might also discuss the reality of nursing and bedside care in psychiatric care settings.
Online Nurse Leadership Certificates: These certificate programs look at how to be a leader on a nursing staff. They could discuss what it means to manage a unit, supervise a team of nurses, and more.
Nurse Educator Certificates Online: Want to share your passion for nursing with others? Nurse educator certificates aim to help prepare experienced nurses learn what it takes to do exactly that. This could include assessment and evaluation practices. Classes might talk about how to develop an effective nursing curriculum. Courses might even discuss education strategies for the classroom.
School Nursing Certificates Online: School nursing certificates look at the unique medical needs of school settings. This could include first aid and administration of medicine. Programs may also examine health education. Classes might touch on assistive technology for special needs, and special education services. They might also examine how to develop 504 plans and IEPs, and more.
These examples may not be an exhaustive list of online nursing certificate programs that might be offered. Some programs might offer additional options, or vary from these descriptions. Get in touch with your selected schools for more information.
Potential Nursing Career & Salary Info
Nursing may include a wide range of potential career paths. Your particular path may vary, influenced by your education and experience. Nursing roles could range from LPN to Nurse Practitioner. And they may work in a variety of care settings, with all different kinds of patients. The following are just a few examples of the kinds of nursing roles that could be available.
Licensed Practical Nurse (LPN), or Licensed Vocational Nurse (LVN): $43,170i
Registered Nurse (RN): $67,490ii
Advanced Practice Registered Nurses: $104,740iii
Advanced practice registered nurses could include Nurse Practitioners, Nurse Midwives, and Nurse Anesthetists.
The minimum requirement for employment in different nursing positions may vary widely. This may range from a diploma or associates degree for LPNs, to masters education for Nurse Practitioners. Requirements may also vary by state and employer preference.
Did You Know?

Some advanced practice registered nurses also become certified through practice-specific organizations.iii
Apply to Online Nursing Certificate Programs
Start searching for your potential online nursing certificate programs today! You can begin now by reviewing the sponsored listings here.
Once you've identified some you might want to attend, click on the "request info" button to read more and get in touch. Then start your application!
---
[i] bls.gov/ooh/healthcare/licensed-practical-and-licensed-vocational-nurses.htm [ii] bls.gov/ooh/healthcare/registered-nurses.htm
[iii] bls.gov/ooh/healthcare/nurse-anesthetists-nurse-midwives-and-nurse-practitioners.htm