Sponsored Online Programs Available
About Online Business Degree Programs
Online business degree programs teach students how to best find and solve the tough problems that face companies today. Technology like smart phones and apps have changed the work place a lot. And top business degree classes teach data, market research, and how you can be a proven leader in this area. These skills play a big role in good business plans.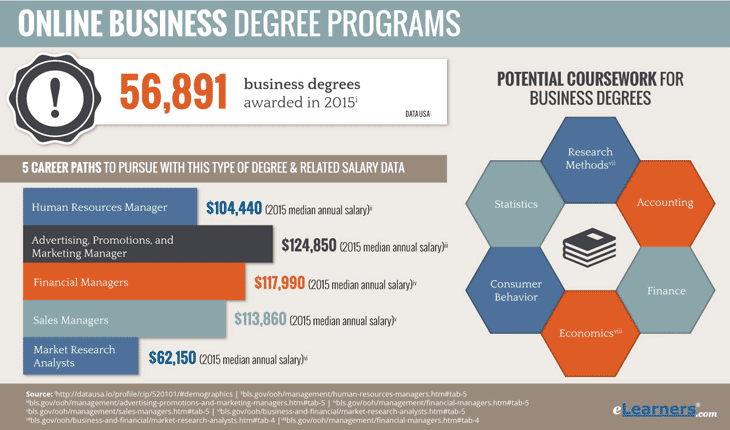 DID YOU KNOW?:

In 1881, Joseph Wharton founded the first collegiate business school at the University of Pennsylvania.
Plus, Online Business Degree Programs give you the freedom and flexibility to work on your own time. Some top research has shown online programs may help you to learn better. They do this with the use of multi-media such as webinars and infographics. You also may have access to options such as self-paced online classes, which are exclusively available to online learners.
3 Most Important Reasons to go to College for a Business Degree
We asked Derek, Content Marketing Strategist at CopyPress:What are the 3 most important reasons to pursue a business degree?
What area of business would you like to pursue? Most business schools require students to explore different business sectors.You'll typically need to take Accounting, Finance, Management, Statistics, IT, Marketing, and other general areas associated with a career in business. Allow yourself to explore each section and immerse yourself into what a career in that area might be like. You should be honest with yourself and pursue the one you are most passionate about because it will pay-off in the end."
A wealth of networking opportunities: Networking is arguably the most important reason to go to business school. Meet as many people as you can, set up a LinkedIn as soon as you start school and make sure to start building your connections."
A safety net to try and fail or succeed: You will have downtime, even as a full-time student. While it is important to enjoy school and make time for relaxing and having fun, I'd also encourage you to use your resources and free-time to test and try out whatever you think you want to do.
This could mean taking on an internship in a career you are interested in, or reaching out to mentors to apprentice you. The resources at your disposal while in business school are designed to be used by the students and many students never take full advantage of those resources. If you are paying to go to business school -- try to make the best of it by using all your resources to maximize your future."



Click To Tweet
- Derek Miller, Content Marketing Strategist at CopyPress
What Is a Business Degree?
There are many types of Online Business Degree Programs. Each tries to give students a taste of what makes a good business. Also, they give students a complete knowledge of the chosen specialty or major. Typically, this includes, accounting, marketing, finance, economics, and many others.
FUN FACT: Before he was in the Rolling Stones, Mick Jagger was an undergrad business student at the London School of Economics.
Types of Online Business Degrees
If you earn an online business degree, you can choose from a few specialties, majors, or concentrations. Most online business degree programs offer you a number of core business courses to give you a good understanding of business concepts, solving hard business problems, and how to be a leader and help people.
You will take the core courses. But each specialization may have its own course requirements as well.
Online Accounting Degree
Online accounting degree programs teach how businesses keep track of their cash, give tax advice, and use financial technology. Each of these helps a business make more money. Some common courses include what follows.
Cost Accounting
Federal Taxation
Statistical Reasoning
Online Finance Degree
Online finance degree programs show you how to balance risk, how to make business plans, and how to use data. Some common finance courses include the following.
Managerial Economics
Corporate Finance
Investments and Portfolio Management
Online Marketing and Advertising Degree
You need to have good marketing and advertising. Otherwise, people may not know about your products and services. And online marketing and advertising programs teach you how to execute make marketing plans. These plans are made through market research and sales. Some common marketing and advertising courses include the following.
Market Research
Consumer Behavior
Brand Identity and Marketing Communications
Online Business Administration Degree
Typically, online business administration classes focus on giving you a broad business education with a number of management courses. This may help you handle the tough problems that face people in the business world today. Some common business administration courses include the following.
Ethics and Enterprise
Organizational Behavior
Principles of Management
Other Online Business Degree Options
There are some more online business degree options for you to look at. Review this list and see if any look good to you.
Economics
International Business
Sports Analytics and Management
Healthcare Administration
Entrepreneurship
Human Resource Management
However, keep in mind that no school is the same. Some majors or specializations may not be taught at all schools. Click on any of the sponsored listings on this page to learn more about the business degree options at specific schools.
Did You Know That?

The red and white Coca-Cola logo is recognized by 94% of the world's population.
Levels of Online Business Degree Programs
Each level of online business degree programs have different requirements. You may need to show proof of admissions, courses, and graduation. It also depends on the level of degree. Courses with similar names may be more in depth. You may need to think more. For instance, a research methods doctorate level course will normally require more independent study and analysis than a bachelors level course with the same name.
Online Associates in Business Degree
You may need to first earn a high school diploma, a GED, or an equal diploma. Most online associates in business degree programs ask you to have them. Some also require that you release your transcripts to the school. Normally, programs strive to teach you the basics of business. Then you may apply for some entry-level positions or continue your education.
Online Bachelors in Business Degree
Typically, online bachelors degree in business degree programs have similar requirements as an associates program. However, some programs are stricter than others. Some of these requirements include a high school diploma, GED, or equivalent diploma. Some programs may also require that you achieve a minimum GPA in high school and earn a minimum score on the SATs.
There are normally three different types of bachelors degrees in business. These include the following.
Bachelor of Science (BS): Most online BS in business programs provide less opportunities for courses outside of business because they are more technically focused.
Bachelor of Arts (BA): Normally, online BA business programs provide you opportunities to take more electives in liberal arts. For example, you might take a class in history or humanities.
Bachelor of Business Administration (BBA): Online BBA degree programs are normally more focused on things you need in the real-world. They are more technically focused business courses.
Courses, structure, and requirements vary from program to program. Click on any of the sponsored schools on this page to learn more about their programs and find a perfect match for you.
Online Certificate Programs in Business
There are a few online business degree programs available at the certificate level, which are typically available to those who have earned a bachelors degree from an accredited university. Other admissions requirements may include earning a minimum GPA, normally 2.3 or higher on a 4.0 scale.
Online business certificate programs are a chance to further your business acumen. Typically, programs require four to six courses and can be completed in two years. However, every program is different and you should check with individual programs for specific requirements.
Online Masters in Business Degree
You need to know a few things when you apply for an online masters in business degree. For example, most programs ask that you have a bachelors degree from an accredited university. You may also need to have a minimum GPA. Normally, that GPA is a 2.3 or higher. However, every program has unique admissions requirements. Some MBA programs may even waive test score requirements altogether, for qualifying students. So always be sure to check with the school.
There are three types of online masters in business degrees that you may see. We list them here for you.
Master of Science (MS): Online MS programs are normally focused on making you an expert in business and the different aspects.
Master of Arts (MA): Most online MA programs in business are focused on theory and research and may be the best option for students who are looking to pursue a doctorate degree.
Master of Business Administration (MBA): Typically, most MBA programs require that you have a couple years of professional experience and normally focus on specific business responsibilities.
It's important to keep in mind that every program is different. You can research individual schools by clicking on any of the sponsored listings on this page. There you can read program descriptions, course lists, and admissions requirements. You can even talk to the schools to learn more.
Online Doctoral Programs in Business
Most online doctorate in business degree programs require that you have a masters degree from an accredited school and that you have at least a 3.0 GPA. However, schools may ask you for certain things. So check with each school to make sure that you meet the bars they have set.
Typically, there are three types of online doctorate degree in business programs.
Doctor of Philosophy (PhD): Normally, online PhD business degree programs are research and writing intensive and focus on preparing you for roles in academia.
Doctor of Business Administration (DBA): Most online DBA business degrees programs focus on the application of theories and techniques to prepare you for leadership roles.
Doctor of Management (DM): Online DM business degrees teach you practical knowledge and research skills to confront complex business problems.
Online business degree programs are all different and may have different focuses. Click on any of the sponsored listings to learn more about a program.
Did You Know This?

Every two years, Amazon employees take turns for two days and work at the customer service desk. They do this so they know what the customer service experience is like. Even the CEO works at the desk.
Choose Your School
Online business degree programs show you the ropes of a successful business. That may include accounting, finance, economics, and many others. Plus, choosing to pursue your degree online may develop the online communication skills that are becoming more prevalent in the workplace.
Click on any of the sponsored listings on this page to learn more about individual programs. That may include program descriptions, admissions requirements, and common courses. You can even contact the schools directly to request more information.