Sponsored Online Programs Available
Earning an Online Bachelors Degree in Business
Earning an Online Bachelors Degree in Business Management may open the door to a variety of potential career paths[i] as well as serve as a platform for continued education. While the Bachelor of Business Administration may be the only business degree that comes to mind, 'business' is also an umbrella term for many other related programs from accounting and management to information technology, sales, finance and others. If you enjoy interacting with others, working with numbers and analysis, leading teams and organizing events, these are some strengths you could consider leveraging with an Online Bachelors Degree in Business Management.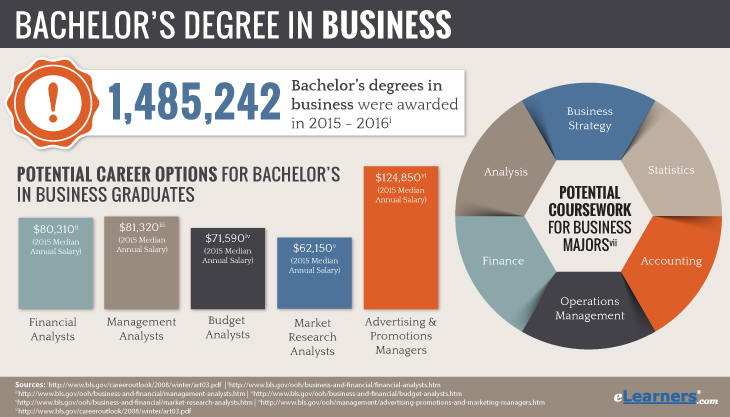 Online Bachelors Degree in Business Management Programs: Basics
Online Bachelors Degree in Business Management Programs may take about four years of full-time study, unless you are in a degree completion program after your Associate's degree or using it as bridge to a Master's program. (You can read more about bridge programs here.)
Prerequisites can vary between online business schools and the program you select, however you do need a high school diploma or GED. Prepare yourself for coursework and possibly, an internship experience. Research, writing, and presentation assignments may be used to develop your ability to collect, analyze, and present information. Some programs may involve group projects and online discussion boards.
DID YOU KNOW? "Between 2010 and 2020, BLS projects over 1 million job openings in management occupations that typically require a Bachelor's degree."[ii]
Why You Should Be (Very) Interested in "4+1 Programs"
Since you're thinking about the basics, you may also want to consider an accelerated program.
"What is an accelerated program?", you might be thinking. An accelerated program—also known as a 4+1 degree—is a track where you earn your bachelor's and master's degrees in a shorter amount of time via smart hacks like "dual credits" and summer courses. You may even be able to earn a masters degree in just SIX MONTHS with a 4+1 program! You can read more about accelerated programs here.
The Business Major vs. Majoring in Business
If you are someone who is thinking of majoring in business, business administration or business management, some of the core topics your program may address could include[iii]:
Business strategy
Statistics
Accounting
Finance
Operations management
Quantitative analysis
However, going back to the analogy of the umbrella, a business major could include several other predominant fields of study such as[iv]:
Logistics, materials management
Marketing, marketing management
Finance
Accounting
Other business-related majors
Which Online Bachelors Degree in Business is Right for You?
Online Bachelors in Business degrees may be offered as Bachelor of Arts (B.A.), Bachelor of Science (B.S.) and the well-known Bachelor of Business Administration (B.B.A.) or Bachelor of Science in Business Administration (B.S.B.A). If you are completing either an Associate of Arts or Associate of Science in Business, your next academic step may be clear. If you are just starting out, you may be wondering just which Bachelors degree in Business aligns with your academic and professional goals. Of course, words on a page don't come close to speaking to an advisor, but here are some basic questions to ask yourself:
How do you want to study business? As part of a general liberal arts or general science education? Or do you want a general business education with extra courses in a topic of interest?
Online B.A. in Business
The Bachelor of Arts in business often gives you more opportunity to choose electives - and maybe define a second major. Arts-oriented programs may also have a second language requirement and possibly other mandatory liberal arts and humanities courses. An online B.A. in Business may offer a more theoretical and general rather than practice-based education.
Online B.S. in Business
The Bachelor of Science in business is often less flexible than the B.A. in that you may have fewer electives and your required courses will be oriented to more scientific areas. This may mean more in depth study in finance, economics, math and statistics as well as learning how to apply business methods to real-world issues. An online B.S. in Business may be the right fit if you know you want to study a specific field and you can handle the extra science courses and their prerequisites.
Online B.B.A. or B.S.B.A.
The Bachelor of Business Administration or Bachelor of Science in Business Administration is another option is you are looking for a general business degree. Either the online B.B.A. or B.S.B.A. typically address a series of core topics before you move onto a concentration area, such as management.
Types of Online Bachelors Degree in Business Programs
Refine your search for an online Bachelors in Business degree with our subject selection, which categorizes the sponsored listings;
Online Bachelors in Business Information Systems Programs
Online Bachelors in E Commerce and Social Media Programs
Online Bachelors in Economics Programs
Online Bachelors in Environment and Agriculture Programs
Online Bachelors in Healthcare Administration and Management Programs
Online Bachelors in Hospitality Management Programs
Online Bachelors in Human Resources Programs
Online Bachelors in International Business Programs
Online Bachelors in Marketing and advertising Programs
Online Bachelors in Nonprofit Administration Programs
Online Bachelors in Office Management Programs
Online Bachelors in Operations Management Programs
Online Bachelors in Organizational Leadership Programs
Online Bachelors in Project and operations management Programs
Online Bachelors in Public Administration Programs
Online Bachelors in Real Estate and Property Management Programs
Online Bachelors in Small business and entrepreneurial Programs
Online Bachelors in Sports Management Programs
Online Bachelors Degree in Business Management Programs: Potential Features
Distance-learning might be the bridge between working students and an undergraduate degree. Online Bachelors in Business programs vary in format, but the premise is that instead of attending your college in person, you might:
Log into a web-based course management system to access your prerecorded (or live streaming) lectures;
Submit assignments;
Communicate with your professors and classmates;
Access digital libraries and resources
Note that some programs may include an on-campus component.
Accreditation
In selecting an online university, you should consider a nationally or regionally accredited school. In terms of accreditation for programs, this is going to depend on what type it is. Business programs may be accredited by the ACBSP[v] for instance.
After Graduation
Graduates holding a Bachelors in Business may be prepared for entry-level roles in management[vi], and business and financial occupations[vii]. Make sure to research the academic requirements of your ideal career. A few potential careers to consider?
Continued Education
The other potentially versatile element of earning an Online Bachelors in Business is that it may be a platform for a graduate degree such as a Masters and or Doctorate; there are certain fields (e.g. Financial Analyst where a master's degree is preferred)[xiii] or where it could lead to higher wages[xiv]. Some students may enter Master of Business Administration, Master of Accountancy, Master of Science in Finance or other programs, and perhaps subsequently, a Ph.D. or Doctorate program.
Take the Next Step
Feeling like there are many possibilities to look into? There certainly are; some of the sponsored listings might include online Bachelor of Arts in Business –Business Management, Online Bachelor of Science in Liberal Studies- Leadership, Online Bridge to the M.S. in Information Technology Management. Definitely request more information from prospective online business schools to fill in the details, stay on top of application deadlines and make an educated decision about your online Bachelor's degree in Business.
---
sources: [i] |[ii] |[iii] bls.gov/careeroutlook/2008/winter/art03.pdf[iv] bls.gov/careeroutlook/2008/winter/art03.pdf[v] acbsp.org |[vi] bls.gov/ooh/management/ |[vii] bls.gov/ooh/business-and-financial/home.htm |[viii] bls.gov/ooh/management/ |[ix] bls.gov/ooh/management/ |[x] bls.gov/ooh/business-and-financial/home.htm |[xi] bls.gov/ooh/business-and-financial/home.htm |[xii] bls.gov/ooh/business-and-financial/home.htm |[xiii] bls.gov/ooh/business-and-financial/home.htm |[xiv] bls.gov/careeroutlook/2015/article/should-i-get-a-masters-degree.htm#STEM |