11 Sponsored Online Programs Available
Online Masters in Business Administration Programs
Online MBA programs may be appealing as there are several flexible formats that allow students and current managers to update their current business knowledge and delve deeper into a concentration area such as finance or marketing. Maybe you are in an entry-level position and aspire to potentially move up the top of the proverbial corporate ladder. Or, maybe you have always wanted to earn a master of business administration but you got too busy with work or family and you, at best, have been delaying it. There are any number of reasons that lead you to the doorway in search of online business schools and several reasons why earning your MBA online may be a worthwhile endeavor.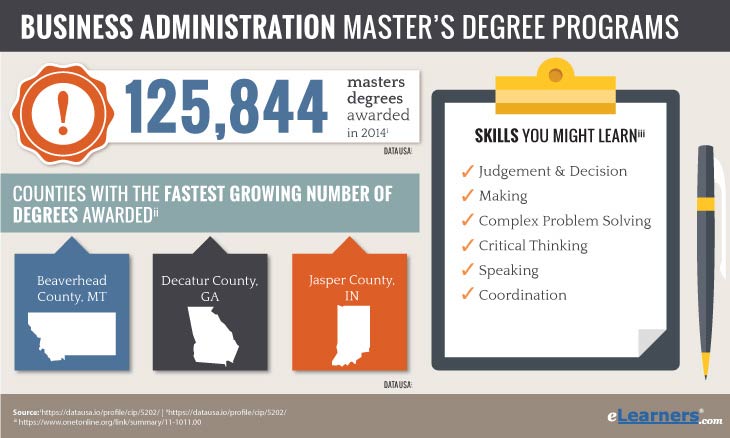 Why Consider Online MBA Programs?
Online MBA programs are typically designed for the working professional who is not ready to give up full-time employment to attend graduate school. Time is precious and needs to be well spent. Convenience is key[i]. The good news is that recent studies (2016) show that, upon graduating from an online learning program (although not necessarily an MBA degree), 72% of online students felt it was worth their time, and 69% felt it was worth the investment of their money. [ii]
MASTERS IN BUSINESS INSIGHT
We asked AJ Saleem, Academic Director at Suprex Tutors to speak to: What he considers to be the two main reasons to pursue an MBA program.
"The two main reasons I have for pursuing a MBA is the title and the networking. When you have a MBA next to your name, you have a lot more credibility when speaking to other business owners. Referring back to the title, getting a MBA allows you to network with other potential entrepreneurs. "



Click To Tweet!


- AJ Saleem, Academic Director at Suprex Tutors
FACT: Per the NCES, vver 115,525 Masters in Business Administration & Management degrees were awarded in the period of 2011-12[iii]
Potential Features of MBA Online Programs
While each university may have their own way of formatting their online MBA programs, some of the potential features of distance-learning might include:
Using desktop or laptop computer with Internet access to log into courses when you are able;
Using webcam and headset with microphone to participate in livestreaming seminars;
Program might be a mirror of residential courses, although lectures may be pre-recorded;
Online programming may mean that you have a short residency where you interact with peers and professors, engage in team building and attend workshops;
Communication with others in your program may be via video conferencing, email, web chat or telephone, depending on how the school sets it up;
The ability to self-pace;
Courses might include lectures, case studies and team projects, and you may have to write a thesis or take examinations to graduate (varies).
Online MBA Programs: Basics
Each college or university has its own set of prerequisites for its online MBA programs, although prospective candidates typically need to have earned a Bachelor's degree from an accredited school. Students may also be required to submit GPA, academic transcripts, take an entrance exam, provide a resume of work experience, community service, essays and letters of recommendation[iv]. You may want to inquire about admission decisions and procedures from prospective schools Use the 'request' info tab to help you with these details.
Fulltime, Accelerated or Part Time Online MBA?
Convinced that earning an MBA online is the flexible set up you need but still wondering how long it might take until graduation? That might depend on the university and on the format you choose:
Full time online MBA programs may take place over two academic years, meaning you may break for the summer or this may be when a short residency or intensive is scheduled.
Accelerated online MBA programs are sometimes called 'one year online MBAs' since they tend to load a shorter period with a more intense class and exam schedule.
Part Time online MBA programs may be more flexible in that they might give students three years or more to complete the requirements; lengths vary between schools.
Executive MBA (EMBA) online programs may be designed for managers and executives with about 10 years of work-related experience
Online Master of Business Administration: Potential Coursework
A general Master of Business Administration degree program may be characterized by core courses (business foundations) and electives. The core courses often are taken at the onset of the MBA program, while electives are what allow students to 'specialize'. While course titles do vary, some of the core topics could include:
Managerial accounting
Managerial economics
Business statistics
Business ethics
Management theory
Human resources management
Purchasing and logistics
Organization and production
Marketing
Business decision-making
Online MBA: Potential Concentrations
MBA concentration areas vary between schools, so knowing what you are drawn to (what you want to emphasize in your studies) ahead of time could narrow down your choice of program. Choosing an emphasis or concentration (or even a dual mba concentration) may be one way to tailor your education to your own needs. You may learn not only the broader business concepts but also the specifics of applying these within a particular discipline. A few possibilities for MBA concentrations might include:
General management
Accounting
Healthcare Administration
Entrepreneurship
Finance
Online MBA: Potential to Cultivate Skills
Online MBA programs may be a way to cultivate some of the skills that are deemed useful for people who work in general business administration and management positions. Ten possible examples include[xv]:
Judgement and decision-making
Systems evaluation
Systems analysis
Coordination and social perceptiveness
Time Management
Speaking
Active listening
Reading comprehension
Critical thinking
Complex problem-solving
The MBA and Marketplace Trends
While earning an MBA is no guarantee of higher wages, the Bureau of Labor Statistics does indicate that in 2013, business, financial and sales occupations had some of the highest wage premiums for workers with a masters degree. They stipulate that securities, commodities and financial service sales agents had earned a wage premium that was nearly 90% higher than for workers with a bachelors degree. Furthermore, that many of these agents had earned a masters degree in business administration[xvii].
DID YOU KNOW? Many top executives have a bachelor's or master's degree in business administration or in an area related to their field of work.[xviii]
Continued Education
Graduates having earned a Masters in Business Administration may be able to continue their education through a Doctor of Business Administration (DBA) or Doctor of Philosophy (PhD) in Business Administration degree. Of these, the PhD is more research-focused, while the DBA degree tends to focus on theory and how it can be applied to business and business management.
Find an Accredited Online MBA Program
In the United States, institutions such as online business schools may be accredited by regional accreditors as per the U.S. Department of Education. Accreditation for online MBA programs may come from profession specific accreditors such as:
The Accreditation Council for Business Schools and Programs (ACBSP)

The International Assembly for Collegiate Business Education (IACBE)
Note that it is up to each university to maintain accreditation therefore it is subject to change.
Take the Next Step
While online MBA programs may sound the same initially, individual schools may have courses, concentration areas, faculty or other distinguishing features. Scroll through sponsored listings with an intention to contact schools to learn more about these characteristics, as well as the 'when' and 'how' you might get the ball rolling for application.
---
sources: [i] OCS-2016-Report.pdf |[ii] OCS-2016-Report.pdf |[iii] https://nces.ed.gov/programs/digest/d13/tables/dt13_318.30.asp | [iv] https://nces.ed.gov/ipeds/cipcode/cipdetail.aspx?y=55&cipid=88877 |[xv] https://datausa.io/profile/cip/520201/ [xvii] bls.gov/careeroutlook/2015/article/should-i-get-a-masters-degree.htm#Education | [xviii] bls.gov/ooh/management/top-executives.htm