What are some tips that might help you with your MBA admissions?
If you want to potentially increase your chances of being accepted into an MBA program, what best practices should you know about for the MBA admissions process? There is more to it than just settling on your top schools, filling out an application, and hoping you receive good news. Here are some tips about the most common MBA requirements needed for admittance into MBA programs.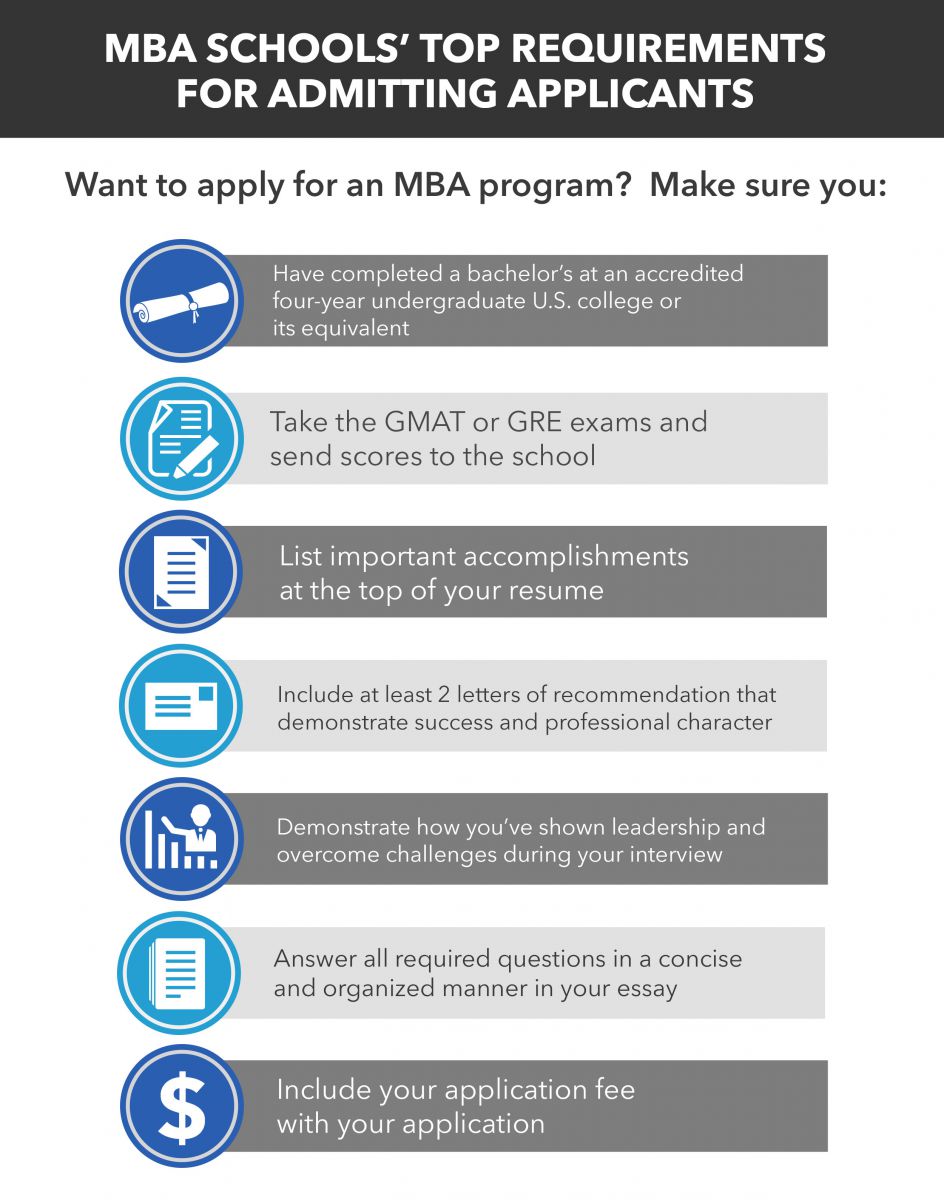 Your Transcript
Since having your official undergraduate transcript(s) sent to the business schools you are applying to may take weeks, tackle this step first. MBA admissions boards will take into consideration the undergraduate college you attended but you aren't required to attend an Ivy League in order to be accepted. The undergrad school you attend should be accredited, however. MBA Admissions boards will look at your Grade Point Average (GPA) and the types of courses you completed. If your transcript reflects lower grades but you improved as your education progressed, it could reveal your determination – so don't become discouraged.
Your Application.
Filling in information like your name, address, and telephone number should be easy since it is one of the basic MBA requirements, right? Keep in mind that your application is one of hundreds. If you want your application to stand out for the right reasons, use proper grammar, fill out the application in entirety, and be neat. If you are unsure about a particular question, call the MBA admissions office and seek assistance and clarity. Before you hit "send," have a trusted friend read it over to double check for any grammatical errors or ambiguity.
MBA Essay
As part of your MBA requirements, you will complete an MBA essay to accompany your application. While you may feel overwhelmed at the prospect of writing an MBA essay, stay focused. This is your opportunity to showcase desirable skills like clear communication, organization, and thorough analysis.
What to write about
The school will most likely ask you to write about a specific topic or answer a set of questions. While each school is different, here are some common topics or questions you may encounter:
What are you short-term and long-term career goals?
Why are you applying to this particular school?
Discuss a mistake you made and how you learned from it.
Describe an ethical dilemma you've faced and how you resolved it.
What is the biggest challenge you had to overcome?
How to write it
Write multiple drafts to produce an effective final MBA essay. Like you did for your application, have a co-worker, friend, or family member review your essay before you submit it. List a variety of academic and personal accomplishments to showcase the diversity you could bring to your college's MBA program. Customize your essay for each college you apply to. A generic MBA essay is no way to "wow" the admissions board.
Resources
If you would like feedback regarding your MBA essay, try contacting your alma mater's writing center or a former professor from whom you received a good grade. For more help, check out a book like MBA Admissions Strategy: From Profile Building to Essay WritingI
Testing.
Before applying to MBA programs, most schools will require you to take the GMAT or GRE, which are tests used to assess your qualifications for graduate-level study.
GMAT®The GMAT®, or Graduate Management Admission Test, is intended to measure the skills you have that matter most to business schools and is supposed to predict your academic success. More than 5,900 business and management programs worldwide accept GMAT® scoresII.
GMAT On Demand
Registration
The fee to register for the GMAT® is $250. If you cancel your exam date within 7 days of the exam, you won't receive a refund so be sure to plan ahead and schedule the exam on a date you know you are available. There is a $50 penalty fee if you reschedule your exam and there may be additional fees as well.
Format
You have 3 ½ hours to complete the four GMAT® exam sections:
Analytical Writing Assessment- 1 topic; 30 minutes; Analysis of Argument
Integrated Reasoning- 12 Questions; 30 minutes; Multi-Source Reasoning Graphics Interpretation, Two-Two Part Analysis, Table Analysis
Quantitative- 37 Questions; 75 minutes; Data Sufficiency, Problem Solving
Verbal- 41 Questions; 75 minutes; Reading Comprehension, Critical Reasoning, Sentence Correction
GRE® Revised General Test
Some business schools will accept GRE® test scores rather than GMAT® scores. This test covers verbal reasoning, quantitative reasoning and analytical writing, and is offered in 700 test centers in more than 160 countries. A computer-based is also available.III
">