It's no accident that the business world and fashion industry are flocking to Ana Caracaleanu for her fashion business insight and unique perspective on the future of crowdfunding fashion. As the co-founder and CEO of Luevo.com, Ana Caracaleanu helped develop the idea and business model for the first product-based crowd-funded website that takes the innovations of talented but unknown fashion designers and brings them to life for customers.

Caracaleanu began her higher education by earning an Honours Bachelor Degree in Arts from the University of Toronto and then went on to earn her Masters in Business Administration (MBA) from Ryerson University in Canada. She continued her education by earning an Entrepreneurship certification from MaRS Innovation Center by attending their Entrepreneurship 101 courses that provided a step-by-step guide to launching a startup fashion business.
Outside of Caracaleanu's education credentials, she has been interviewed or featured by such publications as the Huffington Post, the Business Journals, Vogue Italia, Fashion Times, and Dissecting Success. She is also asked to speak at startup business symposiums and conferences—like The World Ethical Apparel Roundtable 2014: Innovation, Impacts & Perceptions, Lean StartUp Day at MaRS, and StartUp Fashion (a fashion crowdfunding event)—on topics such as marketing technology integration in retail, lean methodology, and the challenges and benefits of crowdfunding. Caracaleanu was a finalist at Crowdfunder Pitch Competition and at the StartUp World Competition and won at the VC TaskForce Seek-Stage Pitch Event.
Find out how Ana Caracaleanu made her start—and her startup fashion business, Luevo—in our full interview below.
Discuss your background and education. What first led you to earn your business degrees and then move on to opening your own fashion business?
I went back to school because I needed a challenge. I wasn't learning as much in my workplace, so doing an MBA certainly was going to give me that thrill that I needed at the time. I was working full time at the time, so studying in the evenings taught me to manage my time better, to multitask and to work harder since my weeks were a minimum of 60 hours of work. From there, the next step was to apply all the new knowledge I gained, and I started having ideas—ideas that led to launching my first business.
Talk a little bit about Luevo.com and what makes it different than other fashion retail websites. How did you come up with and then develop the idea for it?
Luevo is the first product based crowdfunding website and a learning hub for fashion designers. We're very different from traditional fashion retail websites, as our technology allows fashion designers to launch collections without holding any inventory or financial risk. They only manufacture products when they get enough preorders from customers. It's the basis of pretailing.
What are some of the challenges you faced while co-founding Luevo and how did you overcome them?
Initially, our biggest challenge was funding; but we soon realized that we don't need investment money to do what we needed to do, and in fact chasing investors had slowed us down. We are now focused on building a community, helping designers through our learning hub and then making money from our paying customers.
Discuss your different roles (entrepreneur, fashion business owner, social media instructor, online marketer, social media voice) and how one informs others.
They are all kind of the same thing—after all, I'm just one person! As an entrepreneur or a business owner you need to wear many hats. You are a marketer, a community manager, customer service rep, operations manager, etc. I think I started applying my skills outside of Luevo as soon as I realized that I can. For example we started taking on many interns at Luevo last year. I was personally training and mentoring each one of them, and teaching them everything I know: how to talk to customers, how to build a community using social media, how to approach media how to run marketing campaigns, etc. Next step: teach college students, and that led to my gig as a social media professor at George Brown College.
How does the role of social media factor into your business plan/development?
Social media plays a very important part on our business development. We use different tools and tactics to connect with designers, gain feedback, spread the word about campaigns, get media attention etc.
What role did your education play in starting your own business and in maintaining that business upon its success?
The MBA taught me all faces of business, from marketing to finance and accounting.  I now have a better understanding of these more obscure  parts of the business that I don't encounter on a daily basis, but I still have to deal with (such as building financial statements when filing for taxes). Most importantly, I was lucky enough that my MBA program was entrepreneurship focused, and we were allowed to write a business plan, instead of a research thesis, needed for graduation. Mind you, it was still an academic paper, 60 pages of it, but it allowed me to do all the research I needed on the industry and to have a solid plan of what I wanted to do. Writing a business plan takes a lot of time, and I don't otherwise recommend it (it's better to just have a pitch deck or a shot executive summary), but I had this wonderful opportunity to do it as part of my studies—and I got a credit for it too!
Have you always had an entrepreneurial spirit and if so, how has it contributed to your success?
Maybe. I think we all have an entrepreneurial spirit, and you can be an entrepreneur while working for a large corporation, or you can be entrepreneurial on your own. This is a long debate whether entrepreneurs are made or born, but I think it takes a little bit of both plus some good luck! I remember me as an entrepreneur in high school, when I would sell gently used clothes and I'd use the money to go on trips. And that spirit of doing something on the side, of commerce, of negotiation followed me until finally I gave in, and pursued it full time.
Do you think it is a good time to go into business or business administration? If so, why?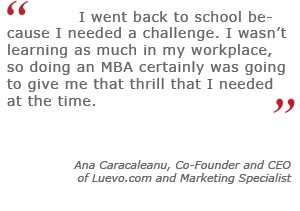 I think any time is a good time. Follow your guts. Of course, experience matters, so if you are lucky enough to gain experience in a niche field and then go on and do something on your own in that same field, that'd be best case scenario. What I built with my team has nothing to do with my previous work experience, and we still succeeded. So I don't think it matters when, it's a matter of why you want to do it, and how.
In your opinion, what type of person is ideal for starting her own business?  What skills and attributes do you find contribute to success in the business world?
Anyone can start their own business! But to be successful you need a combination of things of course! Such as, either have a great skill that you can sell and the ability to sell it! Or have a great idea that can change or improve an industry and a team that can help you execute it. In my opinion, the most important personal trait that entrepreneurs have is perseverance. There is a great quote I love and it's very suited as an answer to this question by Thomas Edison: "The three great essentials to achieve anything worthwhile are, first, hard work; second, stick-to-itiveness; third, common-sense."
What advice do you have for business students and those who aspire to one day start their own business? How can students prepare themselves for some of the biggest challenges?
My #1 advice to business students is use your time in business school to test your idea; ask for advice and build your advisor network. Most of the professors, even though they might be caught up in academia, have the industry knowledge and connections. Use them as advisors and to make introductions for you. Then, don't forget about your classmates, they can be beta users for your product or potential future customers. Business school can be a great springboard for your future business!
The expert interviewed for this article may be compensated to provide opinions on products, services, websites and various other topics. Even though the expert may receive compensation for this interview, the views, opinions, and positions expressed by the expert are his or hers alone, are not endorsed by, and do not necessarily reflect the views, opinions, and positions of [eLearners.com] or EducationDynamics, LLC. [eLearners.com] and EducationDynamics, LLC make no representations as to the accuracy, completeness, timeliness, suitability, or validity of any information in this article and will not be liable for any errors, omissions, or delays in or resulting from this information or any losses or damages arising from its display or use.