You may be wondering, "What does an executive assistant do?" Contrary to the stereotypes from our parents' generation, this role is not just about typing memos and taking phone messages. Today's executive assistants (or EAs) are often business-savvy men and women who support senior executives in dynamic, visible ways. EAs may be asked to research and prepare reports, slideshows, white papers, and other important communications.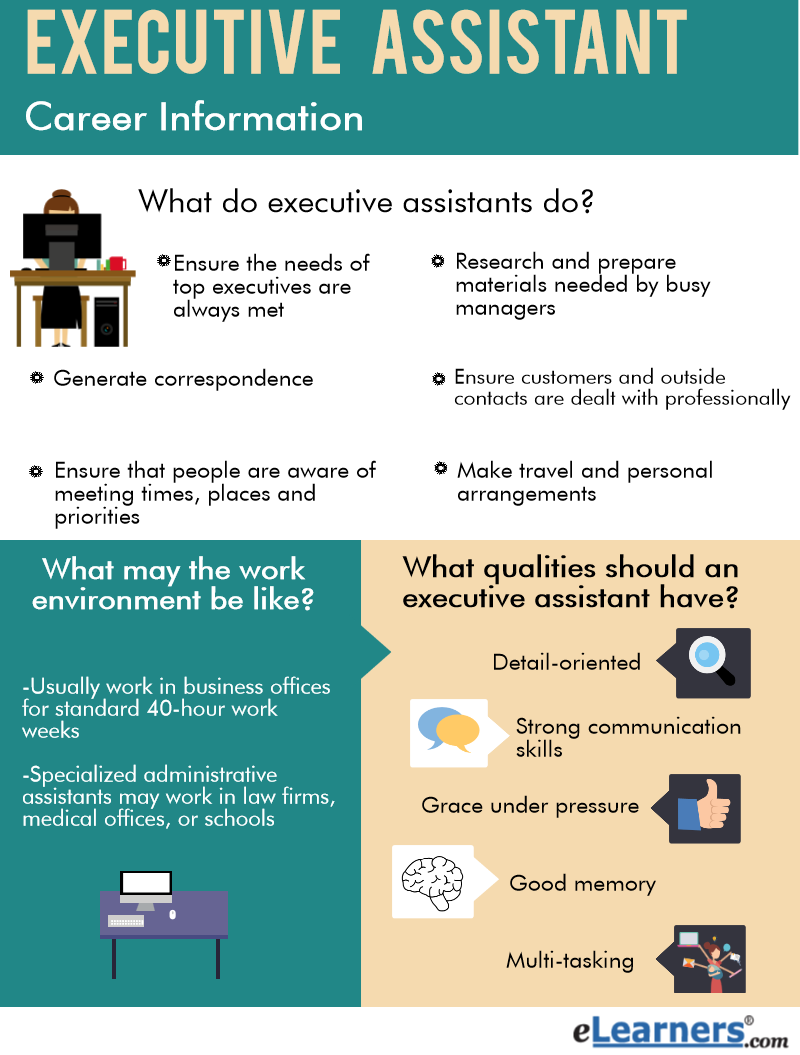 What is a day like in an executive assistant career? Some EAs are responsible for coordinating executives' travel plans, maintaining calendars, organizing meetings and conferences, and arranging catered lunches. EAs might also be asked to keep track of receipts/invoices in order to submit expense reports. In some organizations, EAs are hired to support multiple departments, which may open the door for promotion into a niche role.
What Are Executive Assistant Duties?
A neat, polished appearance and a can-do attitude
Strong organizational skills
Being a natural "planner" (enjoys coordinating parties, menus, closet shelves, etc.)
The ability to work well without a lot of instruction or supervision (execs are too busy)
What Is the Executive Assistant Career Outlook?
More than 150,000 new jobs for executive assistants are projected to open between 2010 and 2020, twice as fast as the percent job growth for regular administrative assistants. [i] Industries with a high concentration of executive assistants include financial investment services, grantmaking, and real estate; while industries with the highest overall employment for EAs include government and higher education (colleges and universities). [ii]
How Might I Prepare for an Executive Assistant Career?
In casual office environments, employers may seek administrative assistants with a high school diploma or an associate degree in business administration. Basic computer skills (email, word processing, bookkeeping software) and customer service experience may suffice.
In larger, busier offices, employers often seek out EAs with bachelor's degrees. CEOs and other prominent executives might need an assistant who can communicate—verbally and in writing—on their behalf. And because certain executives want administrators who already have industry knowledge, liberal arts bachelor's degrees (that allow for elective coursework in specific fields) may also be desirable.
Which Online Degrees Might Support this Career Goal?
---
[i] bls.gov/ooh/Office-and-Administrative-Support/Secretaries-and-administrative-assistants.htm#tab-6 | [ii] bls.gov/oes/current/oes436011.html