"Being an executive assistant allows me the opportunity to assist the CEO in achieving the company's goals and aspirations. I the best parts of the action," says Mary Ann, adding after a few moments, "It's fun!" Considering an executive assistant certification? There are many online options available to you.
Like its roots in Latin—administratio, "to give service"—the field of administrative assistance is the basic support on which top businesses rely. The administrative assistant keeps the office running smoothly with careful arranging of correspondence and agenda. They are often the main liaison within the office and to the world outside.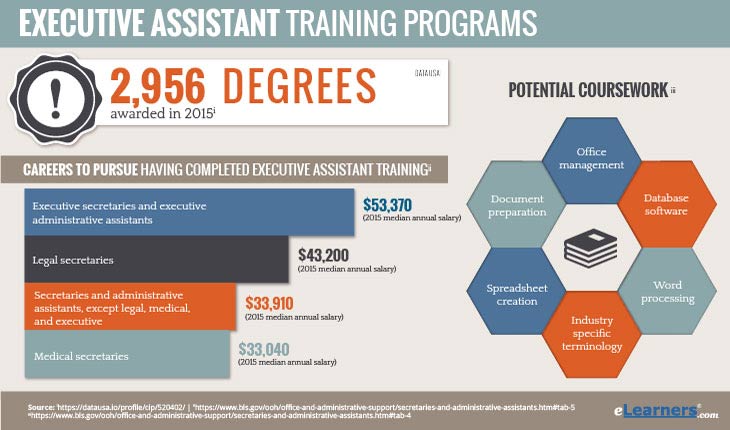 What does an executive assistant do?
Administrative assistants and executive assistants do much of the same work, the distinction being that executive assistants are often (not always) the chief point of support for a single higher-level executive. Administrative assistants are usually entry-level or mid-level positions serving a team or office more broadly, with plenty of room for growth or increasing specialization.
The primary job responsibility in an administrative position is communication. An administrative assistant's daily communications will take many forms:
Making sure that email and phone messages are routed to the proper recipients

That the right people are aware of meeting times, places, and priorities

That customer and outside contacts are dealt with professionally, discreetly, and with a positive attitude

That the needs of top executives are always met—even anticipated
A typical administrative job may include generating correspondence, making travel and personal arrangements, or researching and preparing materials needed by busy managers. As so many of these processes are now done exclusively on the computer, software savvy is essential. Administrative assistants must be familiar with word processing, database, and scheduling programs, and also well-versed in Internet research.
What is the work environment like for an executive or administrative assistant?
Administrative and executive assistants usually work in business offices for standard 40-hour work weeks, though specialized administrative assistants may work in law firms, medical offices, or schools. Most administrative assistants sit at their desks for most of the day, but some jobs may require an assistant to travel with an executive on important business trips.
What salary is typical for administrative and executive assistants?
The median annual salary of executive secretaries and administrative assistants was $35,330 in May 2012. [1]
Those who hold the title of executive assistant, which may require more experience, usually make more than an administrative assistant. Salaries can be exceptionally higher in corporate settings, particularly in industries such as finance, technology, or the federal government.
[1] http://www.bls.gov/ooh/office-and-administrative-support/secretaries-and-administrative-assistants.htm
What kind of educational background should an administrative or executive assistant have?
Many of the skills needed to be an administrative assistant can be picked up on the job, but priority may be given to candidates who already know certain software programs (particularly Microsoft Office Suite) and can type quickly with accuracy for spelling, punctuation and grammar.
Increasingly, employers desire candidates with formal schooling, as Administrative and Executive Assistants are expected to express themselves professionally and elegantly with top management.
Though a college degree is not required by every employer, many look to hire candidates who hold a degree relating to the office's industry
What are some characteristics of a successful executive assistant?
As the first point of contact to the outside world, administrative and executive assistants serve as the face of the company and the high-powered individuals that they support. As such, they must be polished, have a positive attitude, and know intuitively which matters require the executives' attention and which can be handled independently.
In addition to strong people skills, administrative and executive assistants must be detail-oriented and organized, as the activities of such high-level executives require meticulous planning and execution. Good oral and written communication is important, and multi-lingual abilities are increasingly valued.
Detail-oriented

Excellent phone manner

Good memory

Grace under pressure

Mastery of Microsoft Outlook

Multi-tasker

PDA and Blackberry® literate

Punctual

Strong communication skills (oral and written)

Successful in fast-paced environment
How long will it take to earn my executive assistant certificate online?
For anyone interested in earning a certification online and training to become an administrative or executive assistant, plan to dedicate at least three months to completing your program. The majority of training programs offered online are self-paced, so you can progress through each lesson and quickly or as slowly as you need.
If you are interested in earning your associate's degree online in administrative skills or office management, then plan on dedicating at least one year to your program. For students taking one course at a time, it may take one to 3 years to complete an associate's degree program. If you are a full time student, it may take you only 18 months to earn your associate's degree online.
Distance learning is an especially good choice for someone seeking an administrative position, as software skills are highly valuable and can be taught easily through the online interface. Individual classes are available for those who want to pick up new skills without committing to a degree program as well as those who may already hold a degree and want to beef up their résumés. What better way to demonstrate to an employer that you are ready for all the duties that rely on computers than having learned those abilities from your own computer?
Are there any prerequisites for an online executive assistant certificate?
Typically, there are no prerequisites for enrolling in an online administrative assistant program, but it depends on your online school or provider.
Some educational providers require their students to have at least a GED or High School diploma. Most programs do not require industry experience to enroll in their courses, but professional experience may help you get more out of your education.