If you're looking for a degree in business administration, you have likely asked, "what is a BBA, BSBA, or BABA Degreee?" "How do I determine which of the different types of business administration degrees is right for me?" Undergraduate business students may typically choose from three programs: a bachelor of science in business administration (BSBA), a bachelor of arts in business administration (BABA), or a bachelor of business administration (BBA).
Search Online Degree Programs
The Bachelor of Arts in Business Administration teaches students top managing and operating business strategies. Business courses are joined with courses in the liberal arts to show students how communication, leadership, and best business practices to help companies and organizations succeed.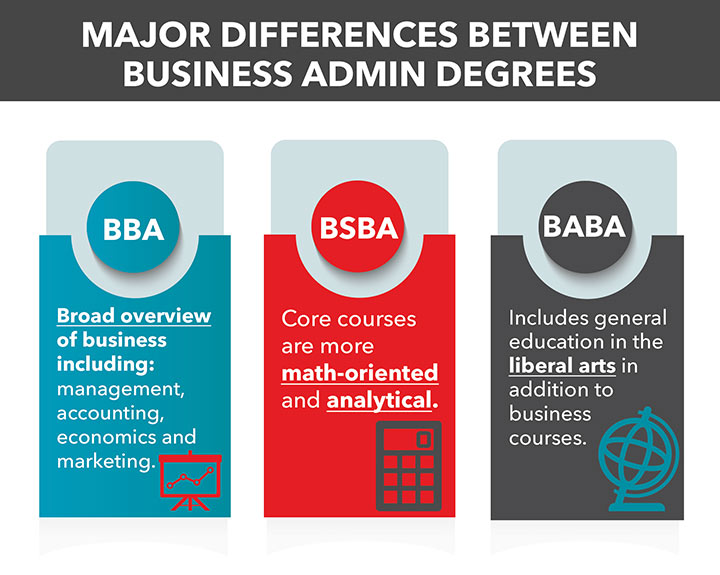 What Is a BSBA Degree?
A BSBA degree, or a Bachelor of Science in Business Administration, teaches students how to use math and analytics to conduct business effectively. Students also study managerial theories, principles, and applications as well as how apply their knowledge and skills across industries.
Read on to learn more about the differences between these degrees to help you determine which type of program suits your goal. Decide if a degree in business administration is right for you.
What Is a BBA Degree? What Is a Bachelor of Science in Business Administration?
There are three different types of business administration degrees, each with different curricula and requirements. "What is a BBA degree?" is one of the many question you might have. Well, a BBA, or bachelor of business administration degree, typically offers a broad overview of business, including core courses in areas like management, accounting, economics, marketing, and more. In addition, a BBA often allows students to choose a concentration in an area relevant to their career goals, like human resource management, finance, public relations, or international business.[i]
Now you ask, then what is a BSBA? A BSBA, or bachelor of science in business administration is slightly different. It often features core courses that are more math-oriented and analytical. Where a BBA degree tends to include mainly business courses, a bachelor of science in business administration usually has general education requirements and a more diverse curriculum. Naturally, business courses are still the main focus of the program.
Finally, a BABA, or bachelor of arts in business administration, usually offers a general education in the liberal arts in addition to business courses. Students may study English, history, sociology, and other subjects in a ba in business administration.
What type of Business Administration Degrees should I pursue?
There is a great deal of overlap in the material covered by the BBA, BSBA, and BABA degrees and your choice of program doesn't have to limit your options. In fact, depending on your area of concentration, experience, and goals, you may be able to pursue pretty much any business career path you choose. That said, each degree type offers different areas of focus and preparation. Check out just a few possible career options based on each degree type:
BBA: Salesperson, Operations Manager, Bookkeeper, Event Manager, Hospitality Administrator, Facilities Coordinator

BSBA: Budget Analyst, Accountant, Information Technology Manager, Business Risk Consultant, Chief Financial Officer, Economist

BABA: Marketing Manager, Public Relations Manager, Market Research Analyst, Compliance Analyst, Benefits Administrator, Contract Negotiator[ii]
Where can I apply for a BSBA Degree, a BABA Degree, or a BBA Degree?
Right here! Simply visit the listings on the upper right side and apply for more information from accredited and well-regarded online colleges that offer online or on campus BSBA degrees, BABA degrees, and BBA degrees.
Why would someone choose one Business Administration degrees type over another?
The degree type you choose to pursue should depend on your personality, strengths, and goals. For example, many students compare a bachelor of arts vs. a bachelor of science degree. You might decide to earn a bachelor of science in business administration if you want to pursue a business career track that requires strong communications and writing skills, or if you're strongest in subjects like English. If you are best at math and science, a BSBA may help you to prepare for careers in business with an analytical focus. Finally, students often choose a BBA if they wish to concentrate on business courses and prefer to have few or no general education requirements. This career-focused degree covers business essentials but may not offer the diverse curriculum you'll find in a BABA or BSBA program.
Beyond understanding the three types of business administration degrees, it helps to have an idea of what you hope to work towards after graduation to see if the program you are considering offers relevant courses. With a little research, you are sure to find the bachelors degree in Business Administration that suits your interests and ambitions. Don't forget to consider a bachelors in business that offers self-paced online courses.
---
[i] en.wikipedia.org/wiki/Bachelor_of_Business_Administration [ii] onlinedegrees.marylhurst.edu/what-kind-of-job-can-i-get-with-a-degree-in-business-administration/