57 Sponsored Online Programs Available
EducationDynamics maintains business relationships with the schools it features
Online Degree Programs in Early Childhood Education
If you'd like to jumpstart your journey into a teaching occupation, a Early Childhood Education Degree Online may be a good place to start. By taking online classes, ...
If you'd like to jumpstart your journey into a teaching occupation, a Early Childhood Education Degree Online may be a good place to start. By taking online classes, potential kindergarten, preschool or day care professionals can learn some of the childhood development essentials and about the social, physical, intellectual, creative, and emotional growth children experience at a young age.
Early childhood educators often must be certified to work in a day care center, preschool or in a public elementary school, although requirements vary from one institution to another and from state to state, according to the U.S. Bureau of Labor Statistics.[i] The common thread is that early childhood professionals are tasked with keeping quantities of children in a safe and nurturing environment while teaching them valuable lessons about cooperative play and academic basics.
A glimpse into the realm of earning an Early Childhood Education Degree Online
If you think early childhood educators busy themselves with coordinating finger painting exercises and leading story time, think again. This profession can actually be quite complex. Educators must have a firm understanding of cognitive and developmental psychology to succeed in the workplace. More than that, keeping the attention of a room full of children can be a tremendous task, and it takes a great deal of skill and a delicate touch to master the art of keeping a child's attention for educational purposes.
Further, many early educators take an active role in analyzing children's learning patterns and behavior. A qualified professional should be capable of detecting possible illnesses and disabilities while discerning whether a child may have special needs.
What is an early childhood education online degree all about?
According to the Princeton Review, as an early education degree online candidate, you'll learn how to be an effective teacher of kids in preschool, kindergarten, and first through third grades. These young learners have needs markedly different from kids even a year or two older. You'll learn how children develop and what their educational needs are at each stage of their lives. You'll study children's literature (remember Harold and the Purple Crayon?), how to teach mathematics and reading, and the importance—and significance—of play. You'll study the history of early childhood education so you can recognize the unique challenges that have faced teachers in this field and how they've been overcome successfully. Most importantly, you'll study children—how they operate, what they think, and how you can ensure that they reach their full potential.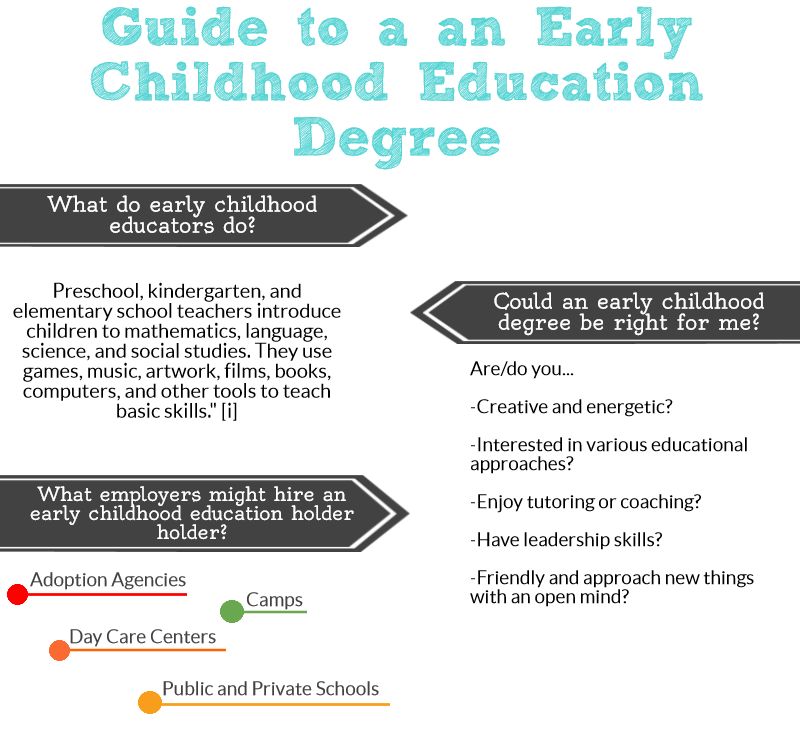 Things to consider when choosing an early childhood education program
Earning your early education degree online may be a great way to help you pursue your career goals if it's your dream to shape the minds young children. Because there are so many different education degree programs to choose from out there, it can be hard to know where to start to find the right one for you. But have no fear! Here are some important factors to keep in mind as you try and decide which early childhood education online program will help best prepare you for a career in teaching.
Accredited Early Childhood Education Online Degrees
Earning your degree is a real financial (and time) investment. Accreditation is an important consideration because it helps ensure that an education program has met a set of quality standards and requirements. When it comes to accreditation bodies for early childhood education institutions, you may want to look to the National Council for Accreditation of Teacher Education (NCATE), or the Teacher Education Accreditation Council (TEAC). The accreditation system for TEAC gives a lot of weight to solid evidence of the competency of program graduates—and includes an audit approach with on-going quality control systems to help ensure that the program is continuously improving. You can find out more info about the accreditation standards for NCATE here.
Preparation for Certification and Licensing
When looking at different schools that offer online early childhood education degree programs, you'll also want to factor in how well they may help prepare students in pursuing certification and licensing. It's important to keep in mind that certification and licensing requirements vary depending on the state in which you live[iv]. For example, some states require preschool teachers to earn the Council for Professional Recognition's Child Development Associate (CDA) credential, which requires experience in the field; coursework; passing a written exam; and observation of you working with children[v]. Whereas, some states support the Certified Childcare Professional (CCP) certification, which is offered by the National Early Childhood Program Accreditation. Some of the requirements for CCP include a high school diploma; field experience; courses in early childhood education; and passing an exam.
If you want to pursue a career teaching in a public school you must be licensed to teach early childhood education—again requirements vary by states, but generally include earning a bachelor's degree; passing a competency exam; and earning continuing education credits to keep the license [vi]. It's important to look into what types of resources your prospective early childhood education degree online school or program offers to help students prepare to pursue certification or licensing—as well as exam passing rates of graduates, if available.
Helpful Resources
Another important factor to take into consideration is the types of resources that your prospective early childhood education degree online program offers. For example, are there online tutoring services; 24/7 IT help; an online library; and disability or veteran resources? Depending on your specific needs, it may be a good idea to speak with a representative from the school or program that you're interested in so you can find out exactly which resources they do—or don't—offer.
Student Supportvii
Does your future college or university do a good job of keeping students and helping them to succeed? This is an important question to answer! To help you do so, take a look at some statistics to consider when it comes to student support:
Retention rates
Graduation rates
Job placement rates
Loan default rates
Please keep in mind that looking into these numbers won't give you the entire picture. But it is a good place to start! Another important factor is having a low student-to-faculty ratio, which helps ensure that you'll have a decent amount of access to your professors (although it's not a guarantee). We also recommend that your try to speak with actual students in the early childhood education programs that you're considering, so you can get their unique take on the strengths and weaknesses.
How can I specialize my early childhood education degree online?
Child Care: Look to pursue a Child Care Degree online if you wish to develop the skills to provide educational instruction to toddler-aged and young children at a day care facility or within a child care environment.

Child Study: Learn about the social and cognitive development of children; develop leadership skills, ethics, and decision-making as a teaching professional.

Elementary Education: Combine teaching theory and professional training to develop the skill necessary to teach students aged 5 – 12. Improve communication skills and being able to integrate technology and hands-on activities.

Elementary English Education: Specialize in elementary level instruction within the field of English. Training and knowledge is focused on methods of teaching reading, spelling, vocabulary, and developing an effective curriculum.

Elementary Mathematics Education: Programs focus on the concepts of instruction and integration of technology and demonstrative tools within the curriculum, with material engaging to all students in the mathematics classroom.

Elementary Science Education: Studies are directed on elementary level instruction within the science discipline. Develop an effective science curriculum, especially in the areas of the scientific method, safety precautions when conducting science demonstrations and experiments, and developing an engaging curriculum.
Some of the courses you will take while pursuing an early childhood education degree online
While the exact curriculum requirements will vary amongst various online schools, here is a partial list of some of the courses you might take while pursing your early childhood education degree online:
Child Growth and Development
Child Health, Safety, and Nutrition
Children's Literature
Classroom Management
Counseling Theory and Early Childhood Education
Curriculum Methods in Preschool and Elementary Education
Differences and Diversity of Learning
Education Technology and Instructional Resources
Educational Games for Young Children
Educational Psychology
Families in Early Childhood Settings and Communities
Foundations and Issues of Early Childhood Education
Infant and Toddler Education
Multicultural Educational Theory and Practice for the Young Child
Parent and Child Relations
Reading and Children: Teaching and Learning
Social Development, Behavior, and Play
Teaching Art and the Child
Teaching Children with Special Needs
Teaching Mathematics in Early Education
Topics in Educational Reform
What skills might I learn in an early childhood education degree?
When you have completed your online early childhood education degree, you may have have gained the following skills and competencies:
Ability to handle multiple tasks simultaneously
Ability to interact with parents and families in planning, delivering, and evaluating interventions that positively impact a child's developmental needs
Ability to motivate, encourage, and support children
Alertness and keen observation skills
Awareness and sensitivity of gender, socio-economic, and cultural differences
Can deal calmly and effectively with high stress situations
Can work well within a team, or leading a team
Capable of being an active listener with patience and empathy
Capable of maintaining a high level of energy
Heightened sense of responsibility and integrity
Knowledge of major learning theories and their implications for young children
Knowledge of the historical foundations for early childhood education
Self-confidence and self-understanding
Sensitivity to individuals and for individual learning abilities, as well as a tolerance of cultural differences
Strong reading comprehension and writing ability
Understanding of the emotional, intellectual and social ways in which children develop and grow
Well-defined personal philosophy of learning
Well-honed speaking and presentation skills
Possible salaries for a career in early childhood education
Preschool teachers: 2012 Median annual salary of $27,130 (17 percent projected growth through 2022)[i]
Kindergarten and Elementary School Teachers: 2012 Median annual salary of $53,090 (12 percent projected growth through 2022)[ii]
Childcare Workers: 2012 Median annual salary of $19,510 (14 percent projected growth through 2022)[iii]
---
[i] bls.gov/ooh/education-training-and-library/preschool-teachers.htm | [ii] bls.gov/ooh/education-training-and-library/kindergarten-and-elementary-school-teachers.htm | [iii] bls.gov/ooh/personal-care-and-service/childcare-workers.htm [iv]necpa.net/CCPFAQs.php#15 [v]teac.org/accreditation/ [vi]bls.gov/ooh/education-training-and-library/preschool-teachers.htm#tab-4 [vii]studentaid.ed.gov/sa/prepare-for-college/choosing-schools/consider#statistics