The Challenges and Rewards of Being a Bilingual Early Childhood Education Teacher
Sara Van Donge has been educating children from preschool through middle school for sixteen years and has found effective ways of meeting the challenges of teaching young children. And she not only faces the regular challenges of keeping children engaged in learning, but Van Donge has had to develop her teaching style and strategy to meet the learning needs of bilingual students who are learning English as their second language.

Van Donge studied at the Universidad Autonoma de Guadalajara before transferring to Eastern Oregon University, where she earned her Bachelor of Science degree in Business Administration and Spanish. Van Donge then went on to earn her Masters of Science in Bilingual Education and Information/Technology from Western Oregon University and completed a Master of Art in Teaching program at Eastern Oregon University in order to obtain her teaching license. She also earned a certification as a National Board Teacher for English as a New Language and is a union representative for her fellow teachers.
In addition to her time spent in the classroom, Sara Van Donge is a prolific writer. She developed a scary-story series called Ghost Mystery, which features books for English as a Second Language and Spanish as a Second Language students that keep kids interested but are not above the reading level of new language learners. She has also spoken to groups of fellow teachers to encourage them to receive their certification and has been awarded various grants to help pay for classroom resources.  
Keep reading for our full interview with Sara Van Donge to find out how she keeps children interested in learning and what she believes are good skills for aspiring educators to develop. 
What led you to become a teacher and an author?
I wanted a job that let me have a regular schedule and to have a family. First, I started working as a preschool teacher. I made minimum wage and worked sometimes 60 hours a week. I would not have been able to do that forever. So I went to school to get a Master's degree, though I wasn't sure what I would do with it. I imagined I would like being a college professor. However, during my Master's program, an administrator from the local school district came to one of my bilingual studies classes and asked if any of us were Spanish speakers. I am, so I raised my hand. The local district was facing a lawsuit if they didn't hire a Spanish speaker to teach their Spanish speaking kids to read and write. So they hired me to teach second grade that day.
What led you to earn your master's degrees in both Information Technology and Education (kindergarten through 8th grade)?
Not knowing what I wanted to do! I was nearly done with my first Master's degree, in Information and Technology when I was offered my first teaching job. I finished the degree as I was teaching in my first classroom. Since I started teaching with an emergency license, I had to finish the second Master's program to get my teaching license. This was a pretty expensive and stressful way to go about the whole process. I'm glad I'm done with it!
What is the most rewarding or exciting thing about the work you do?
Rewarding: when my students succeed. I give pre- and post-tests so we can see growth. Everyone likes to see that they are capable of learning. Every once in a while, I will run into a student in public, like at the grocery store, and it is rewarding to see that they are successful adults.
Exciting: we have activity days four times a year. I love joining the students when they do line dancing. I also like facilitating debates in my classroom. Kids love this activity.
What are some of the challenges of teaching children of such young ages?
Very young children need a lot of attention plus they need to change activities every five to seven minutes. This is stressful. But the most stressful part of teaching elementary school is that elementary school teachers do not have adequate preparation or planning time and face huge interference from the state that keep them from their students.
How has your teaching experience helped you to branch out into authoring children's books and blogging?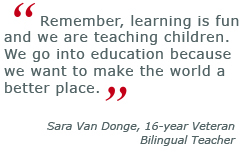 I wrote the Ghost Mystery Series as a direct response to what my students need. My students were having a hard time finding books that were both interesting and comprehensible. My English Language Learners would often pick out the Goosebumps books at the library but then never read them because they are difficult and really not very good. There were never many scary stories for them to read and they would often request that I tell them scary stories—even the 'cool' 8th graders. I wrote the Ghost Mystery books using simple language that even low-level students can enjoy.
 Has having bilingual training allowed you to expand on your career?
Having bilingual training has been essential to expanding my career. My understanding of second language acquisition and vocabulary development has allowed me to give my students an excellent education. I know I am providing my students with the best instruction for their language needs.
What are some of the biggest challenges facing the field of early childhood education today?
Good teachers are leaving the profession.
Our public schools are being purchased by corporations like Pearson and McGraw Hill under the guise of accountability. Teachers and students alike are told we are failing and it is demoralizing. For people making policies, test scores are more important than human beings. Money and greed are driving our schools into the gutter.
Have you completed any of your higher education online? 
If I were to get a Master's now, I would probably do some online because I am a mom and need to be home more. At the age of 21, I had the luxury of being able to go away to college.
In your opinion, what type of student is ideal for the field of early childhood education?  What skills and attributes contribute to a successful career in the field?
Be giving!! But also be prepared to speak out because there is a lot of injustice and kids don't get to speak out for themselves. Teachers need to stand up and defend our profession.
Some skills and attributes: intelligence, patience, kindness, good humor, high energy.
What advice do you have for students pursuing early childhood education degrees?
Remember to make it fun. Kids want school to be fun and it is up to us to create a positive environment. Play music, dance, sing, do art, eat lunch with your colleagues or students. Greet your students at the door. Walk around the room and get to know your students. Call parents and send home notes about positive things their child has done. Grade papers and give them back right away - even if it is just a star for completing it. Post words and language and vocabulary all over the room so kids that are learning English have a hook to help them remember. Join the union and speak out against injustice in our schools and profession. Our biggest challenge lies in people who are NOT EDUCATORS who think they have the right and authority to tell us how to teach our students. We need to stand together as professionals and reclaim our educational system before it is completely run by private corporations for profit. Remember, learning is fun and we are teaching children. We go into education because we want to make the world a better place.  
The expert interviewed for this article may be compensated to provide opinions on products, services, websites and various other topics. Even though the expert may receive compensation for this interview, the views, opinions, and positions expressed by the expert are his or hers alone, are not endorsed by, and do not necessarily reflect the views, opinions, and positions of [eLearners.com] or EducationDynamics, LLC. [eLearners.com] and EducationDynamics, LLC make no representations as to the accuracy, completeness, timeliness, suitability, or validity of any information in this article and will not be liable for any errors, omissions, or delays in or resulting from this information or any losses or damages arising from its display or use.