Sponsored Online Programs Available
Online Associates Degree in Business
If you are thinking of initiating a career in business, earning an Online Associates Degree in Business may be a great investment in your future. Whether you are most interested in business administration and management, or want to learn accounting, marketing or business information systems, there are various top programs to take you forward professionally and academically. Excited? Read on to learn more about the different types of associate degrees in business that are available in the best convenient online learning format.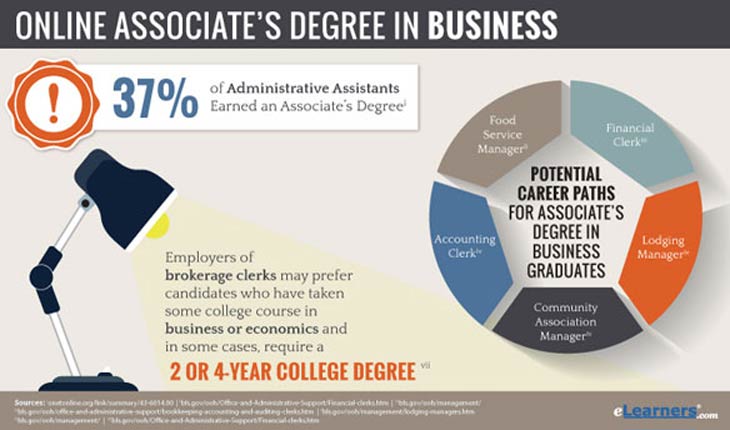 DID YOU KNOW? " In 2 years, you can train for some of the fastest growing jobs in the economy, increase your earning and pave the way for further education."(BLS)[i]
Online Associates Degree in Business Overview
Associates Degree in Business Online Programs typically require 2-years of full-time study after obtaining a high school diploma. Some associates degree in business programs prepare graduates for specific types of careers, while others may be used as a platform to a Bachelor's degree. In terms of course load, on average you can expect 60 semester credits of study (or 90 quarter credits). This is equivalent to about 20 college courses. Here are a few things to contemplate as you prepare to refine your search:
Are you looking for a general business degree or a more specialized business program?
Is your end goal continued education?
Do you prefer to enter the workplace with top vocation-specific skillsets after graduation?
Are you analytical and a problem-solver?
Do you enjoy leadership and supervising?
Do you want a well-rounded program to keep best options open?
Online Associates in Business Degrees | A.A., A.S., A.A.S.
The reason these questions are important is that your answers can help steer you to the 'right' type of online Associates Degree in Business for your needs. Offered as Associate of Arts (A.A.), Associate of Science (A.S.), and Associate of Applied Science (A.A.S.) in Business and related programs, the three degrees are slightly different.
Associate of Arts in Business
The Associate of Arts in Business is considered a transfer degree, meaning if you intend to go onto a Bachelor's degree program at a later date, the A.A. in Business will help you get your core credits. If you are interested in taking more liberal arts and humanities courses (this could include learning another language or studying psychology), choosing an A.A. degree in your field might be the best fit.
Associates of Science in Business
The Associate of Science in Business is also considered a transfer degree to a 4-year Bachelors program. Usually, if you prefer analysis, computation, science and technology, the A.S. in Business has less arts and more of a science, math or technology orientation. The Associate of Science is also a potentially good fit for you if you know early on that you want to pursue further degrees in a specific field such as finance, economics, accounting, or another professional field. Note that with both the A.A. and A.S. degrees, the college you want to transfer your credits to has to have a reciprocity agreement with the school you earned your 2-year degree at, and has to approve your credits. Note to self: check accreditation if applicable, think and plan ahead.
Associates of Applied Science in Business
If you know you want to enter the job market upon graduation, the Associate of Applied Science (A.A.S.) is considered a technical degree. What this usually means is you usually take courses in your major right away and you learn theory and practical knowledge to prepare you for entry-level positions in jobs where the Associate's degree is the basic educational requirement. The credits from an A.A.S. may not be transferable.
What Does It Mean to Be a Business Major?
Now that you have a sense of the different possible types of online Associates degrees in business, you can start to think about what it could mean to be a business major. Why? You want to find a program that is both practical and teaches you things you want to learn. Most general business degrees cover the fundamentals of your discipline and instill a sense of the type of work ethic you need in most jobs. Some programs include an internship in addition to coursework in subjects such as:
Mathematics
Economics
Marketing
Accounting
Finance
Marketing
Statistics
Business law and ethics
Business communications
Management
General Business Degree or Specific Field?
One of the ways to use this site is to find an online Associates Degree in Business by selecting a subject through the pull-down navigation menu. If you are looking for a general business degree, such as the Associates in Business Administration, this might be a way to learn the basics so you can fine tune your concentration area with a Bachelors degree in business program. You can also choose from sponsored listings in a variety of specialized business topics:
Business information systems
E Commerce and Social Media
Economics
Environment and Agriculture
Finance
Healthcare Administration and Management
Hospitality Management
Human resources
International business
Marketing and advertising
Nonprofit administration
Office management
Operations management
Organizational leadership
Project and operations management
Public administration
Real Estate and Property management
Small business and entrepreneurial
Sports management
Why Choose an Online Business Associates Degree?
Choosing an online business associates degree may be the right way to go if you are working and know that the credentials and education are worthwhile, but you just cannot make it to a college campus, technical school or community college. In fact, earning a degree while on the job may show a future employer that you are committed, hard working, motivated and entrepreneurial. That doesn't mean that all online associates in business degrees are the same. Look for business programs that are accredited by an organization such as the Accreditation Council For Business Schools and Programs (ACBSP). This ensures quality programming standards are upheld.
While each online business school for an online associates degree in business has its own format, if the program is 100% online, it may mean that your courses are pre-recorded and you have 24/7 access to them through a web-based course management system. This is the same portal you would use to submit assignments, communicate with professors and join online discussions with classmates. This learning system usually provides some scheduling flexibility and means you can study wherever you have Internet.
Continued Education
As mentioned, an associate's degree in business may be your platform to continued education, whether you choose a Bachelor of Arts, Bachelor of Science or Bachelor of Business Administration will depend on your initial degree, career and academic interests. If you are thinking ahead, the Bachelor's degree is an entry point to most of the management[ii], business and financial occupations[iii] as well as the building block to Masters and Doctorate degrees in business such as the Master of Business Administration (M.B.A.) or Doctor of Health Administration.
After Graduation of an Online Associates Degree in Business
You know a degree is not a guarantee, but, if you are asking yourself "what can I do with an Associate's Degree in Business?" potential business jobs could include:
Take the Next Step
As you can see, there are many facets to business whether you are more of a team leader, a people person or an analyst. Keeping in mind the 3 A's: Associate of Arts, Associate of Science and Associate of Applied Science, your subject selection, and the potential perks of distance-learning, initiate a search for an Associate's Degree in Business. Our sponsored listings might include A.A.S. in Business Administration-Entrepreneurship, Associate's in Accounting, Associate of Science in Human Resource Management and Associate of Arts in Information Systems. Make sure to use the request info button to get details from the prospective schools, stay on top of application deadlines and make an educated decision about your online associates degree in business.
---
sources: [i] bls.gov/careeroutlook/2002/winter/art01.pdf |[ii] bls.gov/ooh/management/ |[iii] bls.gov/ooh/business-and-financial/home.htm |[iv] bls.gov/ooh/management/ |[v] bls.gov/ooh/management/ |[vi] bls.gov/ooh/management/ |[vii] bls.gov/ooh/business-and-financial/claims-adjusters-appraisers-examiners-and-investigators.htm |[viii] bls.gov/ooh/Office-and-Administrative-Support/Financial-clerks.htm |[ix] bls.gov/ooh/office-and-administrative-support/bookkeeping-accounting-and-auditing-clerks.htm