Sponsored Online Programs Available
Online Master's Degree Programs in Business
Online Masters Degree in Business Overview
Online Masters degree in Business encompass more than the well-known master of business administration. Whether you are drawn to general business management or a specific topic such as business intelligence, finance or accounting, there are many options for the business major interested in a graduate degree. Perhaps you are seeking advancement in a current position, returning to university to learn advanced business practices or seek to earn professional qualifications; online masters degree in business may offer the convenient scheduling you need to take your education to its next step.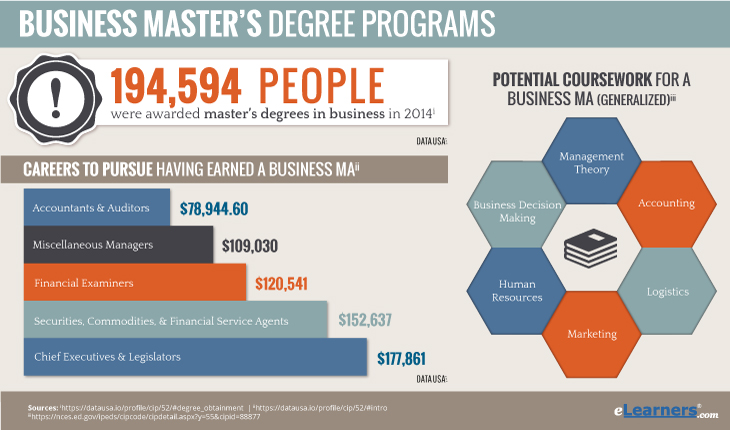 Online Masters in Business Programs: Basics
Online Masters in Business programs may be available in accelerated, executive, part-time or full time options with the average length around two-years, although program duration could vary. While an undergraduate business degree is typically required for admission into graduate business programs, specific admission requirements could depend on the program and the business school. Generally, prospective applicants need a relevant Bachelors degree from an accredited institution, although some of the accelerated online MBA programs might allow students to earn both their bachelors and their masters degree simultaneously. It is always advisable to check with each university to ensure you are potentially prepared to apply for admission.
FACT: 189,328 masters degrees in business were conferred in the year 2013-14[i]
Online Masters Degree in Business : Professional Insight
"When I was transitioning from the active-duty military, I recognized that understanding how business leaders think and how businesses operate and are run would be crucial to my successful change-of-career. I found, as the years passed and I settled into the role of a public relations professional often charged with managing a department or interacting with business leaders, that the insights I had gained through earning masters degree in business helped me both succeed and move up."

- Kirk Hazlett, PR Professional & Professor at Curry College
Click To Tweet!

Types of Online Masters Degrees in Business
Online Masters in Business programs may be available as professional graduate degrees (Master of Accountancy, Master of Business Administration) and Master of Science degree tracks. Each track could have its own specific benefits and uses for business professionals, although they do offer different orientations. To choose one over the other, you are wise to consider your career aspirations and find out how you might support these through your education.
Online Business Masters Programs: Master of Business Administration
An online Master of Business Administration (MBA) might be considered a generalist professional degree rather than a research oriented degree program. Internships are often required and capstone courses could take the place of the thesis that is associated with master-level degrees. Coursework often provides a comprehensive understanding of business environments and business decision-making, management theory and quantitative methods (accounting, finance, economics)[ii]. Concentrations are sometimes available in finance, marketing, human resources, or other specialized business areas. These optional concentrations could allow you to develop a certain type of specialization in a particular business function.
Online Business Masters Programs: Master of Science in Business
The online Master of Science (MS) degree programs might provide specialized skills and knowledge in a specific business function. Whereas an MBA could offer a broad view of business, a Master of Science degree might narrow in on a single specialty such as accountancy, finance, human resources or sports management. Students may be required to research for and write a thesis, and may also be able to choose a concentration in their chosen field (e.g. Master of Science in Accounting: Forensic Accounting).
DID YOU KNOW? According to NCES "More master's degrees were awarded in business than in any other field, during 2012–13. And among all occupations in 2013, business, financial, and sales occupations had some of the highest wage premiums for workers with a master's degree"[iii].
What Type of Business Major Are You?
Online Masters in Business programs might provide individuals with an education in general business concepts and practices, or offer a more in-depth exploration of corporate and international finance, market analysis and financial planning. General business majors' coursework could involve:[iv]
Business strategy
Statistics
Accounting
Finance, and
Operations management
Quantitative analysis
Types of Online Business Masters Programs
Individuals who want to focus on one specific type of professional preparation may find that looking into other programs such as an online master of accountancy or master of science in finance might offer them a more defined approach to their discipline. Search our directory for possible online business masters programs in these categories:
Online Masters in Administration/Management Degree Programs
Online Masters in Business Information Systems Degree Programs
Online Masters in Ecommerce and Social Media Degree Programs
Online Masters in Environment and Agriculture Degree Programs
Online Masters in Healthcare Administration and Management Degree Programs
Online Masters in Human Resources Degree Programs
Online Masters in International Business Degree Programs
Online Masters in Non-Profit Management Degree Programs
Online Masters in Office Management Degree Programs
Online Masters in Operations Management Degree Programs
Online Masters in Organizational Leadership Degree Programs
Online Masters in Project and Operations Management Degree Programs
Online Masters in Real Estate and Property Management Degree Programs
Online Masters in Small Business and Entrepreneurial Degree Programs
Why Choose an Online Masters in Business Program?
Working professionals, career changers and those who live out of geographical proximity to the graduate business program that interests them might find it appealing to choose an online masters in business program. While the structure of online programs varies between business schools, some of the potential features of online business masters programs could include:
Scheduling Flexibility: In asynchronous formats, students log into a web-based course management system when they have time, from wherever they have Internet to view pre-recorded lectures. If the school uses a module system, this may allow students to self-pace.
Made for Working Professionals: Busy working students may be interested in Online MBA Programs That Don't Require GMAT, some of which count your work experience instead of your testing scores.
Learning and Studying: While each school may use different technology, some of the options could include digital libraries and publications, video conferencing, online student discussion boards and academic assistance.
Staying Connected: Usually there are methods in place for asking questions of your professors, whether these be while viewing a live streaming webinar, using emails, telephones or web chat.
Finding an Accredited Online Business Masters Program
Accreditation in the United States is part of a quality control measure that is in place at the institutional and programmatic levels. Institutions (colleges, business schools, universities) might be accredited by the U.S. Department of Education and/or Council for Higher Education Accreditation or by any of six regional accrediting agencies that they recognize. Program-specific accreditation could come from different sources based on the industry, and could be important among members or employers in a particular field. For instance, the AACSB accredits business and accounting programs at the masters level[v] and the ACBSP accredits business education programs at the masters level[vi].
Potential Benefits to Earning a Masters in Business
If you are wondering whether to return to university, consider that while the typical entry-level education for most business occupations is a bachelors degree, there are some business occupations (e.g. financial analyst[vii]) where a masters degree might be required for advanced positions[viii]. In addition, according to the Bureau of Labor Statistics, there are several business occupations in which workers with a masters degree earned a premium over those with a bachelors degree in the year 2013: [ix]
Securities, Commodities and Financial Services Sales Agents
Logisticians
Transportation, Storage and Distribution Managers
Financial Managers
Market Research Analysts
Marketing Specialists
Marketing and Sales Managers
Property, Real Estate and Community Association Managers
Continued Education
In some business occupations, continued education in the form of a certification or license could be required to indicate competency or allow professional to practice independently in their chosen occupation. For instance, accountants may be required by law to be Certified Public Accountants,[x] and some Financial Managers earn a Chartered Financial Analyst Certification.[xi] Graduates interested in pursuing doctoral studies might go on to earn a degree such as, but not limited to, a Doctor of Business Administration or Doctor of Philosophy in Organizational Leadership.
Take the Next Step Towards an Online Masters Degree in Business
As a business student, you know the value of analysis! Find sponsored listings for Online MBA Programs and other Online Masters in Business Programs on our site. There is a convenient 'request info' tab that you can use to contact prospective schools and find out more about application and enrollment.
---
sources: [i] http://nces.ed.gov/programs/digest/d15/tables/dt15_323.10.asp?current=yes |[ii] nces.ed.gov/ipeds/cipcode/cipdetail.aspx?y=55&cipid=88877 |[iii] bls.gov/careeroutlook/2015/article/should-i-get-a-masters-degree.htm#Education |[iv] bls.gov/careeroutlook/2008/winter/art03.pdf |[v] aacsb.edu/accreditation |[vi] acbsp.org/?page=accreditation |[vii] bls.gov/ooh/business-and-financial/financial-analysts.htm |[viii] bls.gov/ooh/management/top-executives.htm |[ix] bls.gov/careeroutlook/2015/article/should-i-get-a-masters-degree.htm#Education |[x] bls.gov/ooh/business-and-financial/accountants-and-auditors.htm |[xi] bls.gov/ooh/management/financial-managers.htm