3 Sponsored Online Programs Available
Online Sports Management Masters Programs
Sports make tons of money—$60.5 billion in profits for North America in 2014 for example. But that's not all the sports industry does for us; it brings people together across the world and even throughout time. A top way to get involved in the sports industry could be via earning an Online Sports Management Masters.
Whether with inspiring stories or major events, sports are just good, clean fun—even on a muddy football field. From the moment Muhammad Ali, the underdog in Zaire's "Rumble in the Jungle" knocked out the undefeated heavyweight champion, George Foreman, in 1974 . . . to Brandi Chastain nailing that World Cup Win for The United States in 1999, the best sport stories stay with us through the years.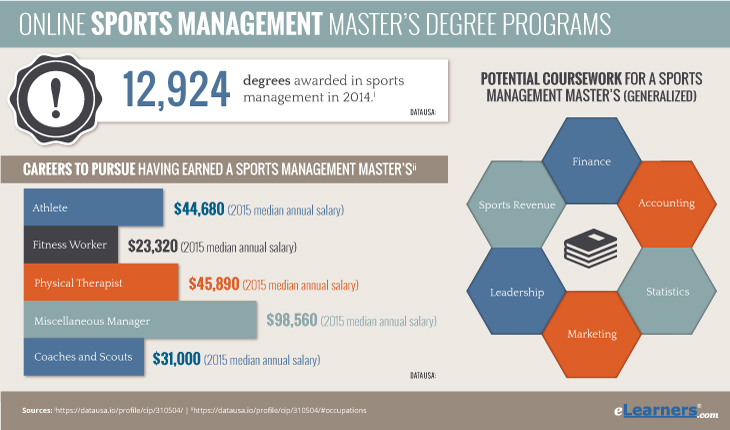 Whether you're a chest-pounding face painter or just chillin' on the bleachers relishing a hotdog, sports are thrilling!
Best part is that you can get in on the high stakes action without even breaking a sweat. You don't need to deal with muscle strain or that no pain/no gain lifestyle to have a place in the sports world. It just takes love of the game and being a good sport.
We've all heard of sports managers, from feel-good movies like "Jerry Maguire" or the titillation of TV's "Ballers" but this is a real career too, not just Hollywood. A Sports Management Masters degreemay be a perfect way for you to get in the game!
Fun Fact

4 of the top 10 most successful sports agents are involved in baseball.
Here's a snapshot of what it takes to pursue a career as a Sports Agent these days.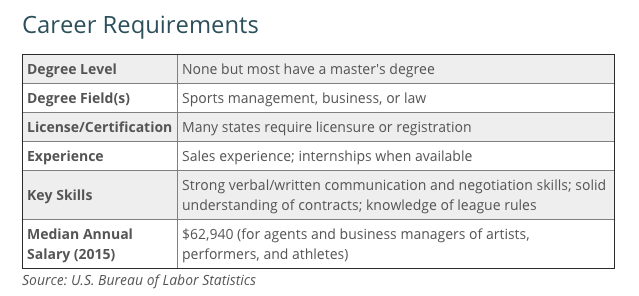 Classes You Might Take in an Online Sports Management Masters
So what do I have to study to make all this happen? Some subjects you might hit the books on include:
Legal issues in sports
Diversity in sports
Sports leadership
Media relations
Sports event management
Global issues in sports
Athletic sponsorships
Sports analytics
Sports technology
Social impacts of sports
Are You Going for Your MBA?
Common class topics for Online Sports Management Masters MBA programs might include:
Accounting
Finance
Business Statistics
Economics
Marketing
Strategic planning
Leadership
Have a love of a certain area? You can zero in on your favorite subjects like:
Sports hospitality
Sports leadership
Non-profit sports management
Outdoor adventure
Sports tourism
or Sports administration
If you have a dream don't be afraid to go for it and make it work for you!
So What's a Thesis All About?
To wrap up their programs, students might complete an internship or apprenticeship, take a comprehensive exam, or work on what's called a "capstone project" such as a thesis or presentation.
A Word about Different Degree Titles
For more on what a program might look like, you can check out the degree title. A sports management program that offers a Master of Business Administration (MBA) in the field might have a heavy business focus.
A Master of Education program might prepare students to pursue a career in a university athletic department. Some of these programs may even focus on those subjects broadly, and allow students to specialize in sports management. Other school may even indicate a focus beyond simply sports management in their program title.
Online Sports Management Masters Program names that mention analytics, for examples, could be more focused on math and statistics, but sports management masters degree online programs vary.
Skills in Online Sports Management
It's all about helping students develop their leadership skills as well as showing them how they can best think critically and apply advanced solutions to simple and complicated problems!
Are You a People Person?
Sports management doesn't require actually engaging in sports but it's 100% about staying engaged with others.
In fact, it's all about people skills.
If you love staying in contact with others and hangin' with athletes, this might just be the perfect industry for you. In a study of top sports managers, they were asked about talking on the phone every day in this career and 100% agreed that it's a critical part of the job and 95% described their career as "constant contact with others".
So, active and close interaction with people is literally how you play the game in Sports Management. This isn't the kind of lesson you'll learn in school because it's either a thrill for you to work with others or you're not into it. These things can't really be taught.
How Do I Know?
Ask yourself if social situations are a fountain or a drain for you… Do you leave them inspired or exhausted? If inspired, this is your jam! Although this aspect may not be something you can develop through study, the rest of Sports Management offers an intriguing array of subjects.
In addition, students may develop knowledge and skills in the following seven areas:
Communication addresses presenting ideas and information orally and in writing.
Another important topic is applying business fundamentals to sports management.
Some students may focus on responding to new developments and rapid changes in the sports industry.
Using existing and emerging technologies in sports may be another focus area.
Some students learn to plan, administer, and evaluate sports programming at various levels.
Others may specialize in managing sports teams and organizations' relationships with communities.
Finally, students are shown the basics of applying the principles of management and leadership to the sports industry.
Students may develop these and other skills through their programs. The precise knowledge and skills students might develop depend upon their own goals and the goals of their particular programs.
Did You Know?
Demand for statisticians in the United States job market is supposed to increase by 34% between 2014 and 2024!i
Click To Tweet!

And That's Not All! -- Other Skills
Through engaging in online programs, students might also develop their muscles in navigating technology and online platforms, communicating via multiple media, and managing their time and workload (all of which may be requirements in successfully navigating online education). Many of these skills might transfer to the field of sports management.
Fun Fact

The sports industry rakes in big bucks at rising rates in many categories.

Gate tickets earnings will raise from $17.7 billion in 2014 to $20.1 billion in 2019.
Getting information and thinking creatively are two of the most crucial work activities involved in Sports Management.
So, delving into what's going on and figuring out how to move forward from there are critical skills any Sports Manager will need on a constant basis.
This pans out in real life examples all the time and sometimes a manager can make all the difference in the life of an athlete thanks to these very skills.
Example
Look at Mike Piazza, one of the best-hitting catchers in all of baseball history. Although Piazza became a 12-time All Star and 10-time Silver Slugger, he was a relative unknown when Tommy Lasorda managed to get him drafted with the LA Dodgers.
How did he do it?
Lasorda was an insightful sports manager and simply shifted Piazza's current position as first baseman to catcher, knowing that this move might improve his chances at the draft. It worked and he was thus drafted into Major League Baseball and then made Rookie of the Year his first season.
And you know what happened? Piazza became a Hall of Famer. End of story.
Jobs with a Masters Degree in Sports Management
Professionals with an Online Sports Management Masters degree might be able to pursue a number of careers in the sports industry. One of these might be as a sports agent after earning an Online Sports Management Masters.
Sports Agents & Managers
Sports agents and managers assist athletes with contract negotiations, finances, sponsorships and everyday life.i They might be skilled, knowledgeable, and persuasive speakers, with the ability to negotiate with others.ii
$62,080 was the average median wage for sports managers in 2016.
But because sports managers or agents make about 4%-10% of the athlete's salary through commissions, this can end up being much more or less depending on the athlete represented. It's also about the particular sport their athlete client plays.
For instance, with notoriously enormous payouts, the NFL and NBA place a limit on this number at 3%. Still, when it comes to endorsements, sports managers make about 10%-20% of what the athlete's paid through commissions. This can seriously add up!
For instance, the highest paid sports agent is Scott Boras. In 2016 he made $132.29 million in commissions and held contracts worth $2.2 billion. Of course, this is the most extreme example but it's to illustrate that sports management isn't one of those careers with a low salary ceiling. Go getters can go far. Of course, it makes a difference what type of athlete you represent as well as where.
Fun Facts

The sports industry rakes in big bucks at rising rates in many categories.

Social media rates will raise to $20.6 billion in 2019 from 14.6 billion in 2014.
Sports Statistician
In addition, you might look into pursuing a career as a statistician, especially if you complete a math-focused degree. These professionals collect and analyze data to see what it means and what we can learn from it, which is a key concept in sports.
Statisticians earned $86,110 as a median yearly salary in 2015, and the growth in the field is predicted to be much faster than average between now and 2024. Typical entry-level education is a masters degree.

Picture Credit: Bureau Labor Statistics https://www.bls.gov/oes/current/oes131011.htm#nat
More About Sports Management Jobs
One gratifying aspect of Sports Management is that by nature of the work, the more you help others, the more it benefits you as well.
Wanted: Relevant Experience
Let's so back to Piazza and Lasorda.
It could be argued that Lasorda has an advantage of insight as a Sports Manager because he's a former ball player. But any relevant experience could grant such an advantage. That's because not only do most sports managerial jobs require a bachelor degree but also "a considerable amount of work-related skill, knowledge, or experience."
This isn't necessarily a skill set that an athlete picks up out on the field but certainly could be for the college level Sports Management student.
There's a lot to learn to become a sports agent and, apparently, that learning won't stop after a Sports Management degree. This is a career where risks are taken and lessons learned all the time and its degree programs - except the only risk you'll take might be not studying enough.
The lessons you'll learn while pursuing a Master's in Sports Management lie within the categories of:
Global Sports
Sports Analytics
and Sports Marketing
The Olympics: Think Outside the Box
But there are Sports Managers in all categories. Many aren't even involved in professional sports.
Like the Olympics, for instance, involves sports managers even though Olympians are not paid for their wins, other than those extraordinary medals. However, keep in mind that these athletes can earn millions in endorsements even before the Olympic competitions begin. Not surprisingly, the most decorated Olympians are also the highest paid in endorsements.
For instance, Michael Phelps has reigned in endorsements totaling 12 million dollars.
While recently retired Usain Bolt holds endorsement earnings upwards of 30-million dollars.
Sports Management crosses over with entertainment here but this isn't the only case of such a crossover.
Did You Know?

Because of salary caps in sports the amount of money sports managers make from commissions is heavily reliant on the average amount a player makes on the whole rather than just their salary and winnings.

For example: Soccer star, Cristiano Ronaldo makes $58M in winnings and salary. So, given average rates, his manager likely makes about $2.32M - $5.8M from those commissions.

Ronaldo also gets $35M for endorsements so his manager probably earns about $3.5M - $7M in that arena.

That's a total of $5.82M-$12.8M from a single player's overall earnings.
Sports Management .... And the Arts?
Connections between sports and the arts cross over in the other direction as well. Just look at the hip-hop example of the No Limit Sports Agency, started by Master P.
The Story of P
It began for the hip-hop mogul when P realized from personal experience as a head of the record label No Limit, that ball players LOVE to hang out with hip-hoppers. But the real brilliance of his move lies in Master P's insight as to why they enjoyed it so darn much. Sure, it's glamorous fun but turns out, many athletes were also "looking for ways to slide into the world of entertainment.
This makes logical sense because sports careers can be short-lived given the rigor and injury professional athletes endure. So, what's your next career move when all you've got is two blown out knees and a championship ring collection? (Sounds like the perfect spokesperson for booze or snack cakes.) But this athlete needs a good agent with entertainment connections first…
Who's Got Snoop Dogg on Speed Dial?
That's right - Master P. He knows what's up in hip hop and sports thanks to his powers of observation and networking skills - all while having fun and making money. Sometimes letting the good times roll can combine with business.
A Growth Industry
Speaking of dollar bills, the sports industry is one of the fastest growing and it continues to pay out top dollar while gaining momentum.
Fun Fact

Sponsorship money is raising from $14.7 billion in 2014 to $18.3 billion in 2019.
This is just a taste of what's possible with a Master's degree in Sports Management!
So, get started on the path right now while you're here at elearners.com - the perfect launchpad. We've got links to take you there. Just click around here at eLearners.com and get matched immediately to your ideal program.
Our goal is to get you into the game.
How to Pick Sports Management Masters Programs Online
Just browse through our list of masters degree programs in sports management and click on degree titles to hear more about only the ones you want.Through eLearners.com, you can check out all of our sponsored listings online.
When you find an online sports management masters program you like:
Contact the school through our website
Get more information
and Learn how to register
Get started here! Scroll up and review the Sponsored Programs that are available for enrollment.
---
Sources: http://www2.ed.gov/about/offices/list/ous/international/usnei/us/master.doc | http://www.onetonline.org/link/summary/13-1011.00#WagesEmployment | http://www.bls.gov/ooh/math/statisticians.htm#tab-2 | http://www.bls.gov/ooh/math/statisticians.htm#tab-1