28 Sponsored Online Programs Available
EducationDynamics maintains business relationships with the schools it features
Online Sports Management Masters Programs
Students that love sports and are looking to pursue big-league opportunities in their career might want to think about earning an online sports management masters degree. Through an online program, you can continue to work in your current job while you pursue a career in sports management or enhance your existing one. As you earn your graduate-level degree, you may develop your business acumen and sports-industry knowledge from all angles. You could apply your knowledge skills in a highly competitive industry that requires critical-thinking, effective leadership, and sharp decision-making.i Best of all, you can do so in a field you're passionate about.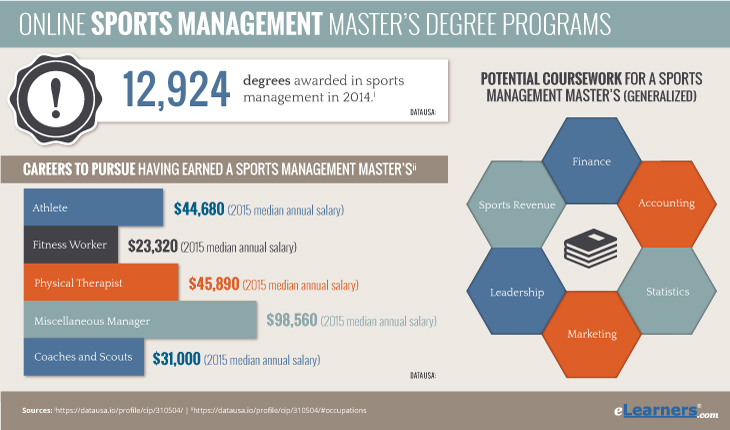 What Is the Focus of an Online Sports Management Masters Degree Program?
Online Sports Management Masters degree programs may give students a wide-ranging look into how the sports industry works. Classes might involve many different skills, knowledge and subjects that could be useful in pursuing high-level careers in sports management. These could range from writing or communications to business or marketing. One factor that might influence what a course of study for a masters in sports management online program might look like is the type of degree being offered.
While all masters programs in the field fall under the umbrella of sports management graduate programs, not all online masters in sports management degrees are the same. Masters degrees might be research degrees – meaning they focus on research, writing and theory – or professional degrees, which are geared toward job roles, practical skills and professional experience.ii Sports management masters degrees may generally fall into the latter category.
Did you know?Demand for statisticians in the United States job market is supposed to increase by 34% between 2014 and 2024!i

Click To Tweet!
A Word about Degree Titles
For more on what a program might look like, you can check out the degree title. A sports management program that offers a Master of Business Administration (MBA) in the field might have a heavy business focus. A Master of Education program, meanwhile, might prepare students to pursue a career in a university athletic department. Some of these programs may even focus on those subjects broadly, and allow students to specialize in sports management. Other school may even indicate a focus beyond simply sports management in their program title. Online Sports Management Masters Program names that mention analytics, for examples, could be more focused on math and statistics.
Exploring Potential Courses to Earn a Masters in Sports Management Online
The curricula in masters in sports management online degree programs may typically be designed to be completed in one to two years of full-time study.ii Program lengths vary by school. During that time, students may take courses on a number of subjects related to sports management. Some potential examples of these subjects may include:
Legal issues in sports
Diversity in sports
Sports leadership
Media relations
Sports event management
Global issues in sports
Athletic sponsorships
Sports analytics
Sports technology
Social impacts of sports
These are just some of the many subjects that students might study during their online sports management masters degree program. Programs with a specific type of degree, such as an MBA, might require students to take classes on the broader subjects within that field. Common class topics for Online Sports Management Masters MBA programs might include:
Accounting
Finance
Business Statistics
Economics
Marketing
Strategic planning
Leadership
In some programs, students might also have the option to emphasize subjects or pursue particular tracks such as sports hospitality, sports leadership, non-profit sports management, outdoor adventure, sports tourism or sports administration.
To conclude their programs, students might complete an internship or apprenticeship, take a comprehensive exam, or produce a capstone project such as a thesis or presentation. Requirements in these areas vary by program.
Another requirement you might want to consider when comparing masters in sports management degrees online is how much of the program can be completed over the internet. While online degrees may imply virtual learning, not every program may be fully campus-free. Be sure to look for any requirements, such as residencies, that can only be completed in person.
What Knowledge and Skills Might I Develop in an Online Sports Management Masters Program?
In many online masters degree in sports management programs, the emphasis is on helping students develop their leadership skills as well as their capacities to think critically and apply advanced solutions to simple and complicated problems. In addition, students may develop knowledge and skills in the following areas:
Communication addresses presenting ideas and information orally and in writing.
Another important topic is applying business fundamentals to sports management.
Some students may focus on responding to new developments and rapid changes in the sports industry.
Using existing and emerging technologies in sports may be another focus area.
Some students learn to plan, administer, and evaluate sports programming at various levels.
Others may specialize in managing sports teams and organizations' relationships with communities.
Finally, students are shown the basics of applying the principles of management and leadership to the sports industry.
Students may develop these and other skills through their programs. The precise knowledge and skills students might develop depend upon their own goals and the objectives of their particular programs.
Through engaging in online programs, students might also develop their muscles in navigating technology and online platforms, communicating via multiple media, and managing their time and workload (all of which may be requirements in successfully navigating online education). Many of these skills might transfer to the field of sports management.
What Might I Do with an Online Masters Degree in Sports Management?
Professionals with an Online Sports Management Masters degree might be able to pursue a number of careers in the sports industry. One of these might be as a sports agent. Sports agents and managers assist athletes with contract negotiations, finances, sponsorships and everyday life.i They might be skilled, knowledgeable, and persuasive speakers, with the ability to negotiate with others.ii In 2015, sports agents, along with artist and performer athletes, earned a median annual salary of $62,940, though there is predicted to be slower then average growth in the role from 2014 until 2024.iii Keep in mind that a masters degree might not be necessary to pursue this career – 50% of those polled by O*Net reported a bachelor's degree as their entry-level education requirement.
In addition, you might look into pursuing a career as a statistician, especially if you complete a math-focused degree.iv These professionals collect and analyze data to see what it means and what we can learn from it, which is a key concept in sports.iv Statisticians earned $86,110 as a median yearly salary in 2015, and the growth in the field is predicted to be much faster than average between now and 2024.v Typical entry-level education is masters degree.i
How Do I Find an Online Masters Degree Program in Sports Management?
Through eLearners.com, you can explore sponsored listings online. Simply browse through our list of masters degree programs in sports management programs and click on degree titles to learn more. When you find a program you like, feel free to contact the school through our website to get more information and to learn how to register. A perfect career in sports management may be waiting for you!
---
[i] http://www.onetonline.org/link/summary/13-1011.00 | [ii]http://www2.ed.gov/about/offices/list/ous/international/usnei/us/master.doc | [iii]http://www.onetonline.org/link/summary/13-1011.00#WagesEmployment | [iv]http://www.bls.gov/ooh/math/statisticians.htm#tab-2 | [v]http://www.bls.gov/ooh/math/statisticians.htm#tab-1