6 Sponsored Online Programs Available
Online Masters Degree in Marketing
Pursuing an Online Masters in Marketing may be a perfect degree option for artistic personalities want to apply the best of their creative minds to connect brands to customers. In fact, some researchers argue that advertising is the most powerful art form in the world. After all, top brands constantly need to create innovative and creative ways to reach their prospects.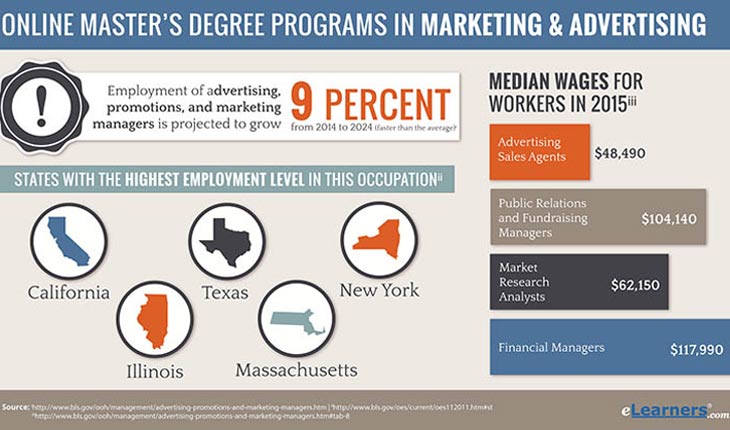 According to a 2015 study conducted by Aslanian Market Research, 63 percent of students surveyed pursued an online graduate degree while working full-time.i This means that as a marketing professional, you may be able to pursue your education without having to sacrifice on-the-job experience.
So, if you want to learn how you can use your creativity and apply it to the business world, continue reading. Then, click on any of the sponsored listings on this page to learn more about individual online masters in marketing degree programs!
Online Masters in Marketing: Basics
Most online masters in marketing and advertising degree programs are designed for part-time students who have full-time jobs.
How Long Does It Take to Earn Your Online Masters in Marketing?
Typically, it takes students two years or less to earn their masters degree, however, this may vary depending on the program and on the availability of courses. Some students earn their degree in as little as a year. Therefore, choosing to earn your degree online may be the perfect solution for you because you may have the opportunity to perform courses around your busy schedule.
Learning Online
Not only do online programs offer the freedom to perform coursework around your personal and professional responsibilities, it may also offer you an enhanced learning experience. This includes a more open and honest class discussions, as some students feel as though they can share their true opinions, and increased knowledge retention through multimedia such as webinars, infographics, and online groups.
Different Online Masters in Marketing Degree Options
As you research online marketing and advertising masters degree programs, you're likely to come across the three main types of degrees:
Masters of Business Administration (MBA)
Masters of Science (MS)
Masters of Art (MA)
The most common of these is an MBA, which focuses on preparing you for roles in leadership and management. MS in marketing and advertising degrees may focus more on the scientific aspects of marketing and advertising, which may include more coursework on research and analytics. An MA degree may instead focus on the communication aspect of how consumers connect with brands.
With all of the different options, it may be important for you to have a clear understanding of your goals before choosing a program. Click on any of the sponsored listings on this page to learn more about the individual programs and find a perfect match for you!
Specializations for Online Masters Degrees in Marketing & Advertising
When pursuing your online masters degree in marketing, you may have the option of pursuing a specialization to increase your knowledge in one aspect of the field. Some of these specializations include:
Marketing
Digital Marketing
Integrated Marketing Communication
Marketing Research and Analytics
Marketing and Advertising Management
Don't forget that every program is unique, so it's important to perform your research to find a program that matches your goals. If any of these specializations interests you, click on some of the sponsored listings to find a program that offers it.
Common Courses
Most online masters in marketing degree programs focus on providing you with an in-depth and complete understanding of marketing and advertising principles and theories, and how to effectively apply those theories into practice. Some of these courses may include:
Advertising Industry in the 21st Century
Buyer Behavior and Marketing Research
Advanced Marketing Strategy and Planning
Strategic Internet Marketing
Integrated Marketing Communications
Multinational Marketing Strategies
The curriculum and coursework may require you to conduct research, analyze data, and develop marketing strategies so that upon earning your degree you have practical experience.
Take the Next Step to Earning Your Online Masters in Marketing!
Click on any of the sponsored listings on this page to learn more about individual online masters in marketing degree programs. This may include program descriptions, common courses, and graduation requirements. From there you can even contact the school directly to request more information and find a perfect match!
---
[i] aslanianmarketresearch.com/sites/default/files/OCS2015-Final_Report.pdf