Sponsored Online Programs Available
Online Masters Degree in Economics
Online Masters in economics degree programs offer working professionals the opportunity to gain graduate-level insight into economic analysis, forecasting and current economic issues. As a graduate economics degree is required for most economist top-level careers, i it may be worthwhile to consider working towards your masters in economics online. While an undergraduate degree may be more generalist, an online Masters economics program best helps students cultivate the decision-making and strong quantitative skills to work in a variety of potential financial or policy-making occupations.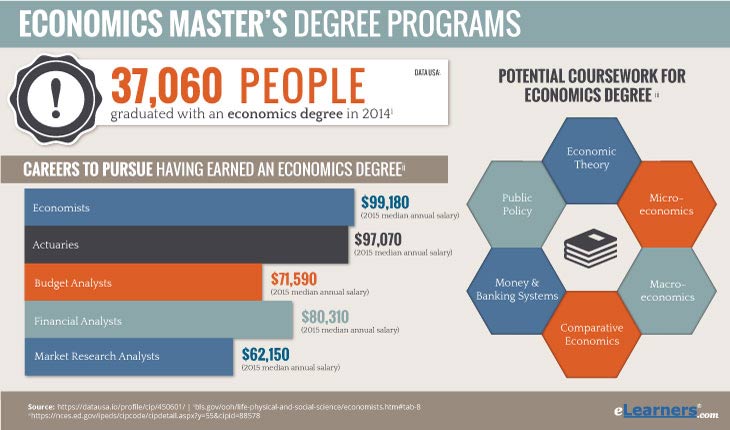 Online Masters in Economics Degree Programs: Essentials
Prospective applicants to an online Masters in economics degree program may be admitted without necessarily having earned their Bachelors degree in economics. However, students with an undergraduate degree in a related field, such as a Bachelors in finance or accounting may have to make up some pre-requisite courses that might include;
Intermediate micro and macro economics
Economic theory
Statistics
Mathematics (e.g. applied calculus)
You are always wise to check with prospective schools to understand what is involved in applying to their program specifically, since these are variables.
Online Masters in Economics: Thesis or Non-Thesis Options
Some online Masters economics programs require a thesis in addition to coursework. Non-thesis (coursework only) programs usually include a final exam.
How Long Might It Take to Earn a Masters in Economics Online?
Depending on whether you study full-time or part-time, some students might compete the requirements for a Masters economics online program in 1.5 to 2 years. This generally amounts to approximately 30 to 36 hours of approved graduate courses. Note that time to completion and course load (credits) does vary.
FACT: Per the BLS, "a master's degree or Ph.D. is required for most economist jobs. Positions in business, research, or international organizations often require a combination of graduate education and work experience".ii
Online Masters in Economics: Potential Curriculum
While online Masters in economics degree programs vary in their focus, students might encounter a strong emphasis on complex mathematical concepts, methods, policy analysis and applications of statistical models to predict trends in specific industries. Some of the core topics that might be covered in a Masters in economics online degree program might include:
Micro economics
Macroeconomics
Econometrics
Statistics
Markets analysis
Many programs entail more than core coursework. Students may be required to participate in online seminars where currents economic concerns are discussed. Other programs may allow students to choose electives based on personal interests. Graduate students may be able to choose from several concentrations including forensic accounting and applied economics.
The Online Master in Applied Economics Degree
Students in an online Master of applied economics focus on applying economic principles, mathematical and statistical skills to existing economic issues. Applied economics programs generally provide students in-depth training in the quantitative methods and tools needed to understand complex economic policy issues, industry trends. Students may learn how to formulate analytical strategies within specialized areas of economics such as finance, business, healthcare, marketing, and government. An online applied economics Masters program is typically designed for students seeking a practical approach to economic analysis. Some of the potential topics in applied economics might include: iii
Economic theory and history of thought
Microeconomic analysis
Modeling of specific industries
Commodities
Economic consequences of resource allocation decision-making
Regulatory factors
Behavioral economics
Technical aspects of economic analysis
Types of Economic Degree Online Programs
Students approaching online Masters in economics degrees might several program options;
Online Master of Arts in Economics (MA)
Online Master of Science in Economics (MSc, MS)
Online MBA Economics
Note that curriculums and program formats are likely to differ between universities, and the following should be interpreted as generalized information.
Online MA Economics
Online MA economics degree programs typically emphasis academic research. The MA often differs from the MS economics in that one usually has more flexibility to choose electives. As such, students may weigh their option between the MA and the MBA in economics. Also, with its focus on policy analysis, economic theory and application of theory to economic issues, the MA might serve as a platform to a PhD in economics.
Online MSc Economics
Online MSc economics degree programs tend to emphasize quantitative analysis to enhance economic theory. For students with an interest in mathematical and statistical tools used for economic research and understanding of economic issues, earning a MS in economics online may be an academic fit.
Online MBA Economics
Students in an online MBA economics program typically fulfill the core requirements common to the Master of Business Administration. Economics might be taken as a concentration area.
What is the Structure and Format of Online Masters Economics Programs?
There is no 'one' format or structure to all online Masters in economics degree programs. Many schools offer a mirror of their on-campus programs, so you are taught by the same faculty, but this is not always the case. Some of the potential features of distance-learning economics programs might include:
Some programs may be more self-paced, where you log into your courses through a web-based course management system.
Some may be more interactive; in that you log in remotely to a live-streaming lecture.
Schools may use engaging software where you might participate in on-screen problem demonstrations or use a variety of digital media to illustrate case studies.
Online Master's Degree in Economics: Professional Insight
"Getting a Master's Degree in Economics cultivated my analytical thinking capabilities and help foster an inquisitive mindset. Because of my studies, I was able to visualize complex problems and systems while using critical thinking to solve financial problems with various compaines. This led to a rewarding 25 year career working in economics & project management for Fortune 100 companies."
Click To Tweet!

-Alan Zucker, Founder of Project Management Essentials
After Graduation: Continued Education, Potential Economics Careers
After graduation from a Masters economics degree program, some students might go on to earn a PhD in economics to focus on research and teaching. Others might work in government agencies, think tanks, banking or market analysis. Potential economics career paths might include iii:
Economic analyst
Consultant
Forensic accounting
Health researcher
Natural resource economist
Find Accredited Online Masters in Economics Degree Programs
Finding an online MA, MBA or MS in economics degree program is about finding a curriculum that might prepare you with skills and understanding. At the same time, when deciding which online program to enroll in, you should consider accreditation. Look for schools that have been nationally or regionally accredited. This can be verified with the U.S. Department of Education or the Council for Higher Education Accreditation. If you are considering a business school, look for specific programmatic accreditation by accreditors such as the AACSB.
Take the Next Step
Per the BLS, demand for economists is a result of an increasingly complex global economy, financial regulations and a strong competitive business environment Whatever your anticipated next steps after graduation, earning a Masters in economics online may add value, distinguishing you with the strong quantitative skills valued by employers across different industries. Browse our sponsored program listings to find an online MA, MSc or MBA economics degree program. Use our convenient on-page navigation to request more info from prospective schools. Find out what makes them a unique choice for your education. Take the next step today!
---
[i] bls.gov/ooh/life-physical-and-social-science/economists.htm [ii] nces.ed.gov/ipeds/cipcode/cipdetail.aspx?y=55&cipid=88579 [iii]onetonline.org/link/summary/19-3011.00#menu