Do you like crunching numbers and analyzing data? A career as a cost estimator could be for you. Cost estimators approximate the time, money, resources and labor required for product manufacturing, construction projects or services. They collect and analyze data that will help them accurately predict the cost, size and duration of projects – important information for any business's bottom line. This job's key responsibilities include consulting with industry experts, traveling to job sites, reading blueprints and technical documents, and using computer software to produce estimates.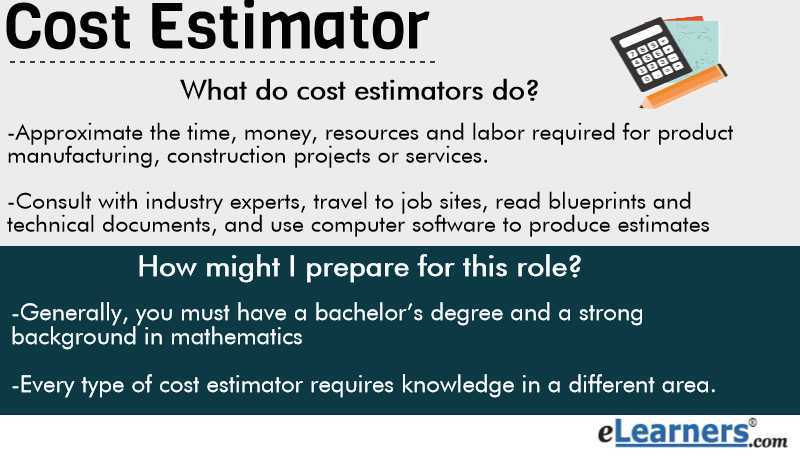 How Might Cost Estimators Prepare for Their Roles?
Generally, you must have a bachelor's degree and a strong background in mathematics to become a cost estimator.  In some cases, however, experienced construction workers with strong analysis skills may qualify without bachelor's degrees.
There are several different types of cost estimators, and each field requires knowledge in different areas. Construction cost estimators typically obtain bachelor's degrees in construction management or building science. Manufacturing cost estimators typically need a degree in engineering, physical sciences, mathematics, or statistics. Other cost estimators have degrees or backgrounds in accounting, finance, business or economics. 
Professional certification is becoming more and more important in the field. Some employers require certification in order to be hired. Several professional associations, including the American Society of Professional Estimators, the Association for the Advancement of Cost Estimating International (AACE International), the Society of Cost Estimating and Analysis, offer different certifications. 
What are the Average Entry-Level Salary and Job Outlook for this Career?
The projected job growth rate for cost estimators is 26 percent from 2012 to 2022. That's faster than average for all occupations. The annual median pay for cost estimators is $56,860.[i]
Which Online Degrees Might Support This Career Goal?
Degrees in accounting and economics could provide the knowledge and skills needed to become a cost estimator.
---
[i] bls.gov/ooh/business-and-financial/cost-estimators.htm