Sponsored Online Programs Available
Online Economics Degree Programs
Online economics degree programs offer students with a passion for mathematics and statistical analysis the opportunity to work towards a variety of potential economics careers in finance, market research and consulting. Distance education brings the college experience to you, which means current professionals and adults with otherwise busy schedules might achieve their academic goals without disrupting their ongoing responsibilities.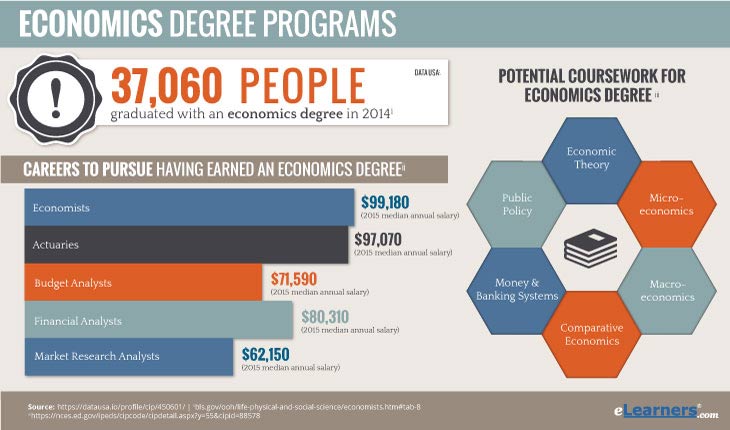 What Does an Economist Do?
If you are pursuing an economics degree online, you may be someone who enjoys observing patterns and drawing logical conclusions with precision. Economists are the professionals who study, research and analyze how goods and services are exchanged for currency. They are the forecasters of market trends, the advisors to think tanks, businesses, governments and individuals. In fact, there are different types of economists that you might consider when you pursue an economics major;
Online Economics Degree: Professional Insight
"One of the most important benefits of my economics degree was learning how to analyze and reason. The degree taught me what I needed to know in order to launch and successfully run my current small business, which deals with personal finance. It also gave me insight into how economic policy is established and implemented."

-Andrew Schrage, Co-founder of Money Crashers Click To Tweet!

Behavioral economists – study the effects of psychological and social factors on economic decision-making;
Econometricians – develop models using mathematical analysis;
Financial Economists – analyze savings, risk and investments;
Industrial Economists – examine antitrust laws, competition and industry;
International Economists – study global markets and international trade;
Labor Economists – study supply of workers and demand for labor;
Macro Economists – study the economy (e.g. unemployment, inflation);
Micro Economists – analyze supply and demand decisions made by individuals and firms;
Public Finance Economists – analyze the role of government in the economy (e.g. tax cuts).
Aside from earning an economics degree, certifications are not required to seek employment. Some economists interested in professional development and voluntary credentialing might do so through the International Economic Development Council. To earn the Certified Economic Developer (CEcD) requires, among other things, candidates to have at least four years of consecutive, paid, full-time economic development-related experienc.
About Online Economics Degree Programs
Online economics degree programs may be available as bachelor of economics and masters in economics degree programs. Pursuing an economics degree online might enable an individual to initiate or advance as an economist. Per the BLS, most economist need an economics graduate degree although the bachelors degree is the minimum education for entry-level economist occupations[ii].
FACT: "Most economists need a master's degree or Ph.D. However, some entry-level jobs—primarily in government—are available for workers with a bachelor's degree" (BLS)[iii]
Why Earn an Economics Degree Online?
There is no 'one' structure or format to online economics degree programs. However, some traditional colleges and universities may have both campus and distance learning options. In other words, you may be receiving the same instruction, albeit through an online course management system, interactive software, videoconferencing or pre-recorded lectures. If convenience and scheduling flexibility are important to you, earning your economics degree online is worth considering.
Online Bachelor of Economics Degree Programs
Earning a Bachelor of economics online may enable individuals to get started in entry-level economics careers such as marketing research analysts or budget analysts. Students who complete a Bachelor economics degree online generally learn micro and macroeconomics. Most Bachelor in economics programs take about four years to complete, which may entail about 128 credits, however program lengths and course credits might vary, especially if you pursue your economics degree part-time.
Online Masters in Economics Degree Program
Earning an online Masters economics degree may fine tune advance an economist's quantitative analysis skills. These economics degrees might prepare individuals for potential careers that require more in depth financial analysis and understanding of financial markets. Some students may approach an online Masters degree in economics from another undergraduate major (e.g. finance), others may use the Bachelor of Economics as a platform for an online economics graduate degree. While time to completion varies, one might be looking at one to three years depending on how the studies are paced. This may amount to about 40 credits.
What Does It Mean to Be an Economics Major?
Online Economics Degree: Professional Insight
"Economics and Finance degrees can both be difficult to obtain. It seems like most students are drawn to one or the other, even though classes have similar elements. I'd recommend taking classes in each to find out which you prefer. In terms of difficulty, I think it just depends on which subject comes easier to you."



- Toby Balsiger, Economics degree graduate and owner of Website Tigers Click To Tweet!

Online economics degree programs explore basic and more detailed and systematic studies of the production, conservation, and allocation of resources. Depending on your program, you might take general or more specialized courses as an economics major[iv].
Economic theory
Micro and Macro economics
Comparative economics systems
Money and banking systems
International economics
Quantitative analytical methods
Applications of economics to specific industries
Public policy issues
What 7 Skills Might I Learn if I Major in Economics?
Whether you cultivate the skills relevant to a potential career in economics through an online economics degree or come to the table already prepared, economists need a skill set that might include[v]:
Active listening
Critical thinking
Mathematics
Speaking effectively
Written communication
Complex problem-solving
Judgement and decision-making
Economics vs. Finance: Explore Your Options
Wondering whether to pursue an online economics degree or an online finance degree? Economics is one of the social sciences that essentially studies the management of goods and services. The study extends to things like production, consumption, and the factors that affect them. Economics branches into micro and macroeconomics, and is intertwined with government, monetary and fiscal policy, inflation and unemployment.
Finance is an applied science that studies the management of funds, including things like risk and investments. Finance branches off into personal, business (corporate finance), and public finance and is intertwined with balancing risk and profitability.
Ultimately, at the level of education, this is going to translate into different courses, and potentially different career paths. If you were excited at the prospect of banking and investment portfolios, earning an online finance degree might be a fit. On the other hand, if understanding local and national economy, analyzing spending trends or helping to possibly create economic change suits you, you might choose an online economics degree program.
What Might I Do with an Online Economics Degree?
Economist career paths are often, as we have seen, a product of education earned. No, this does not mean your online economics degree is a guarantee. On the one hand, there is potential to continue one's education to the doctorate degree level. On the other hand, the industries that employed the most economists in 2014 were[vi]:
Federal government, excluding post office
Management, scientific and technical consulting services
Scientific research and development services
State and local government, excluding education and hospitals
Finance and insurance
Find Accredited Online Economics Degree Programs
When deciding which online economics schools to consider, accreditation matters. Look for an online economics program that has been accredited by the U.S. Department of Education, or through designated regional accrediting agencies. You might also inform yourself about specialized professional program accreditation, especially if you are earning your economics degree through a business school. An organization such as the AACSB (Association to Advance Collegiate Schools of Business International may be one such accreditor. The Council for Higher Education Accreditation (CHEA) website also has an extensive database of accredited schools.
Take the Next Step
Use our on-page navigation to find specialized business degrees in economics. Choose your degree level (Bachelor of Economics, Master of Economics) then browse sponsored listings. Right away, you can use the 'request info' button to contact prospective schools, since each program has unique features. Take that next step today!